We've all got them. They're complaints about our hair. It's either too thin, too dull, dry, brittle, grows slowly or full of split ends... and the list keeps going. And for every hair trouble, there's a quick fix, a bit of this trendy styling product or that, curing the issue for a few hours, maybe a whole day if you're lucky. In the end though, it's back to square one. For those of you looking for an effective way to care for your hair, in the long haul, there's a trick that's actually been around for centuries.
South Asian women, known for their lustrous and thick hair, have had a simple trick for maintaining their beautiful locks. The tradition of hair oil, a ritual passed down from mother to daughter, is a part of Indian culture and daily life. Hair oils, used as a pre-shampoo treatment, give hair the boost of moisture and nourishment it needs to battle the environment and the daily torture of styling. Take coconut oil for example, rich in fatty acids and nutrients, it has the ability to penetrate the shaft of the hair to rebuild strength from within. And who could ignore the movement behind Argan oil in the last several years? Some call it "liquid gold" because of its phenomenal abilities to smooth and strengthen hair, among a multitude of other benefits. Additionally, the simple act of massaging one's scalp has its benefits, from increased blood flow to stress and anxiety relief.
Creator of Kumari Luxury Hair Oil, Aarti Gala, took inspiration from a childhood of bonding with her mother over Ayurvedic oils brought from India. She designed a hair oil treatment that combines the benefits of organic coconut, grape seed and Argan oils. The nutrient-rich oil blend is infused with botanicals like yerba de tago and Indian sarsaparilla to stimulate the scalp and nourish the hair. And did I mention the intoxicating fragrance of magnolia and sandalwood? It really is great.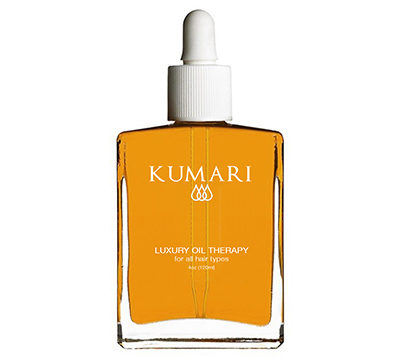 Hair oils are a strange concept to many, so don't be shy if you haven't tried it out. There are a lot of ways to use hair oils, and this is how Aarti suggests you use Kumari Luxury Hair Oil, weekly or more if you can manage:
Apply oil into your scalp and hair. You can start at the roots and work your way down through the body of your hair. You want to make sure your hair is covered but not oversaturated. I like to take my time and give myself a little head massage. It's my little weekly self-indulgence. Leave it in for 30 minutes, or ideally overnight, and then wash it out with a mild shampoo. I still like to follow up with a light conditioner, but for those of you with naturally oilier hair, you can skip the conditioner. Style your hair as you normally would, except after the oil treatment you'll find your hair softer, shinier and not weighed down by heavy conditioners, harsh chemicals, sulfates or parabens. I've been using this oil for several months now and have noticed my hair is stronger and more manageable... and all this without the crazy number of products I was using before!
You might be looking for help with split ends or a way to infuse health and shine into dull or dry hair, but the truth is that Kumari Luxury Hair Oil is for all hair types. The reality of our modern-day styling habits and exposure to climate, pollution and free radicals makes hair health maintenance a must, whether you have curly or straight hair, thin or coarse. Hair oils, like Kumari Luxury Hair Oil, are an amazing way to keep your hair healthy and vibrant from the inside, out. Guys and girls should keep a look out for this.