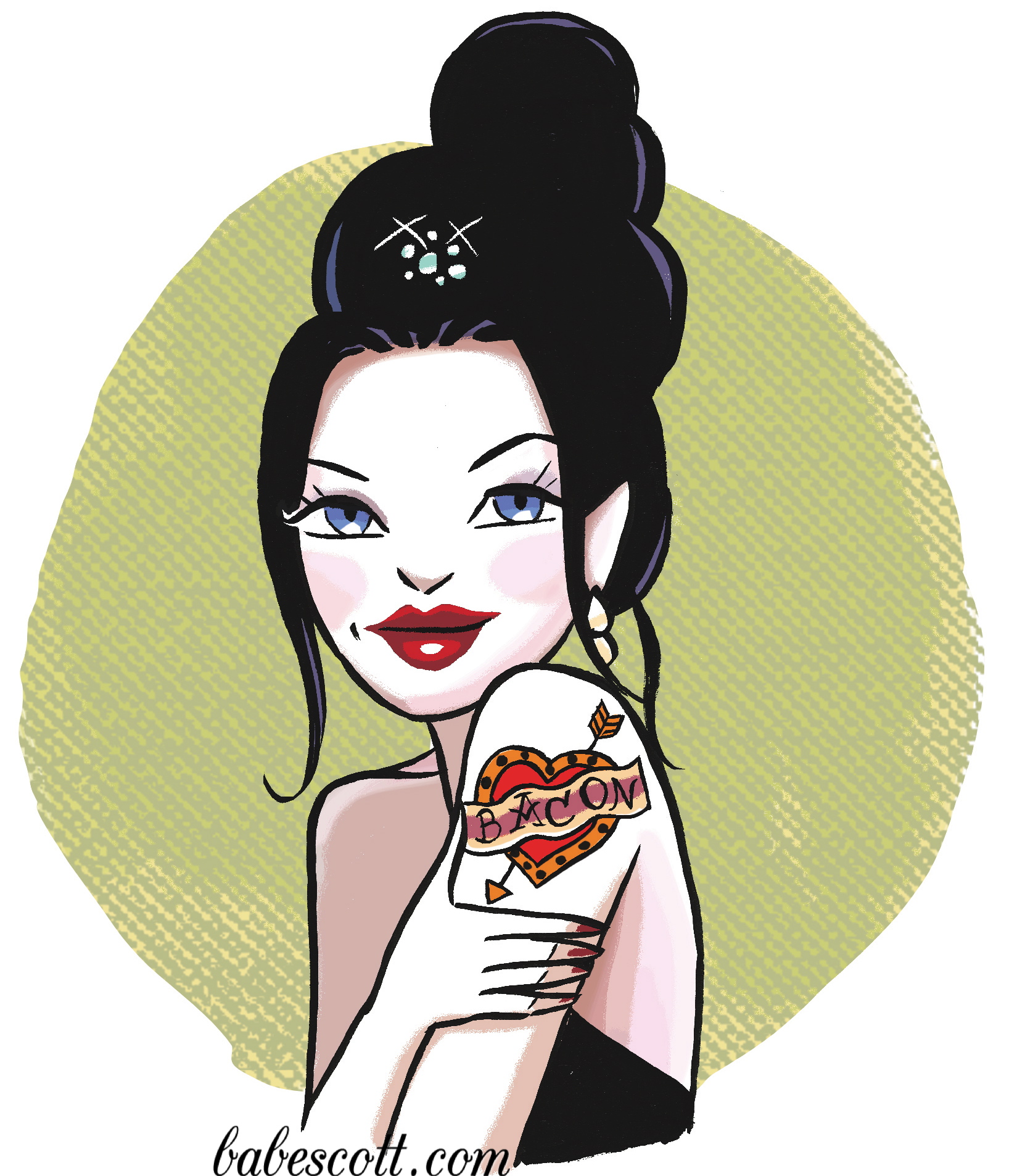 Bacon is the ultimate manslayer. It's sex in a skillet. A bacon-inspired meal is the culinary equivalent of suspenders and high heels. No testosterone-toting guy can resist the charms of this precocious pork product. Even the sound of that sizzle is powerful enough to mesmerize the male race -- like the sirens calling Ulysses when he's strapped to the mast. Bacon is the ultimate accessory for any seductive dinner.
This magical meat excites the primal instincts. Just watch your man's pupils dilate when he catches the scent of bacon lingering in the air. Forget Chanel No. 5, Eau de Bacon is the most powerful perfume out there. His eyes will glaze over and his concentration will start to waver. His knees may even start to buckle. (This is a good time to ask for that gift you've had your eye on or any other sort of favor.) Bacon has a Pavlovian effect and gets any guy salivating.

Every lazy seductress should put bacon at the forefront of her culinary charm arsenal. Beyond its aphrodisiacal powers, bacon is a cinch to cook. This meat is more forgiving than Huma Abedin. It also makes every dish it caresses taste a million times better. And you can get it from your corner store. This foxy foodstuff is infallible.
In honor of International Bacon Day on August 31st and stovetop sirens everywhere, I've put together the ultimate man-slaying, baconlicious menu -- one that's guaranteed to get the juices flowing. These dishes have a better ROI than any S&P stock. Trust me, this mouthwatering menu will get more than the mercury rising.
Chocolate Bacontini
Let him know your devilish intent right off the bat by serving your man a chocolate bacontini. It will make him putty in your hands.
2 ounces bacon-infused vodka
½ ounce creme de cacao
Pour the vodka and creme de cacao into a cocktail shaker half-filled with ice. Shake well and strain into a chilled martini glass.
* For this lusty libation, you can cheat and use Bakon Vodka. Alternatively, you can create your own bacon-infused love potion by impregnating a bottle of vodka with 12 rashers of cooked bacon and putting it in the refrigerator for 24 to 48 hours. Once the bacon has thoroughly corrupted the vodka, strain into a container and keep refrigerated until ready to use.
Tempting Tomato Soup
Bacon and tomatoes tango on your tongue with every mouthful of this voluptuous soup. It will whet your amour's palate for what's to come.
2 ½ pounds Roma tomatoes, halved lengthwise
2 tablespoons olive oil
1 teaspoon salt
¼ teaspoon black pepper
6 strips bacon, chopped
1 medium white onion, chopped
4 garlic cloves, minced
1 ½ cups chicken stock
1 tablespoon paprika
2 tablespoons brown sugar
1 (28-ounce) can peeled tomatoes with juices
1 cup heavy cream
Preheat your oven to 400°F. Cover a baking sheet with aluminum foil and lay out tomatoes in a single layer. Drizzle the tomatoes with olive oil, ½ teaspoon salt and ¼ teaspoon pepper. Roast tomatoes for 1 hour.
In a large stockpot, cook the bacon over medium-high heat until crispy. Remove the bacon and set aside, reserving about 2 tablespoons of fat in the pot.
Add onions to the pot and cook until translucent, about 5 minutes. Add garlic and cook for an additional minute.
Add chicken stock, paprika, brown sugar, canned tomato with juices, and roasted tomatoes. Bring to a boil. Reduce heat to medium-low and let simmer for 15-20 minutes.
Use an immersion blender to puree soup or transfer soup in small batches to a blender and puree until smooth. Transfer back to the pot and stir in heavy cream.
Bad Girl Bacon-Wrapped Pork Tenderloin
This bacon-wrapped pork tenderloin is more tender than an Adele song. The secret is not only the bacon, but the marinade. It melts in your mouth and will make your man melt too.
For the Marinade
2 tablespoons Dijon mustard
3 cloves garlic, minced
1 cup maple syrup
¼ teaspoon pepper
Bacon-Wrapped Tenderloin
1 ½ pounds pork tenderloin
6-8 strips bacon (enough to wrap tenderloin)
3 tablespoons Dijon mustard
3 tablespoons maple syrup
In a medium bowl, combine mustard, garlic, maple syrup, and pepper.
Place pork in a shallow dish and coat thoroughly with the marinade. Cover and refrigerate. Let marinate, turning once, at least eight hours and up to overnight.
Preheat the oven to 400°F. Wrap bacon strips all the way around the marinated pork tenderloin.
Lightly oil the bottom of a roasting pan. Place the bacon-wrapped pork in the pan and cook for 20-25 minutes.
While the tenderloin is cooking, combine the 3 tablespoons mustard and 3 tablespoons maple syrup.
When the pork is cooked through, remove it from the oven and brush with the Dijon-maple glaze. Reserve remaining glaze for serving.
Heat broiler and return pork tenderloin to the oven. Broil for about 5 minutes, making sure it does not burn.
Remove from the oven and let rest before serving.
Far-Out Brussels Sprouts
You can omit the bacon from this side if you are feeling baconed out. But if your guy is a hog lover, then go ahead. The earthy flavor of brussels sprouts is the perfect complement to the pork.
4 strips bacon, chopped
1 tablespoon olive oil
1 pound brussels sprouts, trimmed and halved
½ teaspoon salt
¼ teaspoon pepper
1 cup chicken broth
In a medium skillet, cook chopped bacon over medium-high heat until crispy. Transfer bacon to a paper towel-lined plated to drain.
In the same pan, add 1 tablespoon of olive oil to the bacon grease. Add brussels sprouts, turning to coast, and season with salt and pepper. Cook for 2-3 minutes.
Add chicken broth. Bring to a boil, cover, and reduce heat to medium-low. Cook for 10 minutes, until tender.
Using a slotted spoon, transfer sprouts to a serving dish with a slotted spoon and toss with cooked bacon bits.
Honey Pie Hash
By this time, your man should be whispering sweet nothings to you and this homespun hash should have him practically cooing. The collision of sweet and savory is a divine coupling.
2 medium sweet potatoes, peeled and cubed
5 strips bacon
1 tablespoon olive oil
½ onion, chopped
½ teaspoon salt
¼ teaspoon pepper
2 tablespoons maple syrup
In a large pot of boiling water, cook cubed sweet potatoes until tender, about 5 minutes. Drain and set aside.
In a medium skillet, cook chopped bacon over medium-high heat until crispy. Transfer bacon to a paper towel-lined plate to drain.
In the same pan, add 1 tablespoon olive oil to the bacon grease. Add onions and cook for 2 minutes.
Add sweet potatoes, salt, and pepper and cook until really tender, about 8 minutes. Add the maple syrup and stir mixture to coat. Cook for another minute. Turn off heat and stir in cooked bacon bits.
Elvis Presley Ice Cream
This faux ice cream is made from the king's favorite foods: bacon, banana and peanut butter, with a little maple syrup thrown in for good measure. It will leave your beau wanting to love you tender.
4 large bananas, very ripe, peeled and thickly sliced
6 strips bacon, chopped
2 tablespoons peanut butter
3 tablespoons maple syrup
Arrange banana slices in a single layer on a large plate or baking sheet. Freeze for 2 hours.
In a medium skillet, cook chopped bacon over medium-high heat until crispy. Transfer bacon to a paper towel-lined plate to drain.
Place frozen bananas in a food processor and puree until creamy and smooth. Add peanut butter and maple syrup and puree to combine.
Transfer banana mixture to a bowl. Fold in cooked bacon, stirring until evenly distributed.
Freeze mixture for a few hours and serve. Garnish with a wink and a cheeky smile.
Babe Scott's new book
The Lazy Hostess
will be published on October 10. This luminous tome promises to transform even the most domestically challenged diva into an entertaining queen. For more servings of this kitchen vixen go to
www.babescott.com
.