I had the pleasure of a month in Amsterdam this summer (ciao to New York's hottest June-August on record). I knew Amsterdam's attractions from previous visits. But this time I realized how it's one of the world's great cities for walking (but watch out for bicycles!).
I love rambling London and the South Bank; Istanbul up along the Bosphorus north from, say, Bebek village; Rome along the Tiber; Paris by the Seine. Waterside is an integral attractions to these walks--and Amsterdam, shot through with its canals, has this appeal on the almost hallucinatory.
Canal Walking
Every evening, instead of winey dining on our little rooftop by the Eastern Harbor, we packed sandwiches and a plastic bottle's worth of something to quaff, and rambled the length of one of the canals of the grachtengordel--the parallel 17th century graceful canals that form a layered necklace around the city center. The zone just became a UNESCO World Heritage site this summer. We'd stroll the whole crescent "U" of, say, Keizersgracht (Emperor's canal), past majestic gabled manses, cozy gabled houses, small boats with a few folk tippling rose and tour boats with tourists roaring beerily into the twilight.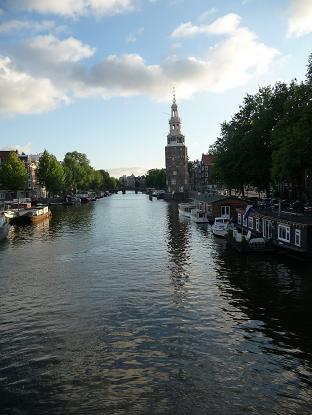 Canal en route to grachtengordel
The grachten reach their western top end at an intersecting canal called Brouwersgracht, which, with its converted old warehouses, has been voted Amsterdammers' favorite waterway. We'd pause on a bench, then hoof back comfortably the other way, on another canal maybe, in the late-gathering dusk. Roughly three hours and five miles every evening. Other than the constant danger of being flattened by a cyclist, it was one of the most memorable habits of a summer I've ever had.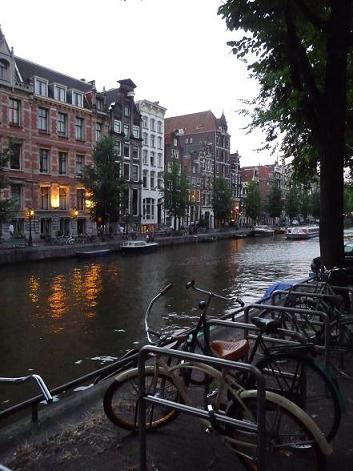 Canalside, outbound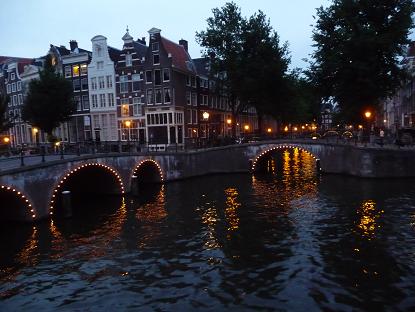 Canalside, returning
My girlfriend, who is Russian, said Amsterdam reminded her of a dacha--a Russian summer cottage mushroomed into a city.We would also took another route, south along the Amstel river (which resembles a very large canal). One evening we heard someone playing Scarlatti on a piano inside a houseboat. Crossing the marvelous early 20th century Berlage Bridge, we'd head west beside the long reach of the Amstel Canal (sometimes swans in the water). The thrilling brick-expressionist elaborations of early 20th century Amsterdam School architecture rise on either bank.
I've never walked so much daily. And did it really turn into a real slog, despite the distances. Wonderful, and hypnotizing.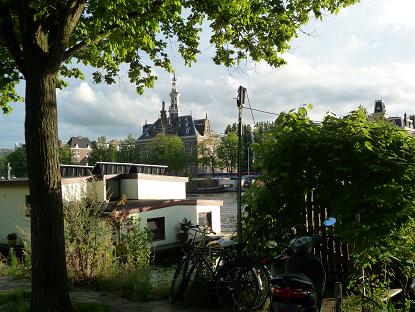 By the Amstel: with piano music?

Other notes on a month of Amsterdam:
Bicycles
There are some 600,000 in Amsterdam. Shockingly, I never saw one bicyclist the entire time who was wearing a helmet! Not even the little kids. I rented a bike (from a good outfit, Macbike ) and went zooming merrily out into semi-countryside. You can zoom everywhere. I then fell off the bike at very low speed. I hyper extended a finger. I could easily have hyper extended my skull.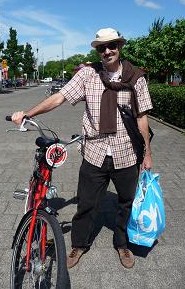 Bike and man, pre-extension
Hotels - Renovated Landmarks
Two of Amsterdam's grandest hotels are presenting new faces. Hotel de L'Europe, the iconic presence featured in Hitchcock's Foreign Correspondent, is expanding next door with 23 "ultra-luxury' suites called "de l'Europe Dutch Masters." We had dinner on the hotel terrace beside the Amstel. The opening course particularly pleased: lukewarm oatmeal pie with chanterelles and herb garden salad, paired with a Swiss white from the Valai. Sommelier Dannis Apeldoorn has made a savvy, really interesting list. He poured a 1994 Chateau Ferriere Margaux--somehow it had the springy tannins of a young wine.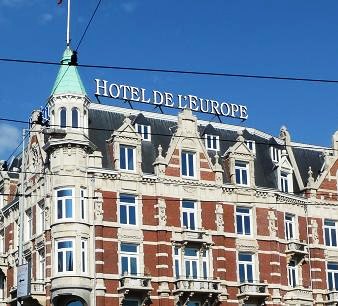 Where Hitch's guys stunt-walked
Sofitel Amsterdam The Grand, majestically overlooking the city's oldest canal, last month completed a chic redo (adding 52 rooms) designed by French architectural star Sybille de Margerie.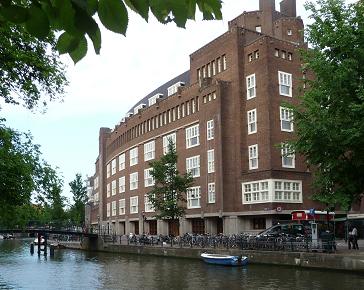 Canalside, grandly
Margerie has given the hotel's very fine high end fish restaurant, Bridges, a dashingly playful new look based on the mural by post-war Cobra-man Karel Appel which adorns the entry. It was painted when the restaurant was the canteen for city hall, the former use of this building in the complex, an Amsterdam School beauty. Again, the wine list particularly impressed, courtesy of sommelier Hans Tuin. Amsterdam is becoming a great town for wine, thanks to low alcohol taxes and Netherlands' location in Europe. The retail shops now have better bargains than New York, where I live and shop.

Playful detail, Bridges

Book the Future
Amsterdam gorgeous central public library, biggest in Europe, opened in 2007 on the burgeoning Eastern Harbor and it's an urban showstopper: cool and beautifully designed, it functions more like a cultural center, with skads of free online computers, gallery space, and a fine rooftop cafeteria restaurant looking over the city. I went along many days.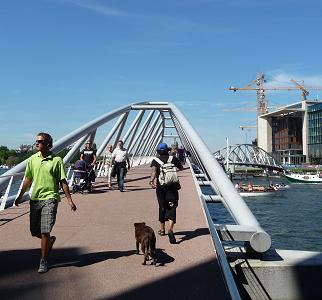 Library, seen from footbridge
Mistakenly, I expected silence at the Library. But hard to ssshh loud talkers when the sounds of live music come cascaded through the building. Yeah, more like a cultural center.

Silent no more

Among the Tall Ships
Sail Amsterdam, the gathering of tall ships every five years, took place in the eastern Harbor area in August. The evening promenades of vessels of all kinds parading along slowly like a Noah's Ark procession of arks, was a spectacle as fine and lyrical as anything I've ever seen on a stage. Magical.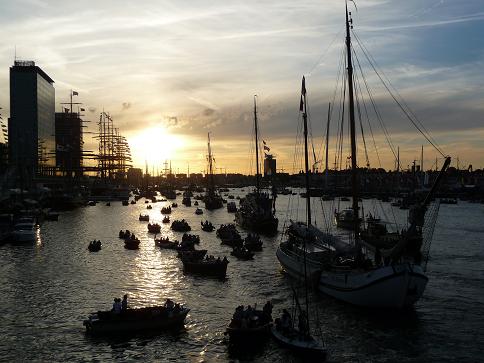 Sailing Amsterdam
Dans le Port d'Amsterdam The wonderfully overheated internationalist ode to the city--by Belgian Jacques Brel, which he wrote in the south of France. Dig those rolled r's!
SUBSCRIBE TO & FOLLOW LIFESTYLE
HuffPost Lifestyle is a daily newsletter that will make you happier and healthier — one email at a time. Learn more