This post was co-written with Matt Krogh, Tar Sands SOS Campaign Director for ForestEthics
It's amazing to think of the railroad legacy of Spokane, Washington and to see it all come to this; a means to a very dirty, costly, dangerous, unhealthy and climate-cooking end.
On December 11th, for the third time in barely over a year, Spokane will host a forum for a statewide-significant public hearing at which agencies will hear citizen concerns and suggestions on the scope of an environmental impact assessment for a fossil fuel project on the west side of the state.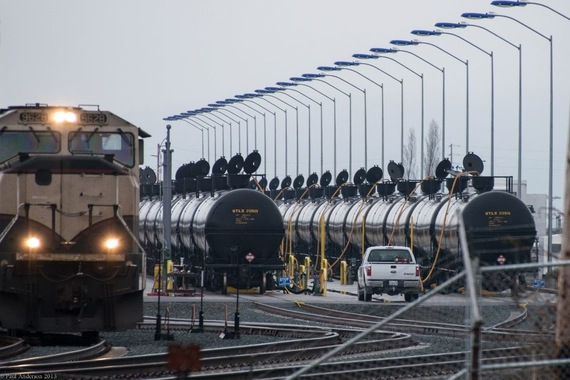 All photographs copyright Paul K Anderson 2013
If December 11th's hearing over a proposed crude oil transit terminal in Vancouver plays out like the two prior hearings over separate coal export terminals near Bellingham and Longview respectively, the narrative will be much the same.
Giant unit trains of oil, like unit trains of coal, would impact existing rail infrastructure (with taxpayers paying for said impacts or needed improvements / expansion), increase health risks from diesel particulates, contribute to traffic congestion and slow emergency response, increase noise pollution, air pollution, environmental risks, and more.
This hearing is about a crude oil terminal not coal, but the potential impacts to Spokane as a rail community are much the same and should be familiar for folks in Washington and specifically Spokane by now--around the state, over 300,000 people submitted comments on the two coal terminal projects over the course of two separate public comment periods bringing up a litany of concerns ranging from environmental to economic to public health concerns and more.
But when talking about shipping crude oil, risk is what keeps people like us up at night. These crude oil trains represent the worst of both worlds--the shale oil from the Bakken fields of North Dakota tends to explode on derailing, while tar sands crude from Alberta sinks. And we don't know how to clean it up.
There's risk to the Spokane River and Hangman Creek, to the Rathdrum Prairie - Spokane Valley Aquifer, the neighborhoods along the rail lines, and the increasingly bustling and economically attractive downtown Spokane core.
We don't have to guess what an accident would look like in Spokane. All we have to do is search Google or YouTube to see the devastation in Lac-Megantic, Canada
when a crude oil train from the Bakken fields of North Dakota (the same location where the proposed oil transit terminal in Vancouver would get some its oil from) derailed and devastated a community, killing 47 people. Or in early November when a Bakken oil train exploded and derailed in Alabama, distressing a pristine wetlands area and completely surprising a community who wasn't prepared with a response or clean-up plan.
The reality is, Spokane isn't really ready either. In fact, the Spokesman-Review first alerted the public to this in an editorial in July titled, "Quebec derailment shows need for readiness" Oil spill response or preparedness has historically in the state of Washington been focused on marine response, not inland response.
Spokane, however, would be wise to be ready, because it's not just the proposed Tesoro Savage terminal in Vancouver. Proposals for similar facilities are on the rise, with Sightline Institute reporting all the new terminals proposed for Washington (currently ten) would mean approximately 12 loaded 100 car crude oil trains a day running through Spokane. 1,200 rail cars--which the National Transportation Safety Board has stated are unsafe, as early as 1992--every day, carrying approximately 800,000 barrels of crude oil per day through the state of Washington with Spokane being the big choke point near the point of entry.
With empty oil trains making the return trip, that would mean upwards of 24 trains (half full of Bakken oil and half empty) traveling through Spokane Valley, Spokane and Cheney, over the Spokane River, Hangman Creek and the Acquifer, and on the same rail lines that ironically enough tend to get destabilized or damaged due to coal dust falling out of uncovered coal trains, a scenario that with coal export proposals on the west coast could also significantly increase.
Taken all together, communities would be asked to bear a load that is quite possibly unfeasible both structurally and economically.
These figures are only taking into account the proposed facilities in the state of Washington. There are additional projects proposed in the state of Oregon that would increase these figures, meaning even more crude oil trains traveling through Spokane en route to Oregon.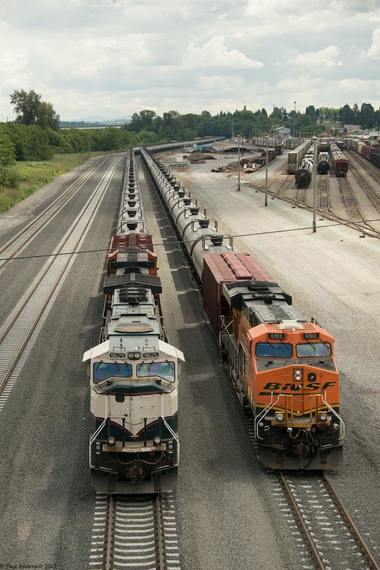 All photographs copyright Paul K Anderson 2013
Beyond concerns over rail capacity and that impact on communities, here are key aspects of our concerns related to these proposals in the state of Washington:
- Spill readiness: We simply aren't ready for spills by rail, per Ecology's own account. Much of the rail route parallels waterways like the Spokane River, Columbia River, Chehalis River, Grays Harbor Estuary, and Puget Sound. With respect to tar sands, we have no meaningful response plan that acknowledges the fate of tar sands in marine or fresh aquatic environments. Current rail standards allow transport of explosive Bakken crude in old and outdated cars--a risk Washingtonians shouldn't have to take.
- It isn't for us:In total, the new rail terminals substantially exceed Washington's refining capacity, which already receives all the crude needed by vessel and Kinder Morgan's Puget Sound Pipeline. While each of the terminals is nominally intended to receive domestic Bakken shale oil, many have already been demonstrated to be actively soliciting tar sands business from Alberta. In fact it is doubtful that the proposed expansion would make economic sense for Bakken crude alone. With Alberta's tar sands representing the second largest oil deposit on the planet, international market demand will inevitably pressure Washington's crude by rail terminals to become nothing but transshipment points for Canadian crude to the world--leaving us with all the risk and no reward.
What would be the economic effect of a massive spill or rail explosion in our state? Washington can create real jobs and real prosperity by dedicating our resources to meet transportation needs without an increase of crude flowing into the state--transit, efficiency, conservation, walkable communities, electric car manufacture, all are viable options that keep jobs at home and support responsible development.
- The terminals endanger the Columbia River, Chehalis River, Puget Sound: While some of the crude has a chance of being used locally at the refineries, both the new merchant terminals and refinery terminals mean a vast increase in crude oil transiting our waterways--on the way out of our state. Although its clear intent was to protect Puget Sound, the Magnuson Amendment to the Marine Mammal Protection Act only limits incoming crude by ship. That means there is no effective limit, other than rail capacity, on the transit of tar sands into world markets or Bakken into domestic markets. Washington gets all risk, no reward. (Note: current restrictions on US crude export are under attack by the American Petroleum Institute through WTO rules. If oil companies win on that issue, the flood of exports from tar sands and Bakken becomes doubly problematic.)
- The terminals would slow Washington's economic recovery: Committing large volumes of rail capacity for raw energy export is bad for Washington jobs and retards economic growth. Mixing coal, Bakken, and tar sands on the rails is a recipe for increased derailment and catastrophic disasters; likewise, repeated risk exposure through a vast increase in crude and bulk carrier vessels in the Columbia or Puget Sound virtually guarantees a devastating oil spill of a size that could easily exceed the two Puget Sound spills that generated so much outcry from citizens ten years ago. Ecology estimates a single major oil spill in Puget Sound to cost our economy $10.8 billion and impact 165,000 jobs.
- Ocean acidification: Opening up the taps to Alberta's tar sands, which these rail terminals would eventually do (each of the three terminals on the Columbia have had conversations with tar sands producers), effectively opens up the taps to the second-largest oil deposit on the planet. This has been described as "game-over" for defending against catastrophic climate change. Even if this oil is burned elsewhere, the sheer scale of the reserves can easily be traced to dramatic local climate change and ocean acidification effects.
There's simply too much unknown and too much risk involved which is why these groups in Washington: Spokane Riverkeeper, The Lands Council, ForestEthics, Puget Soundkeeper Alliance, RE Sources for Sustainable Communities, Sierra Club, Friends of Grays Harbor, Deschutes Estuary Restoration Team, Sound Action, Friends of Miller Peninsula State Park, League of Women Voters of Washington, Friends of the San Juans, and Citizens for a Healthy Bay have called on Washington Governor Jay Inslee, Ecology Director Maia Bellon, and Commissioner of Public Lands Peter Goldmark to declare a moratorium on permits for new oil transport infrastructure, pending a programmatic Environmental Impact Statement (EIS) that adequately describes the risk the new infrastructure represents--the same infrastructure that coal trains would use. We're talking the same rails, same vessel traffic, same ports, same climate; the projects, though independent of each other, should be looked at cumulatively to understand the threat they pose to the state of Washington.
When it's all risk and no reward, it's all of our responsibility to stand up and protect not just Spokane but the rest of Washington from bad deals on wheels.