Come tax season, my business manager comes to me with the same question every year asking, "What should we put down as your occupation?" And every year, I tell him I'm an eco-stylist. and then he writes down "writer" instead. I can only assume he thinks the IRS would flag my tax return as auditable if it read "eco-stylist."
So what is an eco-stylist? I show people how to live environmentally-friendly at home all without sacrificing comfort or style. I use my own home as a backdrop, producing photo shoots for books and magazines and filming TV segments teaching everything from how to reupholster a dining room chair with an old sweater to color matching low-VOC paints to natural items from the woods. I live, breathe and act as resourceful and green as possible and share these tips, ideas and projects with people who watch my shows and read the books we produce.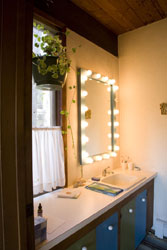 For several years, I've used my 1100 square foot bungalow home in Bucks County, PA for work. It has been constantly inundated with TV and photo crews and has been painted and re-painted and decorated and re-decorated more than any house should be re-done. I've celebrated a green Christmas in July for a magazine photo shoot and decorated the porch for a Spring detox story in December. About a year ago, when I had thirty people here to film my DVD Simple Steps to a Greener Home, all fighting to use one, single bathroom did I realize it might be time to find a larger, more crew-friendly space to use.
Here's what I look for: A fixer upper, but not a condemned tear-down. Something unusual architecturally, not cookie-cutter. Spacious, but not McMansion. Surrounded by preserved land or forests, but not so far away in the wilderness that my friends would call me Seo-Bomber. And finally, it had to have a guest house, so I could use it to store equipment, have facilities for work crews and have a place to properly serve lunch on shoot days. I was definitely a challenge for my realtor.
Here's what I settled for: a mid-century modern fixer-upper. A combination of English cottage meets Japanese tea house.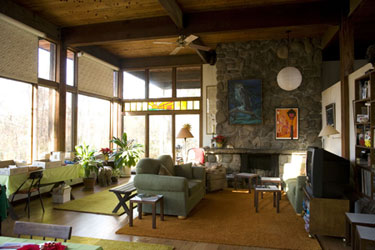 As a Country Home magazine editor, my aesthetic is usually more about comfort, not cold chrome fixtures. But the home had everything that I wanted: a guest house, preserved park land, tall ceilings, lots of space, unusual architectural elements, untouched rooms in need of cosmetic renovations, and even a flat roof that I could convert into a living roof full of sedums. The bones of the home were strong, but it needed modernization. Walking through the house, I could already envision the right paint colors, energy-efficient appliances, light fixtures, flooring and vintage furniture. It was perfect.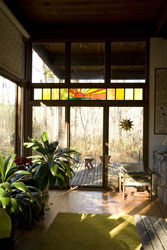 Over the next few months, I'll be undergoing a green renovation of the home. My goal is to renovate and update what is needed most, and preserve and restore whenever possible. The cabinets, for example, are in perfect condition and need a bit of refinishing to bring them back to life; but the kitchen appliances are energy hogs that need to be replaced with more efficient models.

I'll share all my insight and tips I learn along the way. When I rip up the old, shredded nylon carpet and replace it with intricate bamboo, how difficult will it be to truly get the carpet recycled? Or when the trash removal service comes to pick-up the old appliances to be recycled for scrap metal, will it actually get recycled? (And will they notice me following them to the dump?). I'll take lots of photos and I'll try to find time-saving eco-solutions so you don't have to spend hours trying to figure out the greenest solutions.
Until closing day, here are some before shots of the house. Let me know if you have any green renovations problems or questions you'd like answered. We'll use this house as a laboratory of sorts to figure it all out.
Contact Us With Stories, Tips, or Questions