I visited Atlanta, Georgia this weekend where I had the opportunity to feel the effects of Hurricanes Gustav and Ike first-hand. Atlanta is currently experiencing a severe gasoline shortage. The shortage began almost two weeks ago and from what I heard from gas station owners, attendants, and customers, Georgians - and particularly Atlantans - should expect the shortage to last another one to two weeks longer.
This is a prime example of the inter-connectedness of our states and of the world in general. Here's what happened: when Hurricanes Gustav and Ike pummeled Houston and other Gulf coast locations, capacity in those oil refineries became severely impacted. I was told that last week the pipeline that delivers gas to Georgia was only at 30% capacity. Metro Atlanta gas stations are required to sell cleaner-burning fuel due to air quality problems in the city. Therefore, gas cannot be trucked in from other cities because these other cities tend to have looser environmental protections with regards to the gasoline used in cars.
After listening all weekend to friends' stories about waiting in long lines to fill up their cars, it was finally my time to experience this situation first-hand yesterday. My rental car was nearing empty so I searched for a station with gas. After passing 3 stations completely out of gas, I finally found one with limited supply still available. I joined a line stretching about 20 cars in length, all awaiting our turn to fill up our tanks. This station had several pumps so my wait was only about 20 minutes - not bad compared to the stories I'd heard of people waiting well over an hour to fill up their cars.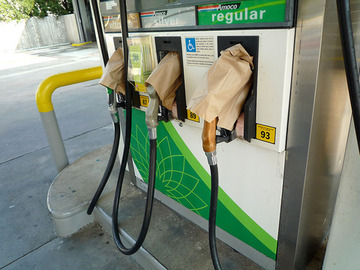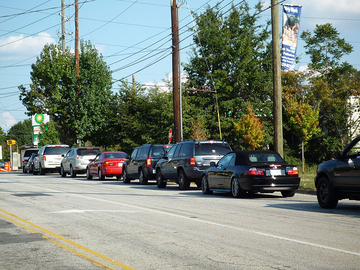 I observed one minor scuffle while filling up my gas tank. The station had blocked one of its entrances by lining up orange cones so cars would not enter. As a result there was one entrance into the station - hence the long line 20 cars deep. One rather impatient motorist decided to run over the cones and attempted to drive up to an empty pump. Quickly, the gas station attendant who was directing cars to available pumps sprung upon this guy's car and informed him he had cut the line. Within about half a minute, a shouting match had ensued. Eventually the motorist, huffing and puffing, returned into his car and proceeded to exit the station by driving over the remaining orange cones he hadn't knocked over during his entrance.
Since I was just visiting, I found the experience amusing. However, for Atlantans dealing with these hassles every day for weeks now, I have great sympathy. I heard stories about people running out of gas on the freeway. And stories of others arriving late to work because they'd spent over an hour in line so they could avoid running out of gas on the freeway. Hopefully the pipeline will return to full capacity in the near future. In the meantime, Atlanta vehicles will burn all the gas that's available to be burnt.

FOLLOW HUFFPOST