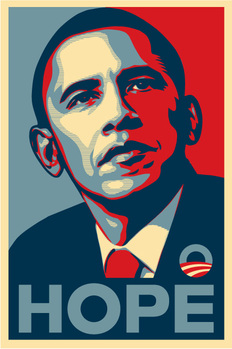 The large majority of people reading this post have seen this image before. This iconic image of Barack Obama, adorned on posters, stickers, clothing and more, was created by Los Angeles-based, contemporary street artist Shepard Fairey. This image has become a pop cultural phenomenon and an important symbol in the political landscape of 2008 and beyond. How did this image spread virally so quickly? Who was involved in making that happen?
A couple of days ago, I spoke with Shepard and Yosi Sergant, the marketing/publicity guru who helped link Fairey to the Obama campaign and who helped the image transcend from mere poster into a phenomenon. Here's a transcript of the interview:

That's the story about how one image transcended from mere poster into a cultural phenomenon and an important, iconic symbol of Barack Obama's Presidential campaign.
Please leave comments. Tell us what the image symbolizes to you. Also, tell us your story about the first time you saw this iconic image.
FOLLOW HUFFPOST