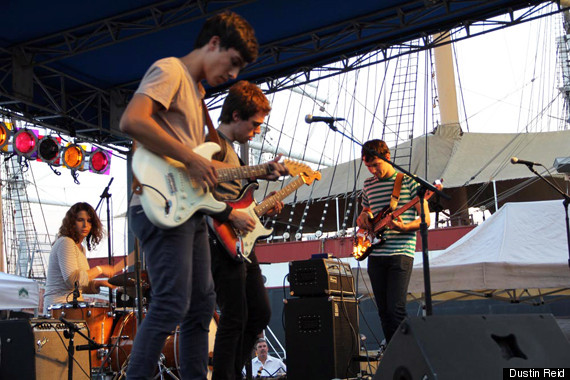 Avigdor Zahner-Isenberg and his bandmates in Avi Buffalo may only be 19 years old (give or take a year), but their skill is impressive enough to make Chad VanGaalen blush. The 32-year old indie semi-veteran and opening act told the audience at this Friday's free show at the South Street Seaport, "We aren't allowed to share our beers with them. But they make me embarrassed to be playing guitar, with how talented they are."
Avi Buffalo are truly that extraordinary -- to the point that they inspire a kind of hatred in every music fan in their twenties or thirties who still has the dream of someday getting their shit together and achieving indie stardom. As one audience member told me, "They're the kind of band that makes me want to punch the lead singer in the face, take his guitar, and then hit the bassist over the head with it -- in a good way." He added, "They're just ridiculously good."
Frontman and virtuosic guitarist Zahner-Isenberg is truly an original. Watching him as his band ran through most of the tracks of their 2010 self-titled LP, I tried to attribute his guitar stylings to a specific influence but was at a loss. At times, he was reminiscent of the most draw-worthy contemporary indie rock catalogue, from Wilco to the Shins to Built to Spill. But as Zahner-Isenberg would sporadically shift from thoughtful, walking chords into eccentric shredding, with the twist of a knob on one of his various pedals, he could melt faces. The teenage talent was able to channel 60s masters like Hendrix and innovators like Radiohead's Jonny Greenwood as well as combine the stylistic elements with bizarre perfection, creating something totally unique that belongs solely to Avi Buffalo. Despite their youth, the band was surprisingly self-indulgent at times, milking psychedelic outros in almost every song and tearing guitar solos to pieces -- indulgences, interestingly enough, that are almost completely absent from the album versions of these songs.
That being said, the band hadn't quite honed their live show to provide for the most variation. As jaw-dropping as the band was as during their first few songs, it slowly became clear that they weren't going to veer too far away from a certain sound, characterized by a certain tempo and certain guitar tones -- not to mention Zahner-Isenberg's one-of-a-kind squeal-croon. Evidence of the band's youth was all over their performance, from Zahner-Isenberg's constant tweaking of the tone of his pedal effects, dropping to his knees to make adjustments mid-verse, to their unpolished on-stage candor. But the naivete of the teenage act was as endearing as it was refreshing. Unlike some more seasoned big-name bands that the Seaport is able to attract, many of whom consider playing a free show to a family crowd a necessary trial of touring, Avi Buffalo seemed genuinely grateful to play as headliners to such a large audience. When Zahner-Isenberg spoke to the crowd between songs, he was visibly nervous. How amazing then, that these modest young musicians were able to put on a performance more promising than anything I have heard from faces this fresh in years.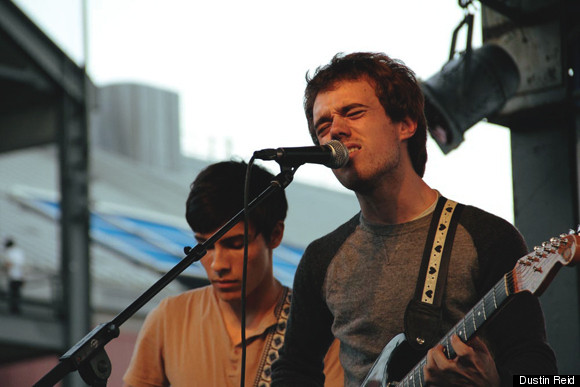 SUBSCRIBE TO & FOLLOW THE MORNING EMAIL
The Morning Email helps you start your workday with everything you need to know: breaking news, entertainment and a dash of fun. Learn more