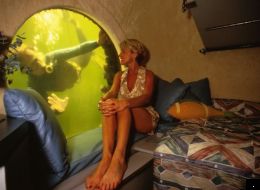 Journalist Ben Hellwarth is the author of the new book SEALAB: America's Forgotten Quest to Live and Work on the Ocean Floor.
---
Sure, space tourism will take off one of these days, but in the meantime you might as well consider heading into that other great beyond, the deep blue sea.
Blueprints like those for The Discus Hotel are the latest signs of a new wave in underwater accommodations. Call it sub-aquatic tourism. Instead of getting launched skyward, you can look forward to bedding down on the seabed. Think: butlers, Scandinavian duvets and multi-course meals. Or, if you prefer rustic to ritzy, that'll be an option, too. In fact, the world's only underwater hotel already offers equal parts Jules Verne fantasy and the reality born in the 1960s with Sealab, the daring U.S. Navy venture I describe in my new book, SEALAB: America's Forgotten Quest to Live and Work on the Ocean Floor.
More recently, while writing a feature story for the June issue of Discover magazine, I found out that the spirit of Sealab lives on in the variety of subsea suites that are on their way to opening their doors -- or hatches -- to vacationers who have deeper notions of what an ocean view should be. For anyone eager to take the plunge, here's a look at the present and future of sub-aquatic getaways.
Jules' Lodge sits at a depth of about 22 feet in the tropical mangrove habitat of Emerald Lagoon at Key Largo Undersea Park in Key Largo, Florida. Guests come and go as they please through the open hatch in the floor, just like the aquanauts in Sealab (scuba certification is available on site if needed). With two separate bedrooms and a common area (equipped with a kitchenette, entertainment center, and of course a 42-inch view port), the Lodge typically houses one or two couples at a time, but can sleep up to six people. Gourmet meals - including pizza from a venerable local parlor - are delivered. Prices range from a $125-per-person day rate up to $1,395 for the "ultimate romantic getaway package."

Jules' Undersea Lodge is the original and still the only place to book an underwater vacation - and to experience life as an "aquanaut," the term applied to divers who stay down for more than a day, sort of like pilots and space crews get to be called astronauts. Turning divers into aquanauts was a pioneering feat of Sealab, and Jules' Lodge (named for Jules Verne) can rightly be considered a Sealab descendant. The Lodge is a former research base called La Chalupa that was in use for several years in the 1970s at various locations around Puerto Rico. Owned by Key Largo-based Marine Resources Development Foundation, the base was converted into a cozy lodge in the mid-1980s, one whose guests have included Aerosmith frontman Steve Tyler, Jon Fishman of the rock band Phish and former Canadian Prime Minister Pierre Trudeau.

At SeaBase1, where affordable eco-tourism is the focus, you'll be able to mix research and relaxation. Recreational guest divers can join professionals on tasks like reef restoration - ideally to the east of Ambergris Caye in Belize, the hoped-for location. The project's chief instigator, Richard Cooper, a longtime University of Connecticut marine sciences professor, was himself an aquanaut on Sealab and several of the world's first science-oriented sea bases in the 1960s and '70s. Dr. Cooper died last year, but a board of directors, including his son, carries on with a plan to create a nonprofit corporation and raise the roughly $35 million they'll need to create this diving destination.

SeaBase1 is envisioned as a boxy, four-story structure that will be more dormitory and laboratory than hotel - a real working base, with room for up to 25 aquanauts. Butlers need not apply. Divers will enter at the top of the base, a depth of about twenty feet. As the name implies, SeaBase1 could beget SeaBase2 and a series of additional bases in other places.

Not every undersea resort will require guests to dive, or even to get wet. At the Poseidon Undersea Resort, coming to a mile-long, palm-shrouded crescent of a Fijian island, an elevator will take you down to the two dozen luxury suites, and also the restaurant, library, conference room and a convertible wedding chapel. The $200 million Poseidon development, which includes seaside bungalows above the waterline, is the brainchild of L. Bruce Jones and his company, U.S. Submarines, renowned builders of deep-diving mini-subs and submersibles.

Each of Poseidon's 550-square-foot suites, to be built in Oregon, will be encased in a clear acrylic shell four inches thick. Hit a button on your control console to feed the fish outside, James Bond-like. Want a larger room? The Nautilus Suite is twice the size of the others, with décor inspired by Captain Nemo's submarine from Jules Verne's 20,000 Leagues Under the Sea. Even with no firm opening date and at the Poseidon resort's projected rates of $15,000 per person for seven days and six nights, travelers appear eager to dive in. "We have about 115,000 people that have signed up to be informed when we start taking reservations, and our maximum capacity is 7,400 a year," developer Bruce Jones says. "So we expect to open two or three years fully booked in advance."

Poseidon developer Bruce Jones, on a recent trip to the Bahamas, stands with his Triton 3300/3 -the name reflecting the submersible's ability to transport three passengers to 3,300-foot depths. Its transparent pressure hull, made of acrylic 6.5 inches thick, is similar to what would be used to enclose the Poseidon's resorts modular suites. Resort guests can take rides on board a 16-passenger luxury submersible, or sign up to pilot one of Jones's personal Triton submarines (training to be included).

Welcome to the world's first underwater home, called, appropriately enough, the H2OME (pronounced H20, as in water, with an m). It's a prefabricated circular abode with about 5,000 square feet of customizable living space that yields a clear view all the way around through acrylic walls. After being built near company headquarters, in Vero Beach, Fla., your new H2OME could be transported to - whatever patch of seabed you've arranged to call H2OME Sweet H2OME.

To set up your H2OME you'll need a suitable site at a depth of about sixty-five feet. Oh, and figure on about $15 million to cover the cost of construction and installation, which is why some might want to consider a time share. Of course there are those for whom that price tag is no more hefty than for a private jet or super yacht. And this will give a whole new (and deeper) meaning to being the first on your block.

You won't be able to spend the entire night beneath the waves, but at the Ithaa Undersea Restaurant at Conrad Maldives Rangali Island you'll get a taste of what a sub-aquatic suite would be like. Along with the Maldivian-Western fusion cuisine, diners at Ithaa (pronounced EET-ha) enjoy unobstructed 180-degree views of the surrounding reef from a few fathoms below the surface of the Indian Ocean. They're also getting a glimpse of the future.