The NFL Season is down to four teams. This coming week, two more teams will end their season just a bit early and two teams will move on to play for the coveted Lombardi Trophy in Super Bowl XLV. A ticket to the AFC Championship -- New York Jets vs. Pittsburgh Steelers -- is definitely not cheap, going for $604 on average.
If you're trying to get to Heinz Field on a "budget" it would be best if you were already in Pittsburgh so you wouldn't have to pay for airfare or a hotel. If you are living in Pittsburgh, you can sit in the "cheap seats" for $246/ticket. However, if you're living in the Tri-State area, it's going to cost you a pretty penny to get to the game. The cheapest flight from New York to Pittsburgh is a nonstop Delta flight, which will cost you $367/ticket. A 3-star hotel in Pittsburgh starts at $59 a night, so if you are staying for three nights, a hotel will cost you $177. Add that all up and Jets fans will have to pay at least $544 more than Steelers fans to get to the AFC Championship Game.
Summary
Tickets to the AFC Championship*: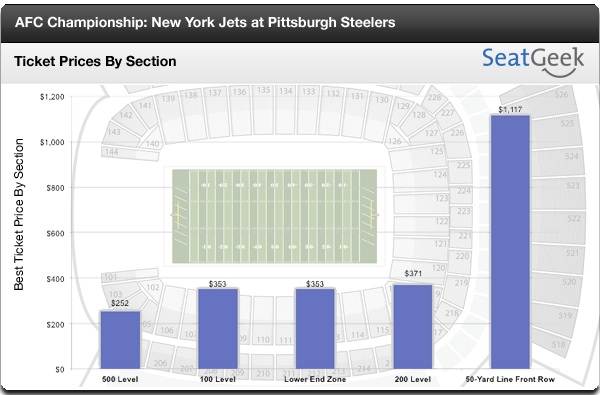 • 500 Level - $252/ticket
• 100 Level - $353/ticket
• Lower End Zone - $353/ticket
• 200 Level - $371/ticket
• 50-Yard Line Lower Level - $640/ticket
• 50-Yard Line Front Row - $1,117/ticket
*Best Price for each section
Airfare:
• New York (LGA) to Pittsburgh on Delta - $367/ticket
Hotel:
• Cheapest 3-star hotel - $76/night
• Cheapest 4-star hotel - $113/night
Total: 500 Level - $252/ticket, New York (LGA) to Pittsburgh on Delta - $367/ticket, Cheapest 3-star hotel -$76/night ($228 for three nights) = $847+
Now if money is not an issue...
Tickets to the NFC Championship: 50-Yard Line, Front Row - $1,117/ticket
Airfare: New York (JFK) to Pittsburgh First Class on Delta - $841/ticket
Hotel: Omni Hotel - Premier Suite - $379/night
Total: $3,095+
For more insight on what both the Steelers and the Jets need to do to achieve success and advance to Super Bowl XLV, check out the guest commentary below from two devoted fans, and bloggers.
Steelers Keys to Victory Over the Jets
Guest commentary by Bam Morris Blitzburgh Blog. You can find Bam on Twitter at @blitzburghblog1
Expose the dark side of Sanchez: We all know it is there, even the Jets fans. He's been solid during most of his playoff games, but there's no way the Jets would want to see him down by 14 points having to air it out against the Steelers defense. The Steelers need to stop the run and make Sanchez be the difference maker.
Solid special teams: The Steelers have a bad history of blowing winnable games on special teams, mostly with poor kick coverage. This area is one of the Jets strengths and a big kick return TD might be all New York needs to walk out of Heinz Field with a ticket to Dallas.
Let Roethlisberger do what he does best: The Jets caused chaos all over the field against Tom Brady and he blinked. Ben Roethlisberger is a different beast. He thrives on making great plays out of busted ones and he needs to punch the Jets in the mouth when they come after him.
Troy Polamalu: No other safety in the league gets inside a quarterback's head like Polamalu. He didn't play during the teams last meeting and his presence alone will make Sanchez think twice on almost every pass.
Cut down the penalties: Pittsburgh was one of the most penalized teams in the league this year and can ill afford to be hit with a ton of flags, especially the costly personal foul calls that have become commonplace. This will be a physical contest, no doubt, but cooler heads need to prevail for Pittsburgh to make the Jets earn every last yard.
Jets Keys to Victory Over the Steelers
Guest commentary by Daniel Krieg of Rex Sanchez.
Dominate the Steelers O-Line: The Jets must take advantage of the Steelers beat up offensive line. If they can put the same pressure on Ben that they put on Brady, the defense will dominate.
Don't Respect the Steelers: The Jets cannot give the Steelers too much respect. They play better when they're filled with anger and hate. I hope that fire continues burning.
Do NOT trust Nick Folk: I say this every week because it's true. It's a good thing the Jets found the end zone last week because had they needed Folk he would've choked.

Play it smart on special teams: The Jets punt returners terrify me when they let the ball bounce on kicks. I can see a nonsense fumble like that costing them the game. Also, Weatherford cannot keep booting the ball for touchbacks. Field position will be huge in this game.