Though reports have started to sound more hopeful as of late, the 109-day-old NFL lockout has yet to be resolved. In order for the 2011-12 schedule to be unaffected, the owners and players' association must reach an agreement by July 14th. Even if things are indeed looking up, we still have no guarantees -- the future of the season remains uncertain in the minds of football fans across America. NFL ticket prices, in the aggregate, have accordingly dropped on the secondary ticket market. A few teams in particular are seeing quite steep discounts; while some don't appear to have been affected at all.
Regardless, demand for NFL tickets has decreased across the board, and fans are buying tickets in far smaller numbers than they were at this time last year. Assuming that next month does in fact herald the return of America's most popular sport, we at SeatGeek would expect the secondary market for tickets to consequently see some significant growth from where it stands today.
So, it follows that fans can find some deals in the interim before a deal is reached. Is now the time to "buy low," so to speak? We've used SeatGeek's proprietary ticketing data to find the answer.
2011 tickets hit the secondary market in on April 15th. We've taken the data from then until now, for what I'll call the "early pre-season" period, and compared it against the same period in 2010. Here are the teams that showed an increase or decrease of more than $10: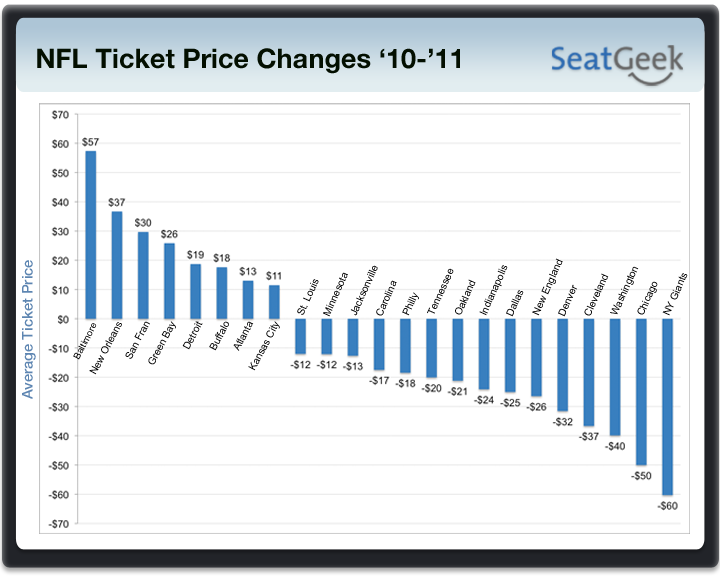 (Note: the nine teams not shown had little to no fluctuation [<$10] in ticket price from the two periods studied)

Of course, some of these fluctuations are partially due to other influences on sentiment, such as the post-Super Bowl win excitement in Green Bay. I'm not entirely sure how to account for the surge in Baltimore and New Orleans.
Still, some of these dramatic decreases are difficult to explain without taking the lockout into consideration. For example, there has been a 34% decrease in ticket resale prices for the Cleveland Browns, bringing them down to a league-low $70. Giants tickets are experiencing a whopping $60 decrease - their average ticket is now $183, down from $221, the league's high, at this time last year).
So, to summarize: if you're a fan of the Giants, Bears, Redskins, Browns, Broncos, Patriots, Cowboys, Colts, Titans, Panthers or Eagles -- and you're just as hopeful about their lineup as you were last year, now is a great time to look into buying tickets. If you're a fan of the Ravens, Saints, 49ers, Packers or Lions -- hold off, because your teams' ticket prices aren't necessarily any lower in the wake of the lockout.
Reporting and data contributed by Liz McDonnell.
SeatGeek is a data-driven ticket search engine that helps fans discover the best prices for sports, concert, and theater events.
FOLLOW HUFFPOST