Re: Assumptions re Los Angeles Viewers
Like all football fans, I welcome the start of a new season with excitement. The excitement, however, quickly evaporates once I discovered that, while most the nation has regional match-ups with playoff caliber teams such as the Patriots or Colts, Angelenos get to watch the lowly Raiders get pummeled by the mediocre Tennessee Titans (2009 record: 8-8). Oh boy!
This is the 16th season since the Raiders returned to Oakland after 13 seasons in Los Angeles. During their time in Los Angeles, the Raiders rarely sold out the cavernous Coliseum and attendance averaged a low of 41,000 in 1993. The networks seem to think time stands still in Los Angeles (that would be the freeways), but thousands of people pour into Los Angeles from all over the country and world every year or leave for greener pastures. Even assuming that everyone in greater Los Angeles was a Raider fan during the final 1994 season (which is unlikely given that the Rams were still in Anaheim at that time), that would only account for slightly more than 1/3rd of the current population.
Not only were they not especially loved (except when they won the Super Bowl), but they are not particularly missed. I bet few at CBS know that according to Urban Tailgate, Los Angeles now has more pro-Patriots' sports bars than Raiders' bars.
So please CBS Sports executives, hear my call and do your home work before serving us another season of lousy football.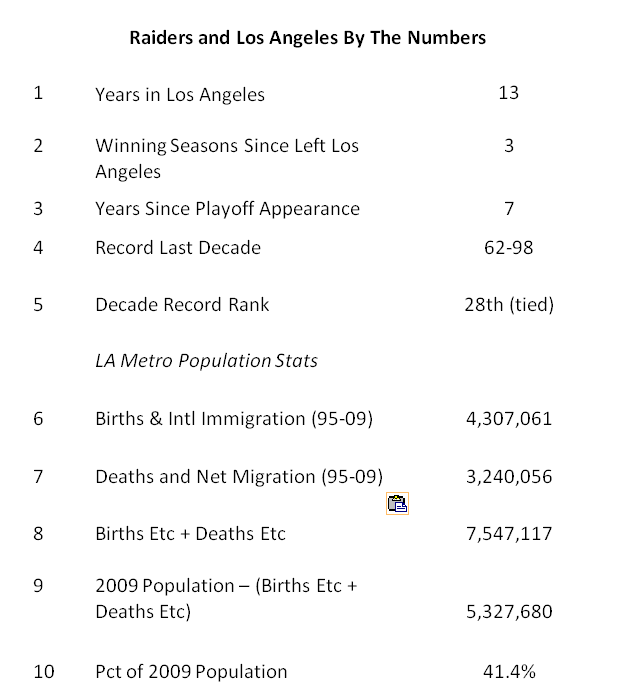 This Blogger's Books and Other Items from...
FOLLOW HUFFPOST