We took off our running shoes and walked barefooted along the path, which included the bed of a clear stream of water that I would call a creek. Smiling women in colorful dresses, balancing bundles on their heads, and men and giggling children met us along this liquid footpath. The rivulet was a sidewalk that nature made, not that I would've ever known it if I hadn't been led there and experienced it myself -- if I hadn't seen others using it for what likely might be a daily trek.
I've traveled a good bit around the world and usually find something captivating about the places I visit. Like others who have wanderlust bred in their bones, I find that seeing new vistas and cultures expands my sense of self, as well as of the world we live in. It nourishes me on what I believe is a cellular level, and self-nourishment was why I had come to Africa. It was the reason I had found Wildfitness for a fitness/spa holiday. But until I got there, I had no real idea of how sustaining and expanding Kenya would feel to me.
The thing was I'd quit smoking -- again and for the last time -- and my method had been to substitute food for cigarettes. I thought: If I'm going to deprive myself of the cigs I love, then I'll eat what I want and lose the weight later. Man, did I open a hellacious can of worms! This was a seriously stupid "quit smoking" plan.
But I'd once been able to get back in shape in three weeks. I'd been a gym-aholic until I'd moved to France and was traveling and working constantly. Now I walked almost everywhere I went, but I worked too much, some days never going outside for fresh air. I'd always watched what I ate, perpetually considering myself on a diet -- and thought myself fat when I was a wisp -- you've heard this story before. I'm a good example of what was pounded into my generation about how American women should look and be. There's also the plain fact that once one reaches a certain age, it's harder to get rid of weight.
Plus, I needed some time alone to nourish myself. We women are continually short of this. I'd vowed to take some time and space for myself every fall but wasn't fulfilling my promise.
I found Wildfitness on the Internet, got in touch, and they had an opening coming right up. I flew from Paris to Nairobi and caught a small plane to Malindi, which is about 25 minutes from Watamu, where Wildfitness is located.
I had wanted to go to Africa for years, and, boom, I'd finally made it! And it was unbelievable. Londoner Tara Wood founded Wildfitness in 2001 as "the natural expression of her passion for the outdoors and belief in the potential of the human body." Ms. Wood "was brought up in Kenya and found that being outdoors, active and eating well can flip your mood and boost your health like no medicine can." And her fabulously fantastic childhood home was the Wildfitness main facility. My room had a stunning view of the Indian Ocean. It was open, Kenyan style, and decorated with Kenyan arts and crafts. I loved it from the moment I stepped in.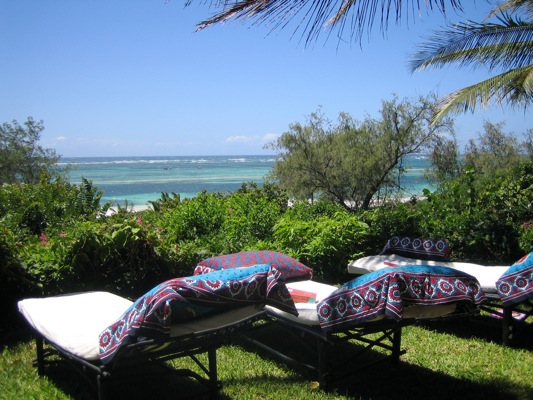 View from Wildfitness

Wildfitness Outdoor Living & Dining
There was a small group of women -- and one man, who actually hurt himself and had to go home. We were British, one Dutch, and a couple of Americans, of which I was the oldest -- though maybe not the most out of shape. Let's say, second most. A few of the group were starting the last two weeks of a month-long stay. I had worried two weeks wouldn't be enough time for me to recover and recuperate. (Three months probably would've been what I needed to get myself flushed out and back into a really fit and healthy groove. A dream, no?) But I was happy to be there.
Here's the Wildfitness philosophy:
Humans spent 200,000 years as "hunter-gatherers" or wild humans, adapting to life on the Savannah. We were tall, strong, lean, fast, agile and fertile. We did not need intervention in the form of modern chemicals or equipment to keep fit and healthy. Nature provided everything we needed.

Many of us have become zoo humans because we are living in an environment that is radically different to the one in which we evolved to live. Our environment has changed at a rapid rate but our bodies cannot adapt so quickly. As a result our health -- mental, physical, emotional and spiritual -- has suffered.

At Wildfitness our aim is to transform zoo humans into wild humans again.

We will teach you the fundamentals of wild movement, wild eating and wild living, giving you all the knowledge and guidance you need to re-discover your inner animal.
For two weeks, we went through a rigorous schedule of running, boxing, swimming, kettle bells (which I hated), bicycling, and more. It was a rush of intense physical activity that kicked my butt and was combined with incredibly delicious healthy fresh food and massages in a cabana in the jungle with monkeys playing with their babies through the trees around me. Some of the activities were designed for us to interact with the local community -- walking through it, riding bicycles, and using the local bicycle taxis -- and was a terrific and meaningful part of the program and gave us a solid sense of the culture and economy.
People were friendly and helpful, and, as in many non-Western cultures, people's happiness wasn't dependent on material things. As we passed through villages, where people lived in huts and uniformed school children, swept their classrooms with handmade brooms, I felt privileged to be in this country. On our day off, I booked a day-long safari to the Tsavo National Park, where I was lucky enough to see elephants, hippos, giraffes, water buffalos, lions, hippo, crocodiles, and a family of cheetahs after a kill. It was primal, raw, and real.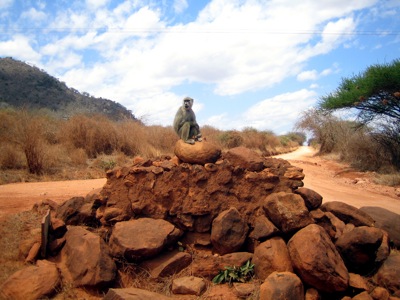 Tsavo National Park
I felt a deep pull to Africa that I've not felt anywhere else in the world. I would love to return and spend some serious time, writing the stories that stir the air. Wildfitness was physically tough -- an exotic luxurious boot camp -- that captured our souls.
Since Barack Obama has been elected president, Kenya is higher on our radar. We've focused thoughts and ideas about the African continent on a higher level, and a new consciousness is developing. Secretary of State Hillary Clinton is on her trip there right now, to bolster trade and friendship -- though people like Bill and Melinda Gates have been devoting most of their foundation's work in health, poverty, and development there for some years now.
The African continent is the cradle of the human race -- I felt the pull -- and its wellbeing is essential to all of us.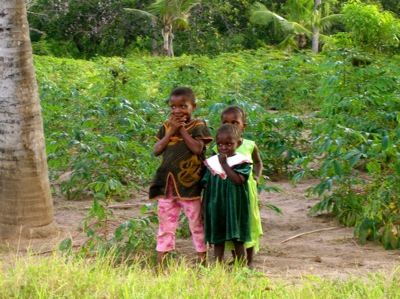 Kenyan Children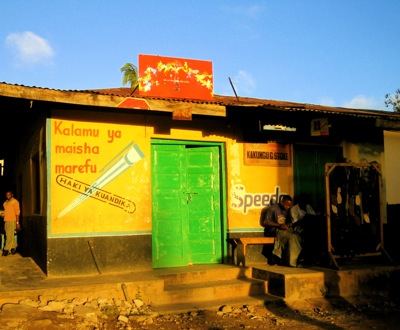 Local Store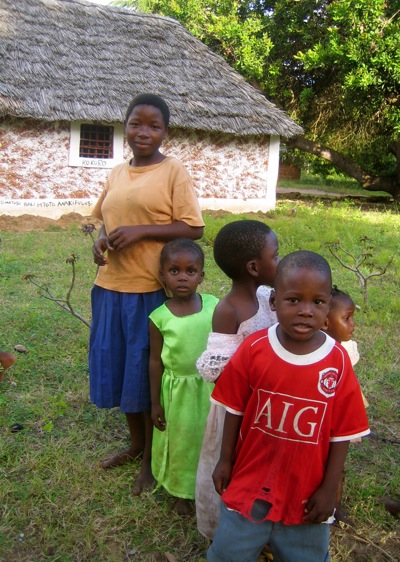 Mother and Children
All photos by Beth Arnold. If you want to know more about Beth and her work, go to www.betharnold.com, where she writes Letter From Paris. This piece is also crossposted there.