Public Art Alert is a free service from ForYourArt to raise awareness about public art projects taking place all over the world - with an eye towards Southern California. We can all be ambassadors of art. We encourage you to share this information with your friends.

"The streets of L.A. become the walls of the exhibition, and art is brought into daily life."
-Kimberli Meyer, Director of the MAK Center and intiator and co-curator of How Many Billboards?
Kenneth Anger, Michael Asher, Jennifer Bornstein, Eileen Cowin, Christina Fernandez, Ken Gonzales-Day, Renée Green, Kira Lynn Harris, John Knight, David Lamelas, Brandon Lattu, Daniel Joseph Martinez, Kori Newkirk, Yvonne Rainer, Martha Rosler with Josh Neufeld, Allen Ruppersberg, Allan Sekula, Susan Silton, Kerry Tribe, James Welling and lauren woods.
What How Many Billboards? Art in Stead

When February-March, 2010

Where On billboards throughout Los Angeles on major thoroughfares from Hollywood to Washington, La Cienega to Figueroa Boulevards.
 Overview exhibition at The MAK Center for Art and Architecture at the Schindler House

Map it howmanybillboards.org and MAP ForYourArt: Los Angeles Public Art Projects

Engage www.twitter.com/MAKbillboard, join the conversation (#PublicArt)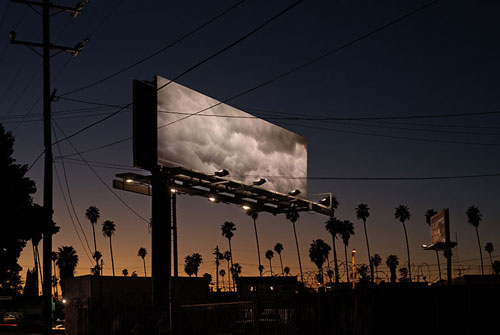 Photo by Gerard Smulevich
Billboards and their impact on the visual landscape of Los Angeles have been a sensitive topic for the last decade as more outdoor media surfaces populate L.A. This large-scale urban exhibition debuts 21 newly commissioned works by contemporary artists, addressing billboards as a medium and their place in the urban landscape, while also giving the participating artists an open channel for experimentation, examination, play and provocation.


How Many Billboards? Art In Stead, highlights the interaction of Pop, conceptualism and architecture in Los Angeles since the 1960s. Through the medium of billboards, the project investigates art as an idea as well as art as a media for critical intervention, focusing on the political and artistic implications of these media surfaces that saturate the city's landscape, while offering an alternative vision for public art display in Los Angeles.
Public Viewing How Many Billboards? will be on view on billboards throughout Los Angeles and is accompanied by an exhibition at the MAK Center and public programs throughout its run.


Saturday, February 27, 1-6 pm

Reception for the artists, with bus tours of the exhibition at the MAK Center for Art and Architecture at the Schindler House, 835 N. Kings Road, West Hollywood, CA 90069 



Sunday, February 28, 1-5 pm

Panel discussions with participating artists at the MAK Center for Art and Architecture at the Schindler House, 835 N. Kings Road, West Hollywood, CA 90069 


For a full list of public programs click here.
Credits Co-curated by MAK Center Director Kimberli Meyer with Lisa Henry, Dr. Nizan Shaked, and Dr. Gloria Sutton with public art consultant Sara Daleiden. 


How Many Billboards? Art In Stead is generously supported by the Emily Hall Tremaine Foundation Exhibition Award. Additional funding has been provided by the National Endowment for the Arts; the City of Los Angeles, Department of Cultural Affairs; the City of West Hollywood Arts and Cultural Affairs Commission; the Los Angeles County Arts Commission; and the Audrey and Sidney Irmas Foundation. In-kind support has been provided by Rick Robinson, MacDonald Media; Clear Channel Outdoor; CBS Decaux; CBS Outdoor, Fuel Outdoor; General Outdoor Advertising; Regency Advertising, and Van Wagner Communications.
SUBSCRIBE TO & FOLLOW THE MORNING EMAIL
Start your workday the right way with the news that matters most. Learn more