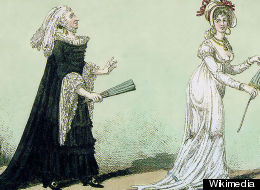 Editing a novel demands tact and delicacy at the best of times, but the process of creating my annotated and illustrated edition of Jane Austen's Emma was both a daunting and a thrilling one. Daunting because, as Henry James once tartly noted, Austen often inspires her champions to defend her as if she were a personal acquaintance, thereby making any shortcomings from an editor seem like personal insults to the dead as well as scholarly slips. Daunting, too, because a novel that had worked its way so deeply into the popular consciousness without any help from me might well seem not to need any interference from editorial middlemen. Could editing and annotating a novel as popular and well-known as Emma ever be proofed against the charge of teaching one's grandmother to suck eggs? (Extremely soft-boiled eggs, if Emma Woodhouse's father had anything to do with it.)
Then again, part of the thrill lay in my discovering new facets of Emma on every rereading, things that I hadn't been aware that the novel was saying, glancing at, or knowingly avoiding. If Austen's writing might seem light on overt references to the grand historical narratives of her time, it doesn't mean that she was either ignorant or dismissive of them; rather, Emma sketches an alternative model of what it means to live in history, by offering a wealth of little details that connote much larger complexes of social, economic, and emotional exchange. The choice of one cheese, card-game, or piano over another often carries great weight in the novel, but Austen could have some confidence that her original readers would 'get' those glancing references without her having to spell them out, whereas we might now need exactly the kind of clarification that footnotes can provide - not an aggressive, interpretative corralling, but a laying open of possible contexts, with which a reader can do as much or as little as she or he desires.
Choosing images for the novel also served to sharpen my awareness of the larger social world that Emma's glances and feints conjure up. The following images show some of the aspects of Emma Woodhouse's world that I most wanted others to share:
Bharat Tandon is the editor of Emma: An Annotated Edition [Harvard University Press, $35.00].
Austen's novels may now have become staples of 'costume drama', but in the world of Emma, costume prompts rather different dramas. The important role played in Highbury by Ford's, 'the principal woolen-draper, linen-draper, and haberdasher's shop united,' offers many hints about the social economy in which it figures. If, at one level, it is a female meeting-place where information (and gossip) can be shared, its centrality to the community also points to another fact about Surrey – that it exists at a geographical and economic remove from the central heart of London, which means that the majority of the local women will need to wear bespoke, locally-produced copies of expensive London dresses, rather than the originals themselves.

I'd always known that Austen chose her details carefully; but I hadn't realized quite how carefully until I came to edit Emma. For all the novel's emphasis on the Knightley family's careful stewardship of the neighborhood over the generations, Emma neither ignores nor dismisses the presence and influence of 'new money' in the community, as represented by families such as the Coles. This is a world in which people are beginning to define themselves in terms of the things that they own and the food that they serve; Mr Elton shows off about Mr Cole's serving Stilton, because the efficient transportation that would enable a cheese from Leicestershire to be served in Surrey was a very recent development, a commercial novelty. For the Eltons and Coles, 'food miles' were good – they would probably not meet with such approval now, of course.

In Volume III of Emma, Mrs. Elton boasts that she 'had an acrostic once sent to me upon my own name'. The idea of an acrostic (in which the initial letters of a poem's horizontal lines spell out a vertical message) is curiously appropriate to this novel, since the heroine herself spends so much of her time reading wilfully in one direction, only to miss the important truth that has been being spelled out in another. Likewise, one of the most fascinating aspects of the romance between Jane Fairfax and Frank Churchill (a story which a lesser writer might well have made her main focus) is that it happens in the margin of Emma's ostensibly less eventful and less 'romantic' narrative.

Another example of the skill with which Austen can telegraph large complexes of social and economic relationship. The Alderney, with its pretty light brown and white coloring, was prized as much for its decorative qualities as for its high yield of rich milk – it was a house-cow as well as a milk-cow. In the early stages of the novel, Emma contrives to make Harriet Smith reject Robert Martin as being too 'low' for her, despite the fact that the Martin family owns two Alderney cows and a summer-house – circumstances that would almost certainly place them higher up the social ladder than Emma is willing to allow.

One recurring topic in Austen criticism across the years has been the author's supposed avoidance of the large historical events and ideological questions of her time. However, we also need to take into account the fact that her original readers wouldn't have needed such direct references, a fact which enabled her to glance at those large matters through oblique references and implications. For example, by the beginning of the nineteenth century, the city of Bristol had become so tainted by its direct and indirect roles in the economy of the slave trade, that even to mention its name was to call up a whole set of associations. Therefore, when Austen's narrator tells us that Mrs Elton was 'the youngest of the two daughters of a Bristol—merchant, of course, he must be called', she doesn't really need to say any more.

Since Austen's genius often manifests itself in indirect references, it's appropriate that one of the greatest film adaptations of Austen (and, to my mind, the greatest film adaptation of Emma) should be an indirect one – not a Regency costume drama but a startlingly appropriate transplantation of so many of Emma's concerns to a modern context in which Amy Heckerling makes them make sense again. Just as Harriet fetishizes the throwaway pencil-stub and court-plaster in the original novel, so Brittany Murphy's Tai treats the Coolio tape and the sweaty towel as if they were holy relics. But the movie's finest moment is that point at which it finds a successful way to narrate the novel's most precious transition, unlike so many more literal attempts in the past. For Austen's Emma, it suddenly dawns on her 'that Mr. Knightley must marry no-one but herself!'. However, this happens within the silence of Emma's own mind, and how do you film someone changing their mind? Heckerling does it by putting Cher (Alicia Silverstone) in front of the most miraculously-timed fountain in Beverly Hills, and having Cher's voice-over remark: 'Oh my God! I love Josh! I'm majorly, totally, butt-crazy in love with Josh!'. Jane Austen may not have approved of the language, but I like to think that she would have understood the sentiment.