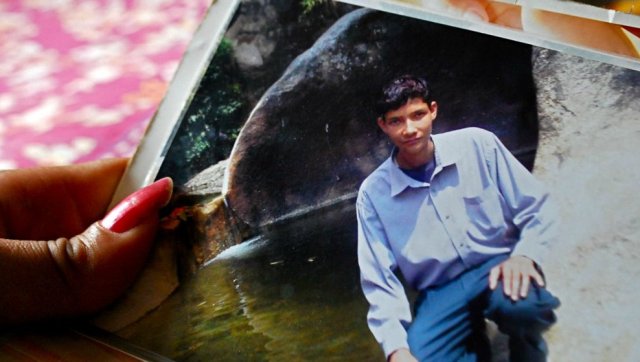 Jyoti Thapa's feminine features are distinct: her twinkling brown eyes, her slender nose pierced with a shiny nose stud, and her long, black hair add prominence to her slim, well-maintained figure. As she takes a 10-minute walk uphill from a grocery store to her house at Sipadol Village on the outskirts of Nepal's capital Kathmandu, Thapa meets and greets neighbors. In return, they reply in a typical Nepali way, referring to her using the word "nani," a colloquial term of endearment often reserved for women.
However, Thapa was born male and now identifies as "third-gender." The 30-year-old is among many Nepalis who identify as third-gender; they do not classify themselves as male or female, or they identify with a gender that is different from the one they were assigned at birth. Thapa says she has always felt like a woman.
Thapa is also among an estimated 3.5 million people who are part of Nepal's lesbian, gay, bisexual, transgender, and intersex (LGBTI) movement, which has gained momentum in the new Himalayan republic. In 2007 Nepal's Supreme Court ordered the government to scrap all laws that discriminated against people based on sexual orientation or gender identity, ensuring equality for the country's LGBTI population. The court also mandated that the government form a committee to study same-sex marriage. It was following the court's decision and years of depression that Thapa came out.
"When people suddenly saw me dressed as a woman, they were shocked," says Thapa, dressed in blue jeans and a pink top, her hair pulled back. "They called me crazy and told me to check into a hospital."
But her family was supportive. Her elder brother (a retired army man), her father, and other family members have accepted her new identity. Thapa is treated like the youngest daughter of the family. Her village has embraced her, too; after she spoke in front of a large crowd to explain her identity and issues of LGBTI rights and equality, people began accepting her.
"It's taken four years," she says, recalling her coming out in 2008 in a transgender beauty contest. "Some people still think it's strange, but I'm happy."
While Thapa came out in her community and began advocating for LGBTI issues, Sunil Babu Pant has been doing the job on the national level. Pant was one of the 601 members in Nepal's Constituent Assembly, an interim legislature responsible for drafting the country's new constitution following the end of 240 years of monarchy in a 2006 revolution. An openly gay lawmaker and activist, Pant has been advocating for LGBTI issues from the streets to the state's Constituent Assembly, which was dissolved on May 26 after failing to draft a constitution.
"A voice from this [LGBTI] community was missing," Pant says of his decision to join politics in 2000, adding, "Street-level advocacy has little impact. So we realized it's more effective to have a representation and raise the issue."
He also founded the Blue Diamond Society (BDS), Nepal's first LGBTI-rights organization, in 2001. Since then, BDS has gained prominence in Nepal's LGBTI-rights movement. But often, its image has been linked more with the third-gender population than with gays, lesbians, or bisexuals.
Pinky Gurung, president of BDS, says that is because most gays and lesbians are not out, and they cannot be differentiated from the general population. "With third-gender and cross-dressers, they are distinct and visible," says the 34-year-old transgender woman, who has been with the organization since its inception.
* * * * *
Kathmandu is a bustling city with vibrant cultures and lifestyles. The Nepali capital has a population of more than 1 million. As dusk replaces daylight, the tourist hub and backpackers' district of Thamel and its peripheries become a business point for many transgender Nepalis, as there is no concrete law regarding prostitution; it is neither legal nor illegal. As a result, many transgender Nepalis make prostitution their source of income, while some also get involved "for fun," according Gurung. But some of the members of the third-gender community who have chosen to make prostitution their profession have a weekly meeting on Fridays at a space in Kathmandu. They have set up rules and guidelines for business, and also set fines for anyone who violates those rules.
* * * * *
While many third-gender people have taken a bold step to come out, it is a different story for gays, lesbians, and bisexuals.
"It feels like I'm living a Dr.-Jekyll-and-Mr.-Hyde kind of life," says a 23-year-old man from Kathmandu who does not want to be identified. Because of societal expectations and family status, he says he will never be able to reveal to his parents that he is gay. "They will never understand," he says as he sips his iced tea on a late summer evening at a rooftop restaurant in Kathmandu.
As soon as a son or daughter is born, families dream of their child's wedding day.
Dr. Chandra Bhadra, professor of gender studies at Nepal's state-run Tribhuvan University, says that Nepali society is still deeply rooted in traditional values.
"From gender perspective, there is only male and female," says the professor, who has been teaching for 40 years, of the notion that society has. "They never see the sexuality side. So when they find anyone outside the norm of heterosexuality, they are treated differently."
But people like Thapa, who is also one of Bhadra's students, are challenging the traditional norm. She plans to get married to a man once there is a legal provision in the country.
According to lawmaker Pant, Nepal's upcoming constitution has a provision that says everyone has the right to marry, and that marriage is between two people rather than between a man and a woman.
But regardless of the existing laws and lack of social acceptance, some same-sex couples have had the courage to live together amid the conservatives. However, same-sex relationships do come with a cost.
After their relationship was revealed, Bhakti Shah, who identifies as a transgender man, and his partner were both discharged from the Nepal Army with disciplinary actions, although according to the army, this was not based on their sexual orientation. Though Nepal's law bars any discrimination based on sexual orientation, there is no definite policy in the army.
"There are many same-sex couples within the army," Shah claims.
As Shah shares his story, a somber look shadows his face, and his voice lowers. Though their relationship came at the cost of giving up a career that Shah had always wanted, he is happy that their families respect their relationship.
"Only if I had won the legal battle, it would have been an encouragement for many [same-sex couples] to come out," Shah adds.
* * * * *
On a muggy summer morning, about 50 students pursuing degrees in social work sit inside a classroom at Kathmandu Model College. It is not a regular lecture but an interactive orientation on sexuality.
Dressed in a black top and a skirt and frequently tucking her shoulder-length hair behind her ear, Bhumika Shrestha speaks about her own sexuality. A transgender woman, Shrestha explains and also raises questions on gender, sexuality, and sexual orientation.
Some students think that all LGBTI people are cross-dressers or transgender, and others say they have not come across any gays or lesbians. Most Nepalis, in general, share the same notion.
Roshan Mahato, founder of the Sexual and Gender Minority Student Forum Nepal, says he faced discrimination in the university when his peers found out that he was gay after a discussion on gender issues in his post-graduate sociology class.
After careful consideration, he established the Forum in 2009 to raise awareness about the issue.
"I thought, through our awareness programs, we should make them learn about the issues, through the curriculum itself, so we don't have to explain what LGBTI is every time," says the 27-year-old.
With the goal of educating society, and especially the young population, Nepal's government introduced LGBTI issues in its undergraduate- and graduate-level social-science curricula. This component had been missing.
Moreover, Nepal's media have been open about this topic: Nepali movies on same-sex relationships are now being produced, and Pant hosts a talk show on gender and sexuality issues on the state-run Nepal Television.
Community radios, which have wider coverage and larger influence, have also incorporated LGBTI issues in their radio dramas and programs.
At Saathi Sanga Manka Kura's office, there are dozens of letters and a number of emails and text messages, mostly from rural Nepal, inquiring about sexuality.
Saathi Sanga Manka Kura, which means "Talking to My Best Friend," is a youth radio program that has been on air for more than 10 years and has 6 million loyal listeners.
Handwritten letters in Nepali have arrived from Surkhet in the mid-western region of Nepal to Bhojpur in the east.
In one of the letters, a 16-year-old girl asks if her sexuality is some disease, and if it has a cure. Another letter from an 18-year-old man wants to know if he should come out, and if there is a place for homosexual people in society.
"At least people are talking about it," says Hemant Pathak, Program Manager at Equal Access Nepal, the NGO that produces Saathi Sanga Manka Kura. "We try to make them understand, and inform people that this is normal."
Chaitanya Mishra, professor of sociology at Tribhuvan University, says media, and also movies, will "give a face to LGBTI issues" and help to "deepen acknowledgement of the issue." He wrote in an email, "It will throw light on a dark and hidden issue and provoke many to question older structures, institutions, values and norms," adding, "It may well add legitimacy to LBGT as a subculture that ought to be tolerated, if not fully accepted."
While the notion of homosexuality is far from understood in rural areas, even in progressive pockets like Kathmandu the level of understanding still seems to be low, despite high tolerance.
Nilu Doma Sherpa, a Kathmandu-based filmmaker, is out to her friends and family. She says it is difficult to make people understand her sexuality at times, especially people who are educated and belong to higher social classes.
"They tend to think I want to be a man ... I'm promiscuous," she says, listing some of the misconceptions that people have about gay men and women.
But the 30-year-old thinks attitudes have been changing slowly in recent years.
"Until five years ago, I thought I was the only gay girl in town," she laughs. "Now people are opening up a little."
Pant says that in the 12 years since the LGBTI-rights movement started in Nepal, there have been positive changes, and the issue has been mainstreamed, not sidelined, as evidenced by government-issued mandates.
In May, Nepal's Home Ministry decided to provide citizenship certificates to LGBTI people with the option of having their gender listed as "other" rather than "male" or "female." Pant sees this as an implementation of the 2007 Supreme Court decision.
"Compared to other countries, it's definitely been easier," he says of his country's LGBTI-rights movement, as well as of living an openly gay life.
In a society still divided by caste and ethnic identity, a discourse on sexual identity seems to be less of a priority. Despite official recognition and a lenient social attitude, family pressure and social expectations still prevent most people from coming out.
"Though it's getting better, it's not easy being gay in Nepal," Gurung says, speaking from her 12 years of experience working in this field. "I don't think the discrimination can be completely wiped out. Until you are out and open about your sexuality, you are discriminating against yourself. After coming out, you get stigmatized, because people are not sensitized. But you need to speak for yourself and stand for your rights."
* * * * *
Listen to the audio below while you click through the photos in the following slideshow:
Gender And Sexuality In Nepal
This piece originally appeared in Republica The Week.
For more multimedia and to see the entire project, visit livinggaynepal.info.