I love caprese salads as much as the next home cook. They are simple to make, can be assembled in advance without worrying, as with other salads, about soggy greens, and once the platter is complete, the result is downright beautiful. Every time my friend Leora brings her token caprese to our monthly potlucks, it always ends up the centerpiece of the table, my pictures from the evening, and my plate.
But if my past menus have been any indication, I often feel cheated when a salad fails to hit the note I feel it was intended to hit--that note of crisp, vinegary, and fresh. Perhaps it was my mother's love of spinach and avocado dressed simply with white wine vinegar, Dijon mustard, ample salt, and very good olive oil that made me a lifelong greens girl. But I just don't feel a meal is quite complete without some tossed lettuce on the side to cleanse my palate--or satiate myself with so I don't get sick from seconds and thirds of mac 'n cheese.
I often feel torn, though, about putting out a regular salad when a meal is served family style on the table. This may have never been an issue for my mother, thanks to her attractive hand-painted salad bowl (a crafts project we did together 15 years ago). But my plain Jane mixing bowl doesn't quite have the grace to stand up to accompanying platters of perfectly thought-out and intensely labored-over main courses. A bowl of mesclun just does not have the same wow factor as, say, a colorful caprese.
I had two old friends, Ali and Adrienne, over for dinner recently, and I knew I wanted to make my Prosciutto and Fontina Paninis with Arugula Pesto to remind Ali of our time together in Rome. I have a habit of serving simple sandwiches, soup, and salad for casual weeknight dinners, especially when my roommate is attending, since she is easily won over by any variety of grilled cheese.
On this occasion, I wanted a more substantial salad we could place in the middle of the table and feast on in between bites of panini. My solution was a hyprid caprese, made with peppery greens piled in the middle and tomato and mozzarella around the border. This arrangement seemed to elevate the salads, each of which has captured my heart, into one legitimate centerpiece. Success!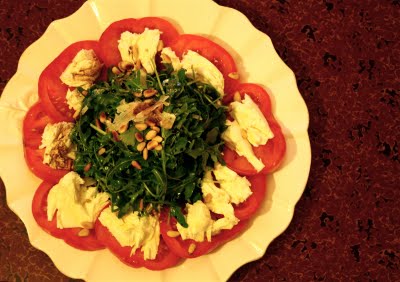 Arugula Caprese
Makes 4-6 servings
This salad is really just a great way to make the greens gals like myself happy while creating a dish exciting enough to put on the table at a dinner party. The arugula, dressed with a simple balsamic vinaigrette, is topped with toasted pine nuts and shaved Parmesan. You can use spinach instead of arugula, but I really like the peppery bite arugula adds to the creamy cheese. And of course, if you don't have pine nuts on hand, you can omit them or substitute whatever nut you fancy at the time.
Ingredients
3-5oz baby arugula (depends on the size of your plate/platter)
2-3 large plum tomatoes, sliced
½ lb fresh mozzarella, torn into rough pieces
2 tbsp pine nuts, toasted
Parmesan shavings (optional)
2 tbsp balsamic vinegar
1 tbsp dijon mustard
1/2 tsp honey
1/4 cup olive oil
Arrange the tomato slices around the end of the platter so they overlap slightly. Place a piece of torn mozzarella on top of each tomato.
In a mixing bowl, whisk together the vinaigrette ingredients with a pinch of salt. Toss the arugula with ¾ of the dressing, then pile it in the middle of the platter, at the center of the tomato-mozarella circle.
Top with the toasted pinenuts, shaved parmesan, and drizzle the remaining dressing over the cheese and tomatoes on the perimeter.
This Blogger's Books and Other Items from...
SUBSCRIBE AND FOLLOW
Get top stories and blog posts emailed to me each day. Newsletters may offer personalized content or advertisements.
Learn more