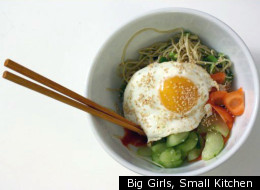 The pantry dinner is for the hardy and the tolerant. The most gourmet among us can hardly be expected to make a dinner just of frozen peas and barley; white rice with soy sauce, scallions and sesame seeds; or pasta with olive oil and Parm.
If the refrigerator can make one offering to the pantry in situations where there's not much in the house to eat, that contribution should be an egg. Fried or poached, or even scrambled, an egg or two turns humble staples into restaurant-worthy meals everyone can enjoy.
--Cara Eisenpress of Big Girls, Small Kitchen
Nothing livens up leftover quinoa more than a quick sauté with herb-spiked mushrooms. Top it off with a crispy fried egg and you're golden. Get the Recipe!

This recipe came together one night when there was absolutely nothing in the house to eat. Except a bag of polenta, jars of roasted peppers and capers, and a little bit of cheese. This hodgepodge was redeemed when I found an egg to throw on top! Get the Recipe!

OK, brace yourself: this one is a pizza and an egg sandwich all in one. Spicy tomato sauce brings the bread, cheese and egg together. Get the Recipe!

As if silky ramen noodles coated in a rich scallion-ginger sauce weren't enough, we've added a fried egg. Let the yolk mingle with the noodles and you'll be in heaven. Note: this is prime hangover food. Get the Recipe!

This one-dish brunch is filled with flavor, from the briny capers and pungent olives, to the fresh basil and smoky paprika. The potatoes stay crisp on the bottom, and the eggs make the whole thing stick to your ribs. Get the Recipe!

For breakfast, lunch or dinner (seriously), this egg-topped bowl of grits hits the spot. A mix of Old Bay and rosemary give it a nice regional edge. Get the Recipe!

A classic bacon-egg sandwich (also known, fondly, as a "fatty") ends this slideshow with a bang. After you've topped your polenta, ramen, potatoes and quinoa, you might be ready to go back to bread. Get the Recipe!
Follow Big Girls, Small Kitchen on Twitter: www.twitter.com/BGSK