There come moments of hunger when even we devoted food bloggers must put down the wooden spoon and turn to take-out. Ordering in, whether curry, noodles, or omelets, is such a New York delicacy that it feels unduly austere not to take advantage of it at all. I find I'm very good with meeting delivery minimums without going over them. And if I'm careful with the menu, I am able to exercise some form of self control, food from paper and plastic containers (which I reuse as cookie transportation) can sometimes be just as budget friendly as supermarket shopping and cooking.
I have a particular obsession with Hunan Delight on Union Street in Park Slope, which I count not only as the best Chinese food in my neighborhood, but even as some of the most delicious food to come out of a takeout container ever. Of course I can't speak for Hunan's entire menu (though I've heard others speak passionately for Sesame Chicken and Pork Buns), because I always only get two things: Cold Sesame Noodles and Broccoli in Garlic Sauce. I also get the brown rice. One time I tried the scallion pancakes and one time I dipped my chopstick in the Sesame Chicken sauce, but adventurer though I may be in other areas of my culinary life, when it comes to this menu, I can't but stick with what I know.
I also can't get through an entire portion of either the broccoli or the noodles. The two dishes plus the rice can sometimes even last me four days, though the final meal will sometimes be based on two sad spears of broccoli floating in sauce. However, after a three-meal-long take-out fest, I'm usually aching to cook again anyway. Recently, on a Thursday after a Sunday of take-out, I took advantage of the nicely dried out brown rice and the remaining broccoli and sauce to make an excellent main dish fried rice.
Fried rice, like rice pudding cereal, was a standard in my family's dinner repertoire when I was a kid. It's one of those leftover dishes that doesn't quite feel like leftovers, since it really is different than what came before. Perhaps Hunan Delight should add my Broccoli-in-Garlic-Sauce version to the menu.
--Cara Eisenpress, of Big Girls, Small Kitchenhttp://www.biggirlssmallkitchen.com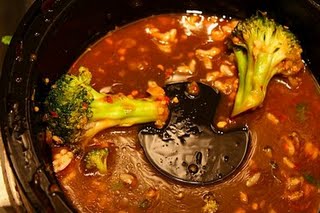 Broccoli-in-Garlic-Sauce Fried Rice
Serves: variable, depending on leftover quantity
Ingredients
Leftover Brown Rice
Leftover Broccoli in Garlic Sauce, cut into bite-sized pieces
1 teaspoon oil
1/2 onion, diced
1 clove garlic, minced
1 egg
about 1 cup mustard greens, washed well and chopped
Hot sauce
Coat a nonstick wok or large pan with about 1 teaspoon of oil. Set it over high heat. Add the onion and stir fry for about a minute, then add the garlic and stir fry another minute or two more, then throw in the mustard greens and stir fry until wilted.
Add the rice and toss it around so it all gets slightly browned and parts even get crispy. Add the broccoli and a few tablespoons of the broccoli's sauce (careful here: that stuff can get greasy), then push the whole mixture over to the side and crack the egg into the hot pan. Mash it around until it is fully cooked, then add hot sauce to taste and mix the egg into the rice. Serve immediately, then finally deposit your take-out containers in the recycling bin.

SUBSCRIBE TO & FOLLOW THE MORNING EMAIL
Start your workday the right way with the news that matters most. Learn more