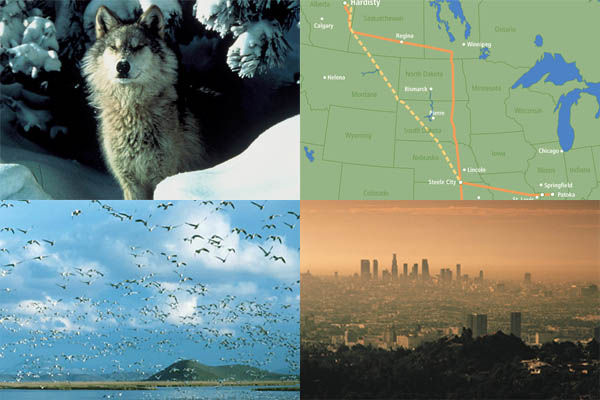 A little-known facet of our democracy is the all-important comment period -- the government's chance to hear from the public on proposed rules. Here are four opportunities. (Tracy Brooks/Mission Wolf/FWS, DOS, klamathrestoration.gov, EPA)
Windows of Comment Opportunity
Open Season on Wolves? Open Season for Comments Soon
Gray wolves once roamed most of the lower 48 states. But by the 1920s, they had virtually disappeared except for a small Minnesota population. In the 1970s, wolf recovery programs began to protect the species. Today they've made a comeback but are they ready for removal from the endangered species list in Wyoming? (Tracy Brooks/Mission Wolf/FWS)
State Department Awaits Your Comments on Keystone XL Pipeline
The State Department is considering a new oil pipeline between Canada and Texas. Despite a recent study's conclusions, environmental concerns remain. The public comment period is now open. (Click above for larger image.) [U.S. State Department]
Online here,
By e-mail to: keystonexl-nid@cardno.com,
By USPS mail to: Keystone XL Project NID | P.O. Box 96503-98500 | Washington, D.C. | 20090-650, or
By fax: 206-269-0098.
Dam Comments Welcome
"The science and analysis are vital to sound decision-making, but I also look forward to hearing from the people of the Klamath Basin who have endured a long cycle of irrigation shortages, fishing closures, poor water quality, fish disease and a large salmon die-off in 2002, and closure of the tribal fishery in Upper Klamath Lake for 25 years,"
Brouhaha Over Clean Air Comment Period
New rules governing air quality and air pollution have sparked a legal tussle between Texas and EPA. And a just-passed amendment to a just-passed House bill (which would study the new rules) would extend the comment periods following those studies.
"Because of the lawless approach advanced by unelected bureaucrats at the EPA, the State's ability to prepare for dramatically reduced power generation was severely undermined ... Inexplicably, the Administration is determined to advance its aggressive agenda despite the risk of power outages in heat of the Texas summer and unemployment for hard-working coal miners and power plant employees."
FOLLOW HUFFPOST