Crossposted with The Green Grok
"No comment" is for sissies. Get your comments in now.
Seems everyone has something to say about something these days, on blogs, on Twitter, on Facebook. Even audience members at the recent Republican presidential debates have weighed in on certain issues with vocal thumbs-ups and thumbs-downs. All fine and dandy. But there's another way to get heard: by putting your two cents on the record through what's known as the public comment period.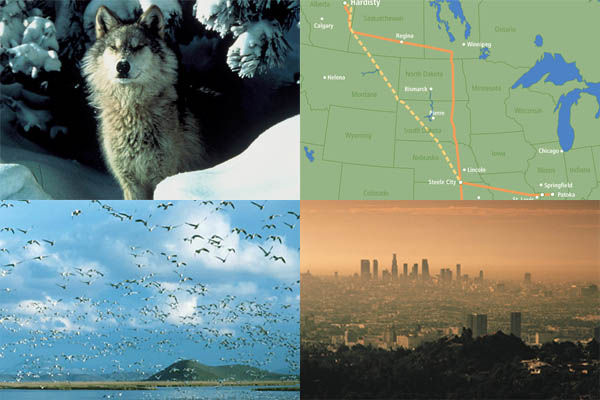 A little-known facet of our democracy is the all-important comment period -- the government's chance to hear from the public on proposed rules. Here are four opportunities. (Tracy Brooks/Mission Wolf/FWS, DOS, klamathrestoration.gov, EPA)
Windows of Comment Opportunity
It's a little-known facet of our democracy but an important one nevertheless. Whenever a federal agency is contemplating a new rule, it announces its intentions in the Federal Register (the official publication of rules, proposed rules, and such), and then invites the public to comment. Before finalizing the rule the agency is required to respond to these comments.
Here's a quick look at a few of the comment periods that have just opened or are expected to open soon.
Open Season on Wolves? Open Season for Comments Soon
Gray wolves once roamed most of the lower 48 states. But by the 1920s, they had virtually disappeared except for a small Minnesota population. In the 1970s, wolf recovery programs began to protect the species. Today they've made a comeback but are they ready for removal from the endangered species list in Wyoming? (Tracy Brooks/Mission Wolf/FWS)
The gray wolf once roamed throughout North America. A keystone predator, it helped maintain balance in populations of species as diverse as elk, deer, rabbits and more.
By the mid-20th century the gray wolf was all but extinct in the lower 48 states and Mexico, but still hanging on in Canada. In January 1974, shortly after the Endangered Species Act became law, the gray wolf was listed as endangered.
Two decades later, the U.S. Fish and Wildlife Service initiated a wolf reintroduction program in Idaho, Montana and Wyoming with stunning success -- such success, in fact, that in 2003 the gray wolf was reclassified for some of its population from endangered to threatened. (Read about the difference between endangered and threatened species.)
Today, the only state where the Northern Rocky Mountain gray wolf population is still federally protected as endangered is Wyoming. But that looks about to change. The Fish and Wildlife Service has accepted Wyoming's plan to manage its wolf population -- a plan that would treat them as predators and allow them in most areas to be shot.
There are still some hurdles to clear before this management changeover takes effect, including approval by Wyoming's State Legislature and then a federal approval process. The latter would include a public comment period. Think hunting wolves in Wyoming is a good idea? A bad idea? Former FWS director Steve Williams said, "Giving stakeholders a voice in how we recover wolves has been the key to the remarkable progress of this species," You can continue to help. Stay tuned for a link when the comment period materializes (we'll update this page).
State Department Awaits Your Comments on Keystone XL Pipeline
The State Department is considering a new oil pipeline between Canada and Texas. Despite a recent study's conclusions, environmental concerns remain. The public comment period is now open. (Click above for larger image.) [U.S. State Department]
From a keystone predator, we turn to the Keystone XL Pipeline. Remember that proposed project? TransCanada, a Canadian oil and gas company, wants to build a 1,700-mile pipeline that would connect Alberta, Canada, to the Gulf Coast, through Montana, South Dakota, Nebraska and Kansas where it would join with an earlier pipeline which extends into Oklahoma. All this to bring Canadian tar sands oil to Texas refineries.
The pipeline is controversial enough to have sparked weeks of protests at the White House this summer. And now the red state of Nebraska has weighed in informally: As reported in the Washington Post, at a recent Cornhuskers game when a TransCanada logo flashed onto one of the stadium's video screens, the crowd responded with a resounding chorus of boos.
On the formal side of things, because the pipeline would cross an international border, the State Department must approve it. On August 26, 2011 the first hurdle in that process was cleared with the release of the final environmental impact statement and its conclusion that there'd be no "significant" environmental impacts.
Now a broader review process is underway, examining "economic, energy security, foreign policy, and other relevant issues," to evaluate whether the pipeline is in the "national interest." In addition to consulting with at least eight agencies, the State Department is soliciting public comments, both online and in the flesh. Public meetings to be held in Washington, D.C., and in the six states that would be affected by the pipeline are scheduled for this week and next. Want to weight in? You've got options. You can comment:
Online here,
By e-mail to: keystonexl-nid@cardno.com,
By USPS mail to: Keystone XL Project NID | P.O. Box 96503-98500 | Washington, D.C. | 20090-650, or
By fax: 206-269-0098.
In the 45-day comment period that followed the draft environmental impact state, the DOS received more than 290,000 comments. Let's see how many the current comment period generates. You've got til midnight October 9, 2011.
Dam Comments Welcome
When it comes to dams, the times are a-changin'. Time was, with the help of the U.S. Army Corp of Engineers, we couldn't build 'em fast enough. Now, with appreciation for the ecological damage dams can bring, there's a growing trend to remove them. Recently the Interior Department has been considering removing four hydroelectric dams on the Klamath River in Oregon and California, and last week released a draft environmental impact statement for the proposed removals.
Said Interior Secretary Ken Salazar upon the report's release:
"The science and analysis are vital to sound decision-making, but I also look forward to hearing from the people of the Klamath Basin who have endured a long cycle of irrigation shortages, fishing closures, poor water quality, fish disease and a large salmon die-off in 2002, and closure of the tribal fishery in Upper Klamath Lake for 25 years,"
The secretary can hear from you too. Read more about what's at stake and weigh in here. The comment window closes November 21, 2011.
Brouhaha Over Clean Air Comment Period
New rules governing air quality and air pollution have sparked a legal tussle between Texas and EPA. And a just-passed amendment to a just-passed House bill (which would study the new rules) would extend the comment periods following those studies.
Just because we have a well-established procedure for commenting on proposed government rules doesn't mean that disagreements don't arise. There's one brewing right now between the state of Texas and the Environmental Protection Agency over proposed rules that would tackle emissions of nitrogen oxides (NOx) and sulfur dioxide (SO2) from power plants in 27 eastern states (including Texas) which together cause ground-level ozone pollution, smog, fine particle pollution, and acid rain.
Texas Attorney General Greg Abbott took legal action against the agency last week [pdf] asking an appeals court to stay implementation of the rules (known as the Cross-State Air Pollution Rule or CSAPR), because, the state claims, it did not have adequate time to comment on and/or prepare for them. As stated in a news release from the attorney general's office: "Because the EPA opted not to include the State of Texas in key aspects of the proposed CSAPR regulations that it published in August, 2010 and added Texas without notice to the final regulations earlier this year the rule violated federal law and should be stayed by the Court."
Not so, says EPA, pointing out that Texas was included in the NOx program in last year's proposed rule and was added to the SO2 program based on comments that indicated other states would have difficulty meeting air quality standards if Texas were left out of it. Further, comments submitted by Texas at the time demonstrated that the state knew it might be included ($sub req'ed).
A simple misunderstanding over calendars? Hardly. Get a load of this rhetoric from the attorney general:
"Because of the lawless approach advanced by unelected bureaucrats at the EPA, the State's ability to prepare for dramatically reduced power generation was severely undermined ... Inexplicably, the Administration is determined to advance its aggressive agenda despite the risk of power outages in heat of the Texas summer and unemployment for hard-working coal miners and power plant employees."
CSAPR was very much on the minds of our good reps in Washington as well. On Friday the House passed the TRAIN Act [pdf] along with an amendment from Rep. Ed Whitfield (R-KY) to prevent CSAPR from taking effect. Among the other amendments that were passed -- primarily from the Republican side of the aisle but two from Democrats too -- was language proposed by Sheila Jackson Lee [pdf], Democrat from Texas (no relation to the EPA administrator, I gather), which would extend EPA's comment period for CSAPR and the air toxics rule for mercury from 90 to 120 days.
I think Texas Democrat Lee had a different constituency in mind, but is it possible she put a smile on the face of a certain Republican attorney general? Hmm ... I'm thinking not.
SUBSCRIBE TO & FOLLOW THE MORNING EMAIL
Start your workday the right way with the news that matters most. Learn more