Is it safe to bogart that e-cig or even be in the same room with an e-cig bogarter?
OK, in this post we're going to clue you in on some of the potential issues with electronic cigarettes or e-cigs, as they're diminutively known. But before we do, we need to get one thing straight: Smoking cigarettes kills. Per the Centers for Disease Control and Prevention, smoking "is the leading cause of preventable death in the United States, accounting for more than 480,000 deaths, or one of every five deaths, each year."
Add to that the more than 16 million Americans who suffer from a smoking-related disease, and it's fairly clear anything that lowers the rate of cigarette smoking is going to improve our overall health.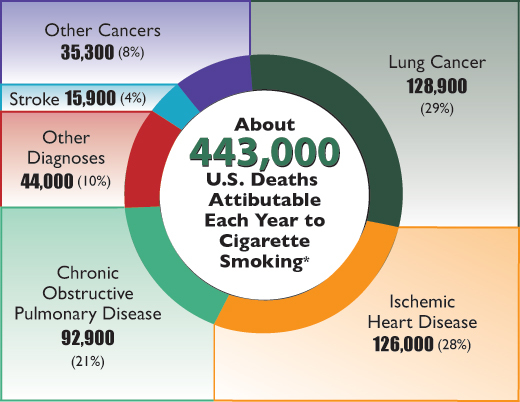 Smoking cigarettes is the leading cause of preventable death in the United States. The latest statistics from the Centers for Disease Control show the number of U.S. deaths attributable to cigarette smoking has climbed to 480,000. (Source: cdc.gov, 2000-2004)
Americans Are Smoking Less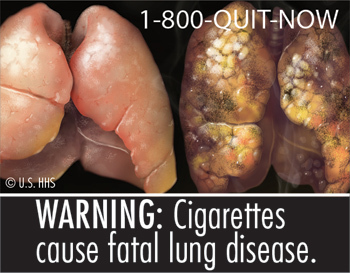 For decades the government and many nonprofits have mounted anti-smoking campaigns. Some of this work seems to have paid off. (FDA)
The Newest and Coolest: 'Vaping'
Although they were patented back in the 1960s, electronic cigarettes didn't really come onto the scene until the past decade, appearing first in China in 2004 and spreading to other areas including Europe in 2006 and then the United States the following year. (See infographic on the history of e-cigarettes.)
These cigarette lookalikes basically consist of a cartridge, a battery and an LED light. When turned on, the e-cig heats up the liquid that is housed in the cartridge; this produces an aerosol mist or vapor, which the "smoker" inhales or "vapes," an alternate term that denotes the lack of combustion. The ingredients of the liquid vary, but generally include nicotine (though some are nicotine free), chemicals to vaporize the nicotine (like propylene glycol and vegetable glycerin), additives and flavoring.
Since they are tobacco free, e-cigs are currently unregulated in the United States but that may change. Already cities like Boston, Chicago, New York, and most recently Los Angeles have restricted their use. And Utah, New Jersey and North Dakota have banned their use wherever smoking is prohibited. Other states and localities including Minnesota and Oregon are considering restrictions as well.
It is my impression that there's some confusion in how e-cigs are being marketed. In some cases they are being touted as a nicotine replacement product that smokers can use to eventually quit smoking altogether or (more likely to me) a healthier way to get your nicotine.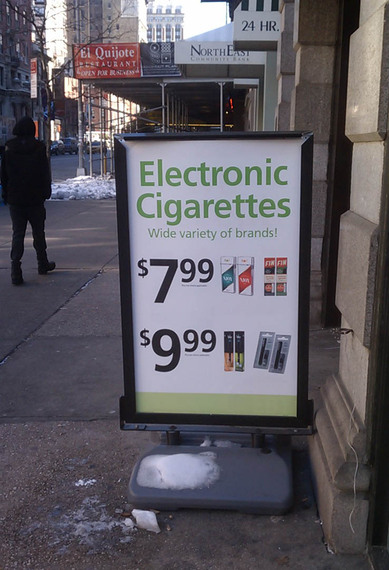 E-cigarettes are taking off as an alternative to conventional cigarettes. But when it comes to health, are they safe or do they blow?