The Lessons of History We've Failed to Learn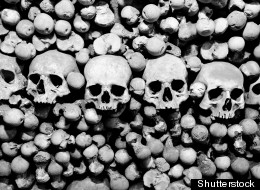 Bill Fawcett is the author of Doomed to Repeat: The Lessons of History We've Failed to Learn ($14.99, William Morrow)
"Those who cannot remember the past are condemned to repeat it."
The Life of Reason, George Santayana
The march of history is less a steady stride than a series of stumbles and forward falls. And the stumbles the United States, Europe, and the rest of the world are taking at the beginning of the twenty-first century are neither new nor unique. Many of our most pressing problems are not original, if ancient Rome had CNN, the reruns of their news reports from the second century could be played with name changes today and would sound totally familiar to modern listeners. People are not that different from those in the past. We all have the same motivations and needs. Your great-great-great-grandparents and their leaders had to overcome their own versions of the same problems that we all wake up worrying about.
There is two ways to view the fact that history and its problems repeat themselves. One is that as a race we never learn and the problems never go away. Seeing history as a glass half empty. But that is not always true. A study of the past shows that humanity has learned a lot and come a long way in dealing with such problems as disease and terrorism. The glass is half full. On the darker side there has been less success in solving or avoiding those problems caused by greed and tribalism.
But really it is not important in learning from history if the proverbial glass is really half full or half empty. The important conclusion is that we are still filling the glass. With all of the day to day problems it is easy to forget that most of us live better than ever before and that technology and medicine continue to progress. Today's most vexing concerns have echoes and precedents all through history.
Our studying the causes and solutions to problems in the past that are similar or amazingly close to those we face today can, at the minimum, help us to avoid making the same missteps again.
Here are nine history lessons we've failed to learn:
9 History Lessons We've Failed To Learn
The last person to actually conquer and rule Afghanistan was Alexander the Great. Afghanistan is not a nation, it is an area. For 3,000 years it has been easy to conquer, but impossible to hold them. In 1839 the British forced a treaty with the titular king of Afghanistan. It was resented by the tribes outside the capital and the shooting started. Twenty thousand British soldiers and their families were slaughtered. The Russians had no more luck when they entered the area with mostly teachers, doctors, and engineers in 1980. Despite lavish spending on schools and hospitals a genocidal and failed war resulted. The USA is showing it learned from history by getting out of Afghanistan before things fall apart.

It pays to always remember that the mistake most governments make in reacting to terrorists is to assist them in creating the terror and chaos they desire. Perhaps the most successful terrorist in history should not have been successful, but for the overreaction of European governments. Gavrilo Princip was a member of a small group of equally incompetent Serbian revolutionaries, the Black Hand. Serbia was part of the Austrian Empire and the son of the Emperor was visiting. Another Black Hand threw a grenade at Duke's auto and missed. It slightly wounded two men behind him. Princip apparently lost his nerve and fled, but in a twist of fate a short time later the Duke's car, on the way to visit the victims of the earlier attacks, stalled right in front of the assassin. Even Gavrilo could not miss. He was easily caught hours later. The Austrian reaction was an invasion of Serbia. This caused Russia to join Serbia which in turn caused Germany to side with Austria in what became World War One. It was this overreaction that allowed an incompetent to change the world.

In 1930, the Smoot-Hawley Tariff was passed in response to the alarming number of business failures during that time. The tariff created a high tax on imports and hurt trade with Europe. This meant we imported much less from them. In retaliation, they raised their tariffs on American goods. Those living in European countries reacted to the higher costs by curtailing their purchases of American-made products. This tariff battle accelerated the economic decline on both sides of the Atlantic because with no place to sell goods overseas the workers who had made them were let go. Instead of protecting each country's workers, these tariffs destroyed jobs in large numbers. This contributed to much of the economic decline that became the Great Depression.

The best way to control a disease has always been to isolate it. In this age of modern. fast international travel this becomes even more a concern. The Great Plague of Marseille in 1720 gives an important lesson. A ship arrived from Syria with bubonic plague on board. Although the ship's captain notified the authorities of the infected passengers, city merchants who owned the highly valuable cargo, persuaded the government to lift the quarantine. Within a few days an epidemic broke out. With up to a thousand people dying each day even the grave diggers could not keep up. Tens of thousands died and that valuable cargo rotted on the docks.

The real cause is greed, personal or corporate. A speculation bubble occurs when people buy something, just about anything, not for what it is worth but because they expect to resell it for more. Nations have been suffering from the results of speculation bubbles since tulipomania in 1593. Tulip bulbs in Holland went up in value hundreds of times in price and some sold for more than did a house in Amsterdam. Stocks have often bubbled and burst beginning with Railroad and Oil stocks in the 19th century to recently Tech Stocks (1990s) and Mortgage Securities (2000s). Everyone seems it find it hard to resist the easy profits and we all suffer in the recession most invariably end up causing.

There has been times when the government was able to directly counteract the effects of unemployment. President John F. Kennedy, when speaking about the issue of unemployment in America, in 1962 said, "We believe that if men have the talent to invent new machines that put men out of work, they have the talent to put those men back to work." The emphasis was put on getting people back to work and developing a more sophisticated work force. It worked. Unemployment dropped and American entered an age of innovation.

Surprisingly the first recorded national inflation occurred in Nero's Rome. This is even more amazing since the Romans only used coins of gold, silver, and copper. Nero liked to spend. Soon there was not enough gold or silver to pay the government's debts. Being creative Nero simply made the silver coins 20% smaller. But soon merchants saw this and raised all their prices. So Nero mixed cheaper metals into formerly pure coins. Soon everyone figured this out as well and prices soon soared again. With the evils of inflation came less tax income. So Nero added more even lead to the gold and silver coins increasing inflation yet again. This was one of the causes of the Decline.

In the early 1930s Germany was a democracy and out of money. The Great Depression and restitution payments to France and England from WWI meant the government was out of money. The only way it could pay its bills was to print more money. But each time they printed that made the German mark worth less so they just printed more. Eventually it took a basket full of marks to buy a loaf of bread. With both depression and inflation running wild savings were worthless and unemployment soared. Even the richest industrialists began to suffer. Desperate for a savior, the Germans elected a strong leader who promised to change everything... Adolf Hitler.

President Herbert Hoover had been a successful engineer and Republican. He personally helped thousands of Americans to escape Europe when WWI broke out. Hoover believed in business, not government, so when the stock market crashed in 1929 he felt that it was not the government's job to restore the economy. His government did little and the result of that was The Great Depression. The opinion of the millions of unemployed and homeless gathered in shanty towns made of clap board and primitive tents of this was obvious. They called their settlements "Hoovervilles". Promising to do Something, Franklin Roosevelt swept the 1932 Presidential election.

FDR was winning the economic battle. From 1933 to 1937 unemployment fell from 25% to 14%. Feeling the nation had permanently turned the corner on Depression, the up for election Congress in 1936 voted a popular bonus to veterans (over FDR's veto) and the Federal Reserve stopped giving a priority to boosting growth. Then in 1937 that era's stimulus program expired, raising taxes on all businesses and investment. It also seemed like a good time to implement an expensive, new social program. So they began gathering Social Security taxes, lowering everyone's paycheck. Within a year the "Depression with the Depression" had begun with unemployment rising to 19% and the economy again shrinking. Only WWII reversed the downward trend.

As the Roman Empire's middle class diminished due to slavery taking away their jobs the cost of maintaining the Empire remained the same. This meant that the taxes paid by each remaining businessman or farmer constantly increased forcing yet more of them to fail. By the end of the second century thousands of farms or homes were being foreclosed on every year. These farms and businesses were resold to the rich, who also controlled the Roman Senate and paid few taxes. The rich got richer and the middle class got and stayed poor. Rich Romans also used captured slaves, to work more cheaply creating massive unemployment. But with no middle class the Roman empire inevitably declined first economically and eventually militarily. Cue the barbarians...