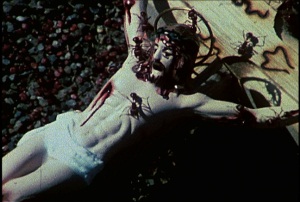 Still from David Wojnarowicz, "A Fire in My Belly," video, 1992.
On infrequent occasions a cause célèbre will arise that is a matter of concern and reflection on our society's enshrinement of free speech and expression. I do not believe the cases of censorship in recent decades came close to eradicating those key freedoms. Nor do the two current cases begin to bring us to that doorstep. Which does not render the dual stories involving Italian muralist Blu and the late artist-activist David Wojnarowicz (he succumbed to AIDS in 1992) uninteresting or unworthy of concern. One is really nothing more than an exercise in unilateral but nuanced civic mindedness; the other is an instance of genuine censorship. The comparison between them, particularly since they occurred at nearly the same moment, is instructive.
The rhetorical attack against a work that was on view at the Smithsonian's National Portrait Gallery in Washington D.C. by Bill Donohue, president of the conservative and religious Catholic League, with support from Republican House leaders John Boehner and Eric Cantor labeled Wojnarowicz's video "A Fire in My Belly" "hate speech" that was "not the first time the Smithsonian has offended [Christians]." The Smithsonian reacted by pulling it from an acclaimed exhibition, "Hide/Seek: Difference and Desire in American Portraiture," the theme of which is gay and lesbian identity in art.
Regarding Blu's mural of caskets draped in dollar bills (rather than the Flag), which was removed by museum staffers, MOCA Director Jeffrey Deitch is quoted in the LA Times: "This is 100% about my effort to be a good, responsible, respectful neighbor in this historic community... As a steward of a public institution... [I was] considering the sensitivities of the community... [Blu had] ended up working in isolation without any input." The reason for such sensitivity? The Department of Veterans Affairs building is directly across the street facing that wall of the Geffen Contemporary, and a few yards away stands "Go For Broke," a memorial to Japanese American servicemen. Far from seeking to stifle expression, Deitch owns the decision was his, and says he took it in the context of the curatorial process preceding opening of the much anticipated "Art in the Streets" exhibition that debuts next April. It would be a vast stretch to conclude that this was an act of censorship or even a gratuitous exercise of control.
The spiritual core of the Wojnarowicz action is a heart of darkness, and an all too familiar tactic of the right. Congressional Republicans used it to raise the cudgel of "hate speech," a transparent and hypocritical tactic, given that they have routinely offered only roadblocks to related hate crime legislation. The only malevolence to be seen is the bigotry of the accusers. The work itself is an intensely expressionistic manifestation of personal sadness and rage over the death of the artist's mentor and lover Peter Hujar.
But don't expect such facts to provoke one instant of reflection among people who possess no interest in the art whatsoever. This act is solely about power and politics; aesthetic insight and personal reflection are entirely beside the point. Much as Republican efforts to defund the National Endowment of the Arts on the basis of four artists' grants made a generation ago, this is all about inflaming the emotions of constituent groups whose wish is to eliminate such expression altogether. There is virtually no money at stake, nor is there any threat to anyone at all, but that does not matter to a demagogue.
Equally implicated, but in a wholly distinct way, is the Smithsonian, parent to the National Portrait Gallery, which immediately surrendered to the pressure. No defense was offered, either spirited or principled. In a letter to the Smithsonian's Wayne Clough, Warhol Foundation President Joel Wachs wrote, "Such blatant censorship is unconscionable." That the bigoted wing of the ideological right displays a capacity to act the scoundrel is one thing, but that high level administrators of one of America's most important cultural institutions cooperate seemingly without hesitation amounts to an absence of the sort of vigorous resistance that is a regular down payment for the preservation of freedom.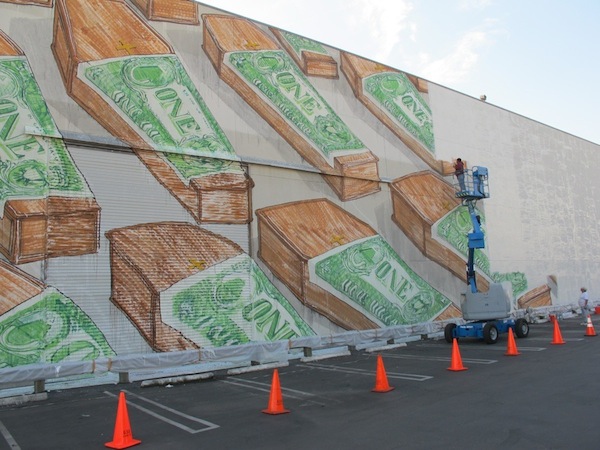 Still from video of MOCA staff removing Blu's partially completed mural from the Geffen Contemporary.
SUBSCRIBE TO & FOLLOW CULTURE SHIFT
Every Friday, HuffPost's Culture Shift newsletter helps you figure out which books you should read, art you should check out, movies you should watch and music should listen to. Learn more