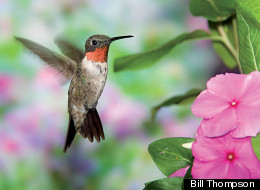 Sociologists and cultural trend watchers have been decrying the broken connection between today's youth and nature. With so many stimulating digital options dominating the attention spans of young people, the worry is that we'll raise several generations who have no connection to or understanding of nature. Birds provide an easy doorway to re-establishing this connection between kids and nature. Why? Because birds are almost everywhere, they are active, easy-to-see creatures, they often have bright, beautiful colors, and many birds sing melodious, enchanting songs. Most importantly, they capture our imagination with their ability to do something that we humans only figured out about 100 years ago: they can fly!

I've had the privilege of taking hundreds of young people bird watching at schools, nature centers, in scout groups, and at birding festivals all over North America. I can attest that birds have an almost magical power to captivate a kid's attention, to create a "Wow" moment. We birders have a thing we call our "spark bird"--the bird that first captured OUR attention and got us started watching birds. My spark bird was a snowy owl that flew into our Iowa front yard in November of 1968. That one bird changed my life.

The Young Birder's Guide is the bird book that I wish I'd had as a kid. I worked with my daughter Phoebe's and son Liam's elementary school classes to create the content because they were the best possible focus group to make sure the book engaged its target audience: 8 to 12 year olds. Little did I know that while creating a bird book that was aimed at kids, I was also creating one that worked new birders of any age.

I've written a lot of books, but none that I'm prouder of than this one. Here are 11 birds that could change the life of the young birder in your life - or yours.
Just one day after they hatch, Wood Duck babies leap from the nest cavity.

Harmful chemicals nearly wiped out the Brown Pelican. In the early 1970s, only a small population remained. Thanks to the banning of DDT and other chemicals, Brown Pelicans have made a strong recovery.

One of the Turkey Vulture's defenses is to puke on an intruder. Trust me: You do not want to get vulture puke on your clothes- you cannot get that smell out!

Peregrine falcons may reach speeds of 200 miles per hour when diving for prey. They use their balled-up talons to knock out their prey, then catch the hapless, falling bird before it hits the ground or water.

The Black Skimmer's bill is thin and knifelike, perfect for slicing through the water, skimming for tasty fish. The skimmer does not usually see its food. It feels for its food as it skims along.

Roadrunners eat almost anything they can catch: lizards and snakes, small rodents, scorpions and tarantulas, and large insects. They'll even leap up to catch hummingbirds at nectar feeders.

Home stinky home! Burrowing Owls sometimes line their nest burrows with cowpies!

Ruby-throats are tiny (weighing less than a penny!) but powerful birds. Their wings flap as fast as 75 beats per second! They are strong fliers, able to migrate 500 miles in one night.

Bluebird populations were decimated in the mid-1900s. Bluebird lovers provided nest boxes, helping North America's third bluebird species recover.

In his flight display, a male Yellow-breasted Chat flies across an open space, calling loudly and flapping his wings awkwardly like a wind-up toy that is freaking out.

Another name for the Painted Bunting is Nonpareil, which is French for "having no equal." On their tropical wintering grounds they are often illegally captured and kept as pet birds.