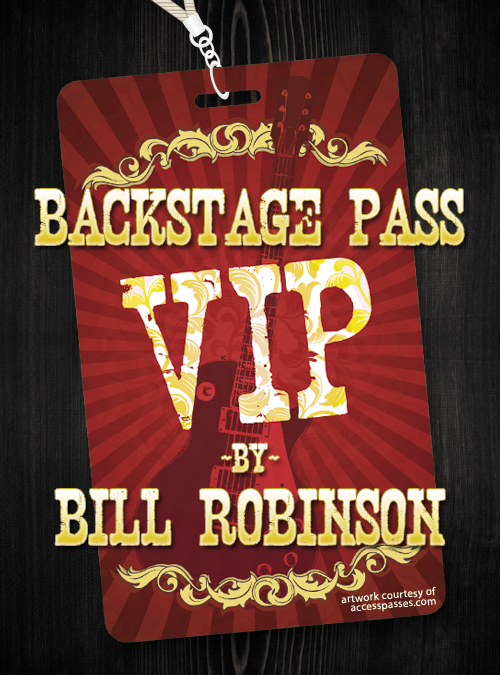 THE PERFORMER
George Lynch is a guitar player arsonist. His background as the Dokken lead guitarist is what most people know him for however, it is his current guitar playing and band Lynchmob which should be of direct rocker interest.
When Lynch plays guitar, he spares no energy and gives all of himself to the audience; constantly moving, never stationary.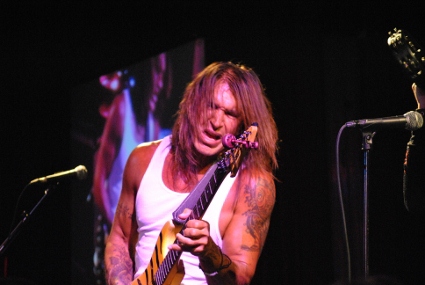 THE VENUE
B.B. King's in New York City lies underneath 42nd street between 7th and 8th avenues; right smack in the middle of the entertainment capital of the world. Serving good Southern style food and full bar, B.B. King's is a great--if a little expensive--place to see your favorite performers.
They have a solid calendar booked with many genres so no matter what your taste you'll likely find a good show at B.B.'s and can get unusually close to your musical heroes. Upcoming acts include: Stryper, Southside Johnny & The Asbury Jukes; Timothy B. Schmit of The Eagles; Little Richard; Jerry Douglas; The Commodores; Average White Band; Gato Barbieri; America; David Cassidy; Jimmie Vaughan; and The Tubes. If that's not a diverse bunch, I don't know what is. Their Saturday Beatles and Sunday Gospel all-you-can-eat brunches are off-the-charts.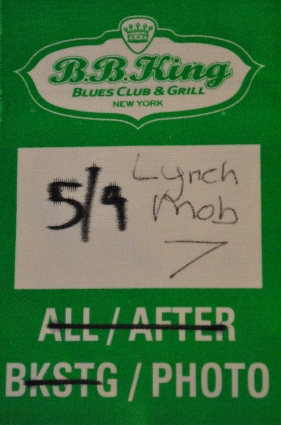 THE MUSICIANS
George Lynch, Guitar, vocals
Oni Logan, Lead vocals--Oni Logan is the solid, professional and soaring lead vocalist for Lynch Mob.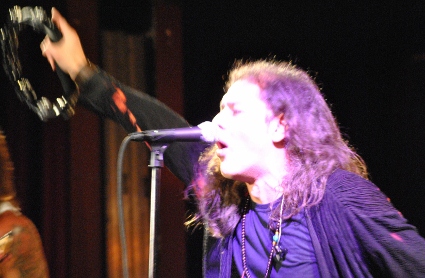 Robbie Crane, Bass guitar, vocals--Crane is a thunderous bass player and strong vocalist who was in Ratt.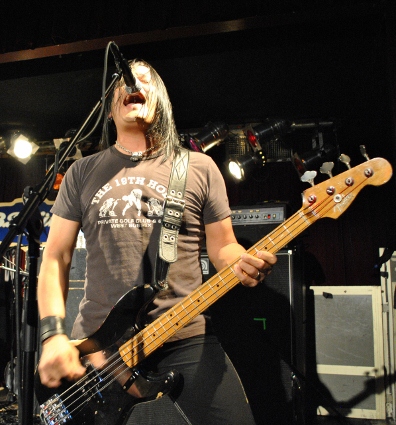 Scot Coogan, Drums, vocals--known as the drummer for Brides of Destruction with Nikki Sixx and Ace Frehley's band.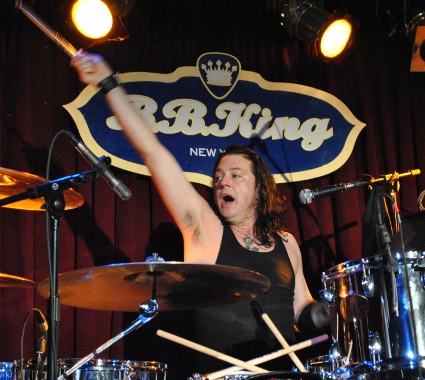 THE INSTRUMENTS
George Lynch is an ESP guitar endorser and has his guitars custom made for him. While I liked the look of the turquoise ESP Tele copy, Lynch played the ESP "Tiger" Strat copy all night long. It doesn't much matter what guitar Lynch plays, he always sounds good.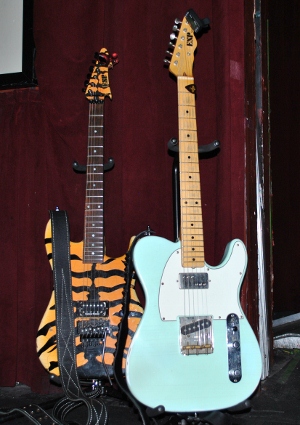 Lynch also makes his own guitars for customers and fans, Mr. Scary Guitars. For between $3,800 and $9,000, Lynch's customer gets a phone consultation with Lynch personally and a fully custom guitar built especially to their personal specifications.
When he appeared at the 2010 Dallas International Guitar Festival, Lynch was playing a great sounding Tele copy but suddenly stopped mid-song. While his backing band played on, Lynch wandered offstage having spied a rack of vintage guitars. He snatched a gorgeous 1955 Gibson Les Paul Black Beauty from its perch and though it had no strap and still had the price tag dangling from its head stock, brought it triumphantly back onstage. Ripping into this historic guitar on one knee, Lynch made the $55,000 antique screech and shriek to the delight of the guitar fest fans.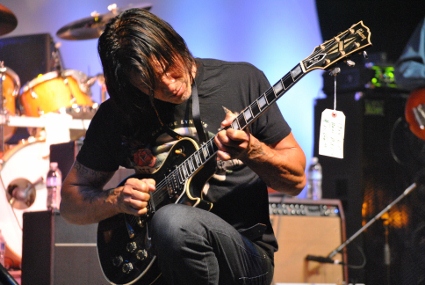 THE SETLIST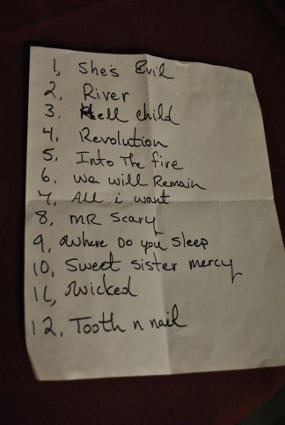 THE AUDIENCE
The crowd was comprised of mostly baby boomers in the 40 to 60-year old range with a smattering of young people interested in guitar and hearing of Lynch's virtuosity.
Sitting at my table was a family of four with two young boys around eight and four years old. When I asked "who was the George Lynch fan in the family," the rather conservative looking father told me that his older son was playing a Strat guitar already and wanted to see Lynch. Honestly, you see all kinds of people at all ages at these concerts these days.
The crowd clapped, hooted and hollered all night long at the proceedings onstage and generally showed Lynch the ultimate respect and admiration for his and his band's hard work and sweat.
THE ARTIST COMMENTARY
George Lynch is a passionate Native American who very much feels the important issues in his bones. You can tell by how strongly he speaks about his brothers that this is no hobby or passing concern to him ... it is his life; his family.
"I have another band called ShadowTrain," Lynch said passionately, "and it's also going to be a movie."
ShadowTrain is a movie project that Lynch has been pursuing aggressively (which is how Lynch pursues most things apparently). "The movie is a documentary on the Native American culture, history and politics. Native Americans are the only real Americans," Lynch insisted, "they haven't been 'Europeanized,' are more humble, compassionate, empatheic and they haven't forgotten their connection with nature."
Lynch, ancestrally of the Spokane tribe, says the concerts he plays with ShadowTrain are totally different from those he plays on tour with Lynch Mob. "The music I miss is the product of the cultural revolution," he said, "the Vietnam and Civil Rights struggles gives this music more passion. When ShadowTrain performs, we play on Native American reservations using generators to power our PA and we play in the dirt. Literally. We play old Silvertones, Cigarboxes and Dobros--it's very basic, very tribal."
When we moved on conversationally from ShadowTrain to Lynch Mob, Lynch made an analogy to both bands, "To me, band is family," Lynch said heartily and I believed him.
With regard to Lynch Mob's near future, Lynch says, "We're recording an EP for summer release and are half way through a new album out later this year."
THE SHOW
Two local opening bands warmed up the crowd perfectly. The Rob Balducci Band from Queens, New York played a solid, guitar-laden set followed by All Points West, a Manhattan-based band who surprised with an excellent, Reggae version of Black Sabbath's "Sweet Leaf."
When Lynch & Company hit the stage, the crowd was certainly ready, as were Lynch and Logan.
Walking onstage to a thunderous crowd response, Lynch opened in a guitar frenzy with a cigarette dangling, rock star-style from his lips throughout the first song, "She's Evil."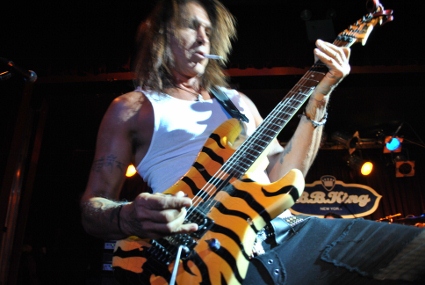 Their second song reverberated their the house like a sonic boom. "River of Love" was my favorite song of the night and from the looks of the seething morass of an audience, it was theirs too. "Down , down, down ... to the river of love" was sung by seemingly everybody I looked at and the way the crowd started moving was electric. Lynch, Logan and Crane formed a formidable front-line, singing and thrashing instruments.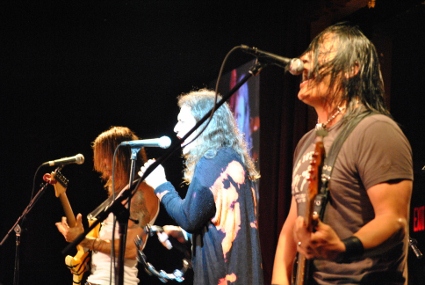 Oni Logan's vocals were spot-on all night and his chemistry with Lynch was extraordinary.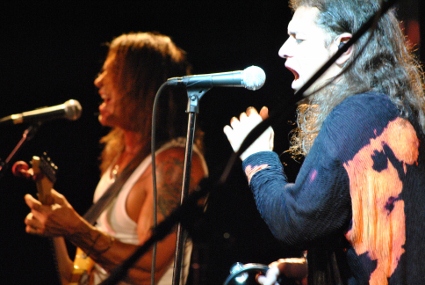 The rhythm section represented by Crane on bass and Coogan on drums was exemplary and so tight one imagined they were twin brothers.
Other headbanging favorites included an amazing, "We Will Remain," "Mr. Scary," a great, bopping "Wicked Sensation" and a rip-roaring, "Tooth 'n Nail."
All in all, Lynch proved to the world that night, that he hasn't lost one iota of his speed or the quality of his notes. This would definitely be evidenced by the note he's hitting here on his "River of Love" guitar solo, which took guitar playing to new heights.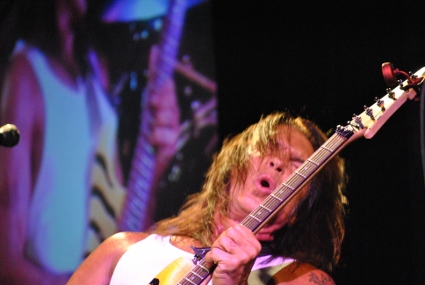 All Photo Credits are Bill Robinson except as otherwise noted