I'm an 'early adopter' of most everything: devices, software, apps and most certainly anything web or Internet.
This includes Facebook (FB). Having met Mark Zuckerberg at a conference in 2005 (he only started FB in 2004), I had a ringside seat for what would become the fastest-growing company ever until Groupon.
Interestingly, due to Groupon's special vendor-friendly dynamic (cynical) of taking 50% of their merchants' revenue on transactions, this meteoric company might also someday soon be "The Fastest Cratering Company Ever" too. But I digress.
I was on Facebook early. And I'm using it less and less now. I've never bought anything on FB not even a game. Have you?
And though I've tried to limit my 'friends' on FB to people I really know or have somebody I'm friends with who really knows them, I've failed miserably. I've got many 'friends' who when I see their name amongst all my 'real-world friends,' I say, "huh?" Does this happen to you too?
Be that as it may, there must be another more 'friend-oriented' ... more 'real-world friend' including and less 'who the hell is this?' Facebook coming, isn't there? There's got to be.
Well, a Russian/European company has developed one and it's called Badoo. And it's got 140 million users already.
According to Jessica Powell, Badoo's Chief Marketing Officer, "70% of Badoo users tell us they're just there 'to chat and make friends.'" Powell, a highly analytical woman with a good human sense to boot, is constantly checking, testing, surveying and tweaking the Badoo strategy.
Powell is an American based in London and former Google executive.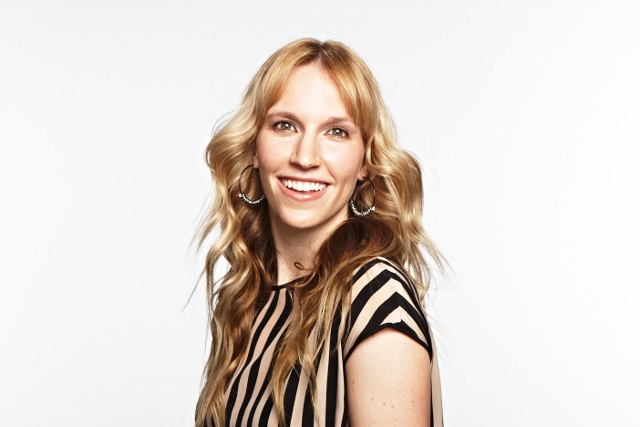 She's sharp, insightful and well-experienced in all things Internet. "People come to Badoo to decide what to make of a person they chat with," Powell started off, "there's always the idea of possibility when you start a conversation."
Started by press-shy Russian enigma Andrey Andreev in 2006, Badoo is another in an impressive string of the Andreev' Internet success stories.
To give you an idea of the extent to which this Social Networking (SN) powerhouse grew quietly as far as America was concerned, consider these numbers:
--147 million registered users globally (7 times more than Foursquare)
--125,000 new users each day
--35 million 'active' users each month
--3 million photos uploaded daily
--Operating now in more than 180 countries and 40 languages
Badoo's headquarters is in London and they have an office in Moscow. With more than 200 employees and approximately $150 million in revenues, Badoo has also been profitable for 24 months now; what a novel concept being profitable is for a tech start-up.
The central reason Americans may not be familiar with the Badoo online brand is that Badoo was born in Spain, grew-up in Europe, and finally traveled east to Asia, south to the Middle East and Africa and even west to South America but never emigrated to North America, until now. Badoo has just recently launched in the US with a New York launch party unrivalled (more about that later).
Jessica Powell explains the unusual evolution of Badoo thusly, "Badoo really started spreading fast in Southern Europe and Latin countries such as France, Italy, Spain, Mexico and Brazil ... these countries have very social populations ... my own experiences tell me it's much easier to meet someone new in Barcelona than in Tokyo or New York. Studies in Latin America show that it is ok to have met a friend, boyfriend or spouse online."
The online conversation starts so casually, Powell says, that there's no social taboo implied or explicit. But the flip-side is striking: more than 50% of Badoo users have met a Badoo contact in the real world first.
I'd read earlier articles on Badoo which seemed tilted toward the more nocturnal side of online relationships. "Though the UK press latched on to a 'sex-network' tag," Powell said clearly wanting to eliminate that moniker, "we estimate only about 25% of Badoo users are interested in the 'romantic scenarios.'"
A user survey Badoo did of 17 geographies globally in late 2011, provided some interesting stats that position is well versus Zuck's world-leader, Facebook. 45% of Badoo users said they made at least one friend; 12% had gotten into a serious relationship and 2% were married to someone they met on Badoo. I'd like to know what FB's stats are in serious relationship/marriage categories but somehow wonder about why we haven't. Perhaps their numbers are not significant?
The gender-specific data Powell has gleaned is fascinating. If you look at the shear number of chat interactions and their duration on Badoo, 90% of the conversations are initiated by men. Wow, do we men really work that hard? "Once you get the women chatting," Powell offered up quickly, "they become much chattier than men."
This SN 'dark horse' would appear to be a major threat to Facebook's SN dominance and future. However Powell tells me, "Just as you might meet people you already know on Facebook or meet business contacts on LinkedIn, Badoo is for making new friends."
"We say Badoo is a mirror-image of your real life," Powell observed, "when you walk into that bar or café, sure you may meet someone but you can't overlook what might happen on the way to these places; you might meet somebody on the journey there or in some other entirely unpredictable place."
In this relatively recent TechCrunch TV interview, Powell shows her knowledge of the industry and shares her thinking on Badoo's future.
At a NYC launch party in late March, Powell and Badoo put together a spectacular event. Held in a gargantuan SoHo loft and entitled "The Badoo Project," this event was designed cagily to solve that age-old problem of finding a picture of you good enough to use as your profile picture on a SN web site.
In order to create fast brand awareness in the US, Badoo held this event for three days and brought in four top photographers (who seemed to be shooting round the clock) and offered professional make-up stations and full wardrobe area prior to getting your picture taken. This went over very well with all the guests; and why wouldn't it? Everybody likes to feel special and this VIP treatment made everybody feel like a rock star or supermodel.
Powell obviously decided that a big, splashy event with contests for best picture resulting in NYC area billboards of winners' faces a mile high was a good start. And I wouldn't disagree.
After successfully navigating a typical NYC nightclub security and list throng, attendees made their way upstairs to a spacious area with open bars, DJ bank, ping pong/foosball tables, beanbag chairs and this was only the main reception area, more lay in wait. After signing up on Badoo; registering to have your picture taken for the site; and a goodly number of drinks and snacks, you were finally led to the inner sanctum.
Once inside the middle circle, you were taken to the hair and make-up stations which were a series of real dressing room-style lighted mirrors with director's chairs for the subject and gone to work on until you weren't recognizable to yourself anymore.
Next was a visit to the significant wardrobe area with racks and racks of clothing to wear for your pro photo shoot. You could dress as anything from a pirate to primate; the selection was that extensive.
Now made-up and dressed to the nines, you were ushered into one of four big photo-shoot areas. Here, one of four edgy photog pros used every trick in their book to get you relaxed, comfortable and at ease--something none of us ever are when we're having our photo taken by a friend. They were consummate professionals who did not come cheaply and Badoo was footing the bill for this entire extravaganza.
Over the three days, I can tell you people had a ball. They partied, danced, cavorted and left with some of the best photographs of themselves ever taken.
What were Badoo's results from this massive investment? A lot of media, a lot of brand awareness and a lot of new profiles with the best profile pictures online. According to Badoo, they met their goal of taking 1000 photos: they took more than 1070. Their media reach was more than 120 million impressions and a Facebook reach of 7 million plus.
With Out-of-Home (billboards) and Digital campaigns related to The Badoo Project still to come in May and already 8 million registered users in America, Badoo plans on continuing their global expansion.
Add to these recent results, the facts that Badoo host more than 50 million chats across their web and mobile platform and Badoo-ers actually meet up with 2 to 4 of their Badoo friends offline, this SN seems to be on the rise.
"It's very difficult to build the perfect global product," Powell mentioned referring to the multi-country evolution of Badoo, "but there are many more meaningful interactions on Badoo than the one-to-many interactions on Facebook."
In terms of Badoo's future, Powell is unabashed but alert. "The business is profitable and users continue to grow. I see structured growth for Badoo ... with all the right processes in order to grow."
When I asked Powell about the online dynamic that real-world experiences can't be duplicated on the web, she didn't blink but launched instantaneously into her response. "I wouldn't bet that something that happens in the real world can't happen online," she summarized with a coy smile and twinkle in her eye.