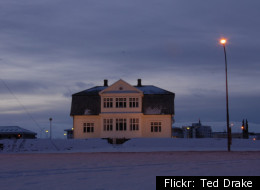 Nestled between Greenland and Scandinavia in the North Atlantic Ocean, is Iceland, a country that, for all its size, bewilders those who visit with its dynamic -- and frequently eccentric -- culture. With a unique café and bar culture, top notch cuisine, an effervescent nightlife and a burgeoning music scene, the island nation is an attractive destination for the hip and the outdoorsy.
With 2012 heralded as the best time in fifty years to see the Northern Lights, here at Black Tomato we can't think of a better place to chase down the ethereal hues of the Aurora Borealis and combine culture with some of Mother Nature's most beautiful work. Below we've put together some cultural tidbits to get you in the mood for an Iceland holiday.
When we think of Iceland's musical talents, internationally aclaimed artists such as, Bjork, Sigur Ros, The Sugarcubes and Mum spring instantly to mind. However, Iceland's capital and cultural hub, Reykjavik, is home to an eclectic musical scene with a whole host of classical, jazz, folk, experimental, punk rock, and pop artists creating original, world-class music. You can dip into Iceland's eclectic music scene at any of the live music venues sprinkled throughout Reykjavik, we would recommend, The Faktory where you can see bands such as Orphic Oxtra, a 13-piece Balkin-music sensation perform, and Mulinn Jazz bar, where acts from Iceland's vibrant jazz scene take to the stage.

When the clock chimes midnight in Iceland, the party begins. Cafes dim their lights, close their kitchens and tuck their tables away as dj's take to the decks and the alcohol flows until the early hours of the morning. Iceland's cafe/bar culture is wholly unique and makes for an inimitable, untamed nightlife. Vegamot is a perfect example of Iceland's bubbling cafe/bar scene. This little-known gem of a restaurant and bar turns into the hippest club in town after 10pm. Set over two floors it's an elegant Mediterranean bistro, upmarket yet relaxed and popular with foodies and older in-the-know locals.

Icelanders have the privilege of being able to gather many of their ingredients fresh from the natural surroundings; seafood, mushrooms, berries, reindeer, lamb and all sorts of other game and wildlife abound. For gustatory delights, Reykjavik holds some of the best restaurants around with chefs combining excellent local raw ingredients with modern techniques and recipes. For the best seafood look no further than the Fish Company. If it's a quick bite you're after, then you need to get yourself to the hot dog stand near the port (seriously, New York city has nothing on these dogs). For food with a view head to Perlan, which has a slow rotating floor so guests can see the entire city while enjoying delicious food and drinks.

Iceland has many excellent hotels. Hotel Ranga sits close to the still-steaming crater of the Eyjafjalljökull volcano and has naturally heated hot tubs for aurora viewing. Hotel Budir on the Snaefellsnes peninsula is an elegant getaway with breathtaking aurora views from the floor-to-ceiling windows in the bar, which look out over the striking volcanic shoreline. If you want a bit of adventure with your lights-chasing, travel further north to Hotel Sel Myvatn, for ice go-karting, cross-country skiing and winter horse-riding.

For the best aurora views in Iceland it's best to head away from the city lights to the rural outskirts. The hotels previously mentioned provide some of the best views, but if you want to stay in Reykjavik, Thingvellir National Park is only a twenty minute drive away, so you can go there and back in an evening. Head to Almannagjá, a small canyon with huge cliffs and nothing to block your view of the lights.
Follow Black Tomato on Twitter: www.twitter.com/Black_Tomato