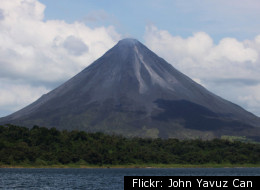 Aren't we all in search of happiness? The UN has recently released their World Happiness Report 2012, with Nordic inhabitants coming out on top: Denmark, Finland and Norway took the top three spots. The rankings were based on a number called the "life evaluation score," which measures a variety of factors including people's health, family and job security as well as social factors. Here at Black Tomato, we've selected our favorite destinations from the top 15.
Read on to see why they make us smile to find your happy place...
Costa Rica signifies the ultimate adventure playground, wedged between two astoundingly beautiful coastlines, not only is it a natural beauty but a cultural gem too, with the vivacious capital of San Jose acting as a veritable melting pot of cultures. The Costa Rican motto is 'Pura Vida', meaning pure life, the very essence of this laid back nation which is one of the most stable, and most beautiful countries in Central America.

G'day Bruce! Australia is a the land of peregrinating pleasure. Wine, wallabies, and 'shrimps on the barbie'. Add in thousands of miles of beaches under the enviable eternal Aussie sunshine and it's easy to see why Australia = the good life. Australia is also home to an ardent coffee culture, with beautiful, not to mention unique coffee shops and bars peppered throughout this continent's vibrant cities.

The land of captivating Maori culture and the legendary long white cloud, New Zealand is a magical country and its inhabitants are a convivial bunch; easy-going, un-confrontational and funny with it too. If your happiness is partial to the aesthetically pleasing, then New Zealand is the spot for you. Home to iconic landscapes and jaw-dropping scenery, not to mention some of the best wines in the world.

Beautifully eccentric Sweden, with its idiosyncratic design aesthetics and creative culture is one of our favourite places. Top notch design, inimitable architecture, delecious cuisine and a thriving music scene. No wonder the Swedes are among the top 5 happiest nationalities. Moving out of the urban hubs, true pastoral beauty awaits; sylvan forests and glistening snowy landscapes. Our favourite Swedish spot is The Treehotel in Harads, more precisely, the UFO room at the Treehotel in Harads… dreamlike sleeps can only bring happiness.

Wildlife, adventure, soaring mountains, fabulous cuisine, and views that never fail to amaze and inspire. Canada has the lot; from the snow-capped, rolling Rockies to Vancouver's iconic harbour and the jaw dropping beauty of the Yukon. Throw in some delectable cuisine; Nova Scotia lobster, Calgary beef, Quebec maple syrup, and to top it all off, a glass of Ontario Ice wine. No wonder Canadians are so happy.
Follow Black Tomato on Twitter: www.twitter.com/Black_Tomato