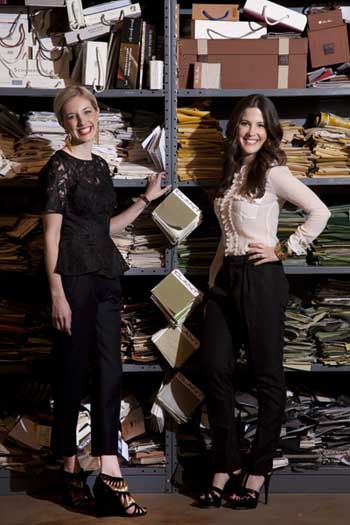 Sasha Adler and Lauren Gold started out as design interns at the firm of Oprah's favorite decorator Nate Berkus. With Nate now busy with his own television show, various product lines and several other commitments, besties Sasha and Lauren have taken over the helm of Nate Berkus Associates as design directors.
Their work -- and their own personal styles -- have caught the attention of magazines and blogs, hailing them as members of the next generation of influencers.
Below, Sasha and Lauren talk about decorating, fashion, hotdogs and beer, and how happiness can sometimes be found in a pair of shoes.
When I wake up... I feel like I could use another night's sleep.
Before I go to bed... I always tell my husband how much I love him.
A well-dressed man/woman... is confident.
Women should always... have good stationery.
Men should never... wear sandals. Ick!
The best thing that's been said about me... that I can talk to a wall. I think that's a good thing.
The biggest misconception about me... I thankfully don't know
If I weren't doing what I'm doing today... I would be a fashion designer.
My legacy... to be determined.
A great idea... always energizes me.
Botox is... sometimes really good, sometimes really really bad.
My mother... is creative, fun and incredibly thoughtful. A fantastic role model.
The soundtrack of my life... was written by The Beatles.
The future... is off to a good start.
Happiness... is anywhere in the world, as long as I am with my husband and daughter.
There's a time and place for... hot dogs and beer.
There is too much... There is never too much.
In the end... I am grateful.
When I wake up... I smother my dog with kisses and then make a bee line for the coffee maker.
Before I go to bed... kisses again for the mutt.
A well-dressed man/woman... wears quality accessories and knows how to make fashion their own.
Women should always... invest in a good shoe and handbag.
Men should never... dye their hair.
The best thing that's been said about me... is that I have a calming presence.
The biggest misconception about me... that I am prim and proper which I can be, but am typically a far cry from it.
If I weren't doing what I'm doing today... I would be unhappy at my job, no matter where it is. I am definitely doing what I was meant to do.
My legacy... I'm working on it.
A great idea... comes out of necessity and usually after a nice glass of wine.
Botox is... not in the cards for me... yet.
My mother... is the silliest and most creative person I know.
The soundtrack of my life... I am ashamed to admit that it's any and every cheesy song from the past three decades.
The future... is filled with travel and family and more wine.
Happiness... comes from within... and sometimes from a good pair of shoes.
There's a time and place for... gluttony.
There is too much... bad foundation.
In the end... family trumps all.

Photo courtesy of Nate Berkus Associates

SUBSCRIBE TO & FOLLOW LIFESTYLE
HuffPost Lifestyle is a daily newsletter that will make you happier and healthier — one email at a time. Learn more