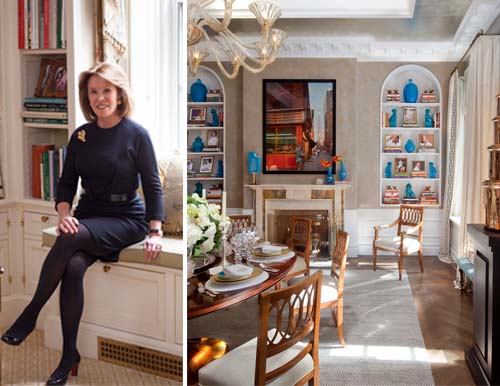 The interior designer Ellie Cullman has a lot to celebrate. This year marks the 30th anniversary of the design firm she founded called Cullman & Kravis. She also has a new book entitled The Detailed Interior: Decorating Up Close With Cullman & Kravis, which highlights her firm's exacting eye for details. Below, Cullman pauses from the many milestones of her career to talk about female empowerment, skin regimens and Raisinettes.
When I wake up... I sip cappuccino with my husband, Edgar, and devour the papers.
When I go to bed... I'm exhausted from my skin regimen.
A well-dressed woman... stands up straight and looks you in the eye.
Women should always... have their own checking accounts and credit cards.
Men should never... wear tank tops or shorts with socks.
The best thing that's been said about me... The Wall Street Journal once called me a "stealth maximalist."
The biggest misconception about me... is that I only like folk art.
If I weren't doing what I'm doing today... I would be directing movies -- or trying to at least!
My legacy... A good person who left a little bit of beauty in the world.
A great idea... Spanx and Post-it Notes -- wish I had thought of those!
Botox is... inevitable.
My mother... never forgave me for dropping out of Harvard Law School.
The soundtrack of my life... is the jingle of my Cartier three color gold bangles, which I wear every day. They match everything, and the girls in the office can hear me coming.
The future... is around the corner, so enjoy your QTR (Quality Time Remaining).
Happiness... is sitting in a dark movie theater with a box of Goobers in one hand, and a box of Raisinettes in the other.
There's a time and a place for... relaxing...but I haven't found it yet.
There is too much... time spent on the computer, and not enough time spent with people face to face.
In the end... there's always leopard.
All photos with permission from Ellie Cullman.
Follow me on Twitter and Instagram: @bluecarreon
Read from me on Style Intel