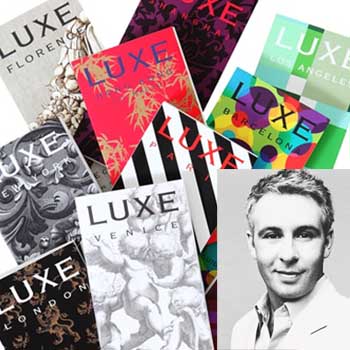 Grant Thatcher revolutionized the travel guide industry with his chic and compact Luxe City Guide series. What he started as a compilation of sorts for his friends has become the go-to resource for hip and savvy travelers who want straight-to-the-point travel information in a stylish lifestyle magazine voice and ready-to-go format. With ever stricter rules on airline baggage, Grant's fold-able, pocket-size travel guides are no bigger than an iPhone, which makes stashing them away relatively easy.
Below, British-born, Hong Kong resident Grant talks about elevator sex and being mistaken for Baz Luhrman.
When I wake up... it's normally to a Schnauzer lick.
Before I go to bed... I kiss my hubby and Schnauzers -- in that order.
A well-dressed man/woman... doesn't follow fashion or trends.
Women should always... wear what the hell they like and they shouldn't give a damn what anyone says.
Men should never... wear too much fragrance.
The best thing that's been said about me... I make the best Lancashire Hotpot in Hong Kong.
The biggest misconception about me... is I'm Baz Luhrmann.
If I weren't doing what I'm doing today... I'd be doing it tomorrow, so better to do it today and get it over with.
My legacy... Luxe City Guides -- stylish, fun, sassy travel in your pocket, or on your mobile.
A great idea... is wasted if not shared.
Botox is... among other things, apparently helpful for migraine sufferers, who knew.
My mother... is 83, still sharp as a tack, and I love her very much.
The soundtrack of my life... would ideally have been written by Barry White, Burt Bacharach and Hal David.
The future... remains to be seen.

Happiness... can't buy you money.
There's a time and place for... everything, except elevator sex in movies.
There is too much... elevator sex in movies.
In the end... the world is a circle without a beginning and nobody knows where the circle ends. Slow fade. Credits.