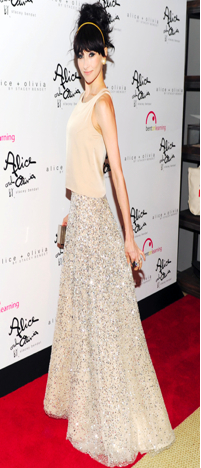 Newly-minted member of the Council of Fashion Designers of America, Stacey Bendet of the label Alice and Olivia made a name for herself in the fashion industry with her wonderfully designed trousers, which she launched in 2002. The pants are the result of years of perfecting the right cut and fit. From pants, she evolved into a designer selling a complete ready-to-wear line. Her designs are sold at her own boutiques in New York City and California and by major retailers worldwide.
Here, Stacey opens up about what she never wants to see on men, why her husband calls her a diva and her affinity to anything that sparkles.
When I wake up... I do yoga. This is usually by 5am.

Before I go to bed... hmmm, this is a tough question for someone who does not sleep a lot, but pink champagne and lacey lingerie sounds like a good start.

A well-dressed woman... always makes me smile!

Women should always... get their sparkle on.

Men should never... wear belts with big logos on them.

The best thing that's been said about me... is that I am a great mother and wife and a hard worker, the rest to me is irrelevant.

The biggest misconception about me... is when my husband says I am a diva. Actually I just travel with 18 suitcases and at least two hat boxes because I like to play dress up! I mean...

If I weren't doing what I'm doing today... oh I don't know. I would like to say I would be a rock star but that would require having some musical talent.

My legacy... the perfect pant? I hope so one day!

A great idea... I think there are great ideas every day, the key is to be able to make those ideas come to life.

Botox is... okay for people who aren't needle-phobic?

My mother... is the most beautiful mother and the most incredible grandmother, and I hope my children love me as much as I love her! (Dear Sister, I am totally the favorite daughter as soon as mom reads this!)

The soundtrack of my life... I Want Candy. Eloise, my daughter, would say that same.

The future... is whatever you want it to be, mine definitely includes high heels and sparkly dresses.
Happiness... is loving the people around you and knowing they love you. But a new pair of shoes never hurt either.

There's a time and place for... sweatpants. Or at least that is what I keep telling my husband!

There is too much... too much almost always means just enough!!

In the end... we all have our imaginations...
Stacey Bendet's photo courtesy of Alice and Olivia

SUBSCRIBE TO & FOLLOW LIFESTYLE
HuffPost Lifestyle is a daily newsletter that will make you happier and healthier — one email at a time. Learn more