In light of the new ultra-liberal Mayor-Elect Bill de Blasio here in New York City, it seems an interesting time for The Museum of The City of New York to unveil an exhibit all about the Elite Gothamites of just over a century ago. It shines a light on the one percent in the Victorian age who were flaunting their wealth up and down Fifth Avenue.
With a gorgeous companion book that's just been released (Gilded New York by Donald Albrecht and Jeannine Falino) the exhibit features over 100 opulent treasures -- from tiaras to gowns to artwork. All are over-the-top and each tells a story of one society matron trying to outdo the other.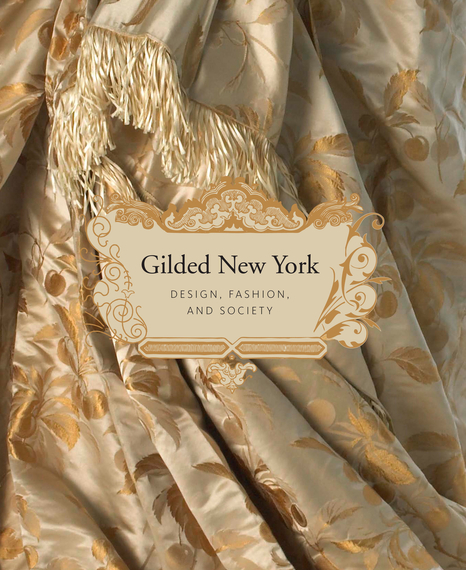 It seems quite fitting that this is the inaugural exhibit of the museum's new Tiffany & Co. Wing, which was lavishly created by Architect and Designer Bill Georgis. Georgis also designed the exhibit, and from the looks of the whole package, it's clear that this man understands luxury. His book Make It Fabulous, released earlier this year, is a lush look at his work that I've already decided to buy for several people on my holiday gift list.
Georgis and his team lined the new wing in rich silk brocade, and outfitted the windows in dark walnut box frames with mirrored sides panels that reflect and enhance the already gorgeous view of Central Park. Across from each window are built-in vitrines, showcasing some of the largest and most elaborate pieces in the collection. Many pieces, I soon learned, were purchased during travel abroad and brought back as trophy pieces.
In addition to Georgis, I had the rare and immensely enjoyable opportunity to chat with Albrecht and Falino (in addition to writing the book, the pair also curated the exhibit) and their extended team of experts. Fortunately I had the opportunity to review their book prior to my visit. As a fan of decorative arts, I greatly appreciated their passionate voice and reverence for beautiful objects (many of which were created by Tiffany Studios).
The Treasure Trove
It was great fun to see each of the items, and get wonderful background information and anecdotes from this venerable team. In my opinion, the most interesting pieces included something called the Electric Light gown, a portrait of Mrs. Joseph Del Mar and a Tiffany & Co Bonbonniere.
The Electric Light gown was designed by Paris Couturier Charles Fredrick Worth and worn by Mrs. Cornelius Vanderbilt II to the Vanderbilt Ball in 1883. Created as an homage to Thomas Edison's electricity distribution system, which had just been made available to a select few, the gown showcases bolts of lightening and shimmering rays of tinsel. The dress along with its matching shoes and stockings are on display and in remarkably pristine condition. It was likely only worn once.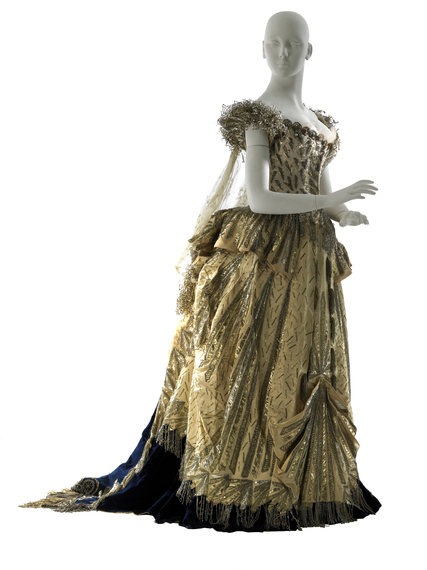 The Portrait of Mrs. Joseph Del Mar is rather saucy for a piece depicting a socialite of the highest order...or so I thought. Falino explained to me these women often paid to have provocative paintings done in Paris. Because they had so much wealth and prestige, no haughty fingers were pointed towards their lack of modesty. If fact, many of these women were really untouchable, due to their power. Falino went on to explain that this painting was most likely done as part of an outing in Paris that began at the Couturier, then to the Jeweler and then to the Artist. Many such paintings told a story of just how much money could buy on a jaunt in the City of Lights.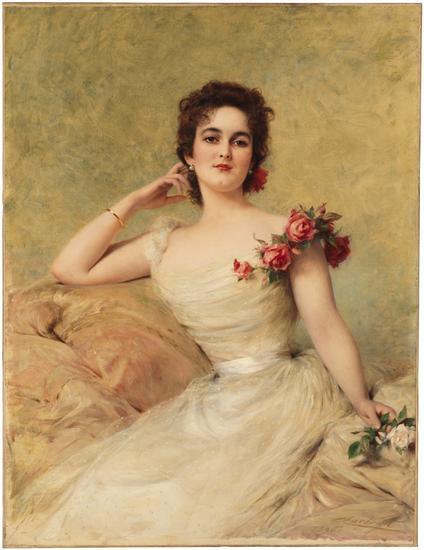 Without a doubt, my favorite item was a gold, platinum and sapphire-encrusted Bonbonniere. This wild creation, designed by G. Paulding Farnham for Tiffany & Co is sort of a combination candy-container/finger ornament/UFO. About two feet in length, it was designed to hold a breath mint or two and just simply dangle on a the index finger. This item, above all I saw in the exhibit, conjures up the old phrase "If you've got it, flaunt it."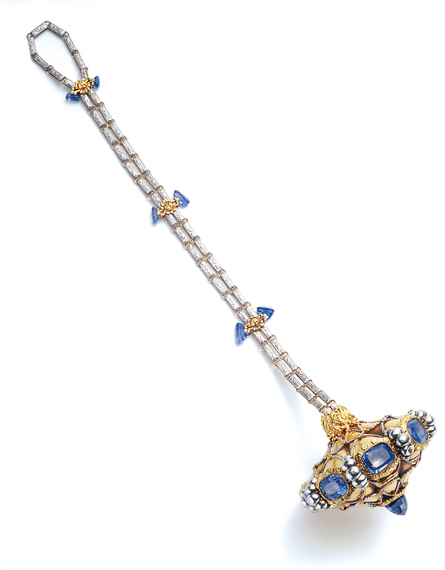 See The Treasures in Person, Read the Book at Home
Since museum exhibits have gossamer wings, I recommend purchasing the book if this time period strikes your fancy. This cast of characters offers up endless entertainment. It is comprehensive, juicy and filled with gorgeous photos. In addition, it really showcases just how disproportionate life was in New York at the time. Like all good history lessons, there's a lot of insight on these pages that feels very relevant today. It paints a pretty fascinating portrait of those few in riches while so many more were in rags.
Gilded New York at The Museum of The City of New York will be on view for the next year (until November 30, 2014).
Perhaps by the time Bill de Blasio takes root as Mayor this will be one of the few venues left open for slack-jawed admiration of the excessive consumption of the Upper Crust.
Photos Courtesy of The Monacelli Press and The Museum Of The City Of New York
The Museum Of The City Of New York:
http://www.mcny.org/content/gilded-new-york
Gilded New York:
http://www.monacellipress.com/book/?isbn=9781580933674
Make It Fabulous:
http://www.monacellipress.com/book/?isbn=9781580933315