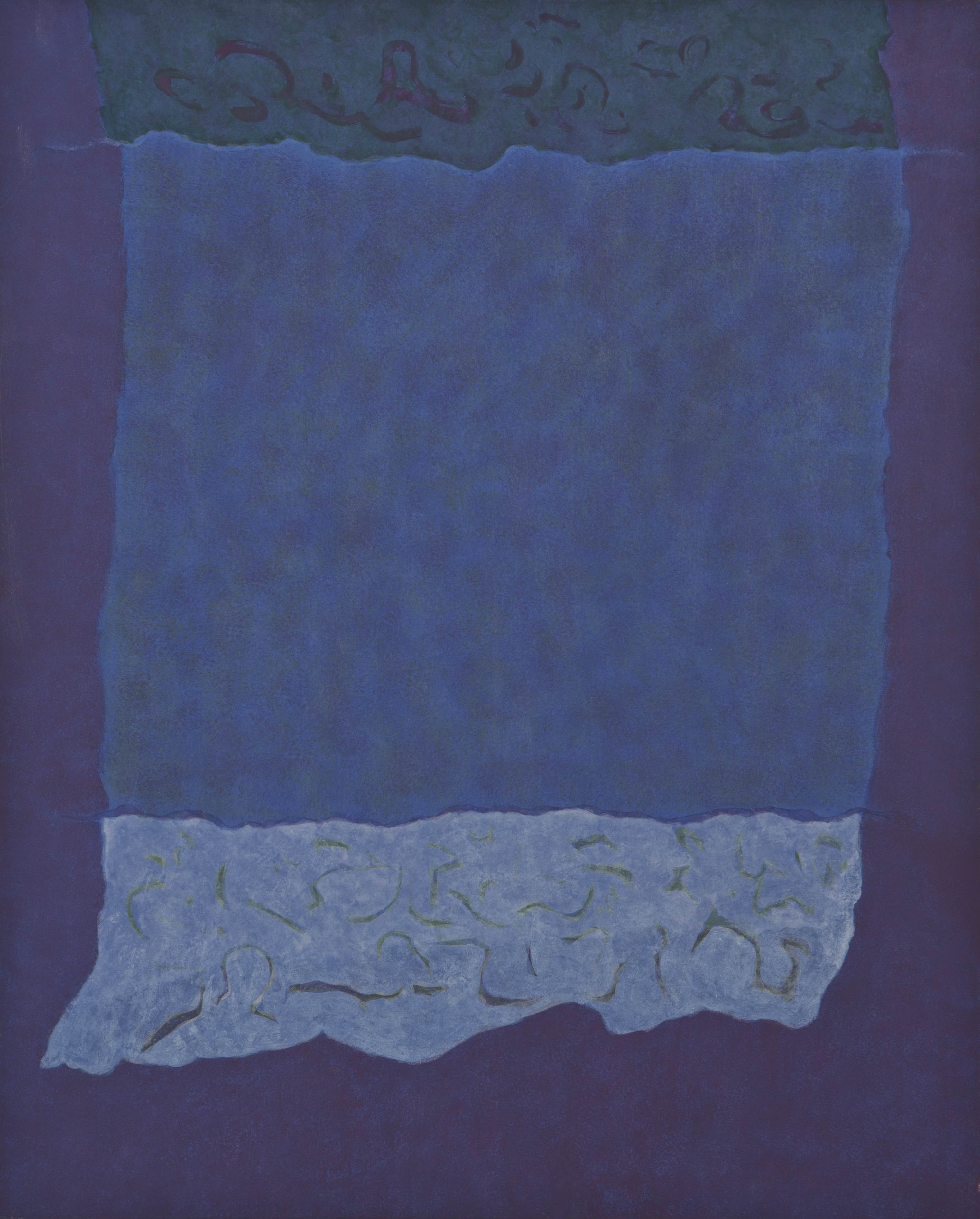 Theodoros Stamos, "Infinity Field, Lefkada Series (1980)"
At one point in time, the Greek American painter Theodoros Stamos was at the forefront of the Abstract Expressionist Movement. In 1951, Life magazine printed a now famous photograph of the "Irascible Group," with Stamos sitting in the first row, beside Barnett Newman and Mark Rothko. Both Newman and Rothko were early admirers of the younger painter, who went on to participate in some of the most influential group shows of the 1950s and 60s and exhibited all over the country and abroad. But when a scandal broke in the early 1970s, known as the "Rothko Case," Stamos' reputation was dealt a major blow -- following Rothko's death, Stamos was asked to be one of three executors of the Rothko estate; later that year, the Rothko family sued the executors and the Marlborough Gallery for waste and fraud, and eventually won the case. Stamos denied his involvement in the scandal, but he was never able to truly regain his standing -- and it could not have come at a worse time for Stamos, who was at the very height of his career.
All of this makes the new survey of Stamos' work at ACA Galleries (529 West 20th St.) a potentially watershed moment for the artist, who passed away nearly 15 years ago now, in 1997. "Theodoros Stamos: Evidence of Wonder" spans 50 years of Stamos' career, including a handful of rare early paintings and a series of late sculptures, never before exhibited outside of Greece. The majority of the show is composed of some of Stamos' largest and most iconic work, 14 of which are from his "Infinity Field, Lefkada Series" -- an ambitious, epic of a series that Stamos worked on from 1970 until the mid-1990s. What can't be missed in all of the work is how unique a painter Stamos actually was, in an era we thought we knew all too well.
As an artist, Stamos was keenly aware of what was happening around him; there isn't a phase in his work that doesn't reflect some significant influence, be it Milton Avery in his earliest landscapes or Mark Rothko in his "Lefkada" paintings. His supporters say that his influences enriched his work; and one of the most rewarding aspects of "Evidence of Wonder" is seeing that Stamos -- even at the age of 22, with 1944's "The Rock" -- rarely strayed from himself. He was a gentler painter than many of his peers, and an artist committed to nature, even as he ventured into abstraction.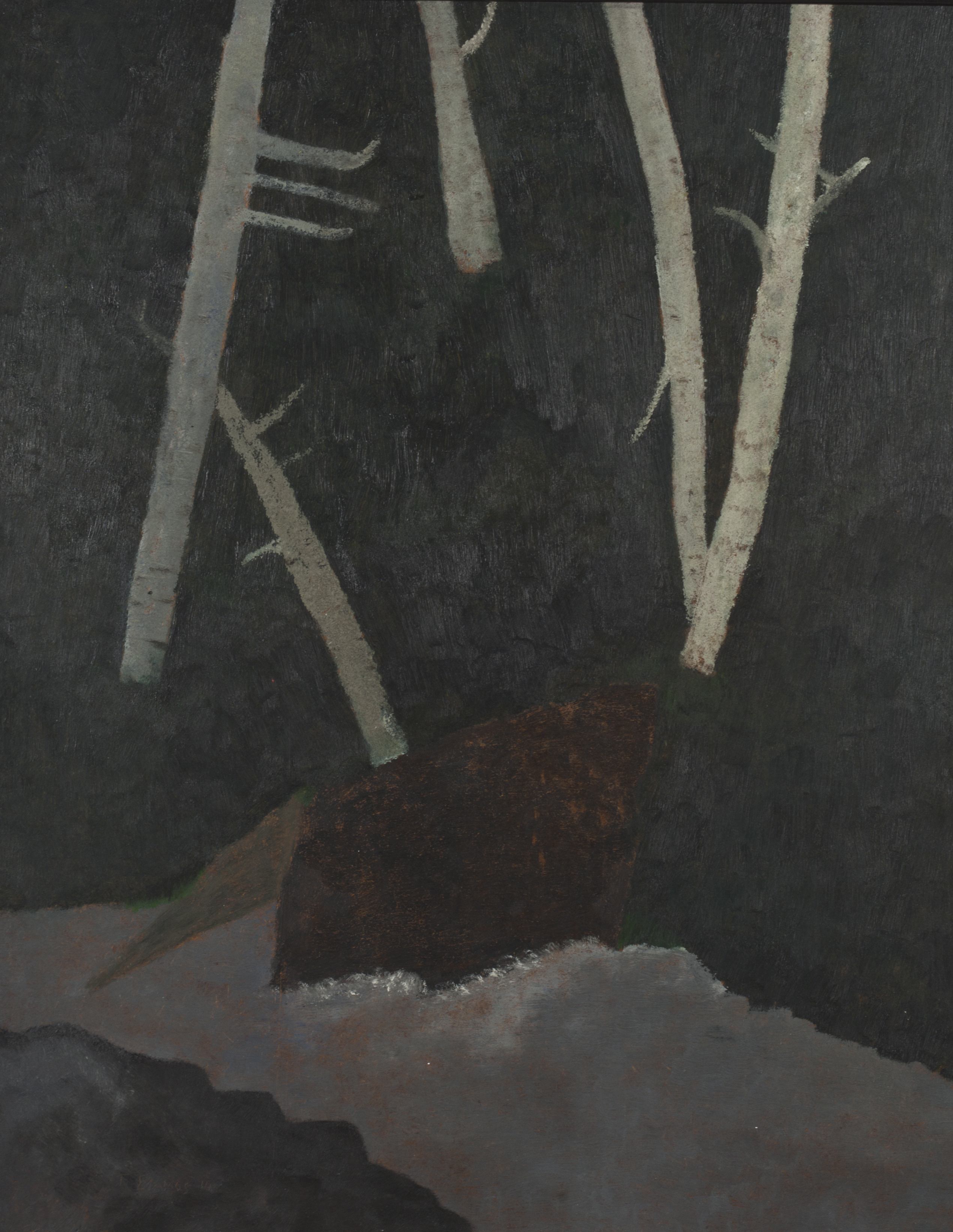 Theodoros Stamos, "The Rock" (1944)
Of the first examples of Stamos in "Evidence of Wonder," "The Rock" and a painting from that same year, "Pink Sky," are the unlikely and shy standouts. Underlying those pictures is Stamos' fondness for simplicity, which lightened and liberated his work throughout his career. Two pieces from 1956, "Morning Wind" and "Columns of Fire," signal clear departures for Stamos toward abstraction and 1962's "Low Sun, Blue Bar" is a classic arrival.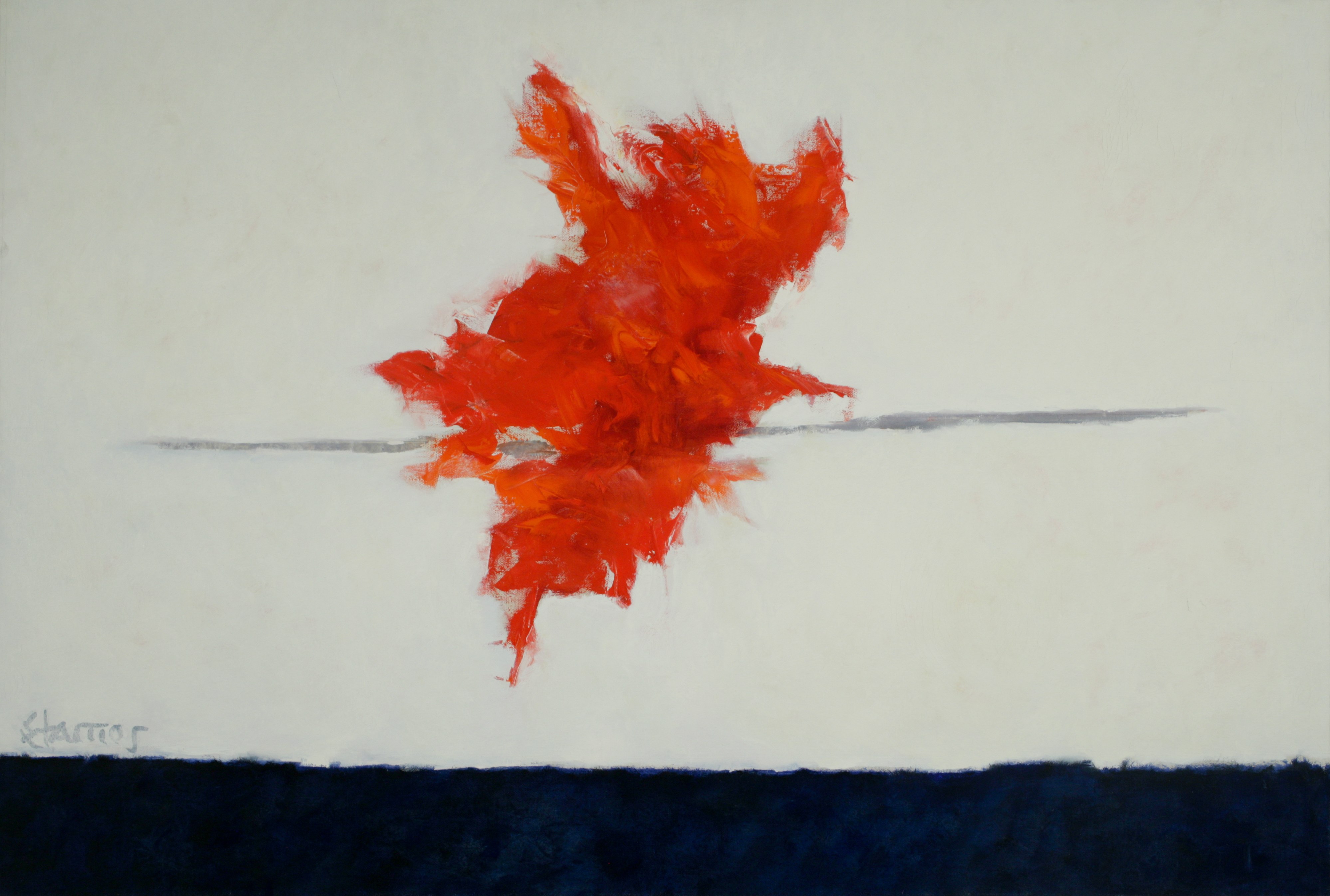 Theodoros Stamos, "Low Sun, Blue Bar" (1962)
"Low Sun, Blue Bar" is one of Stamos' most characteristic Abstract Expressionist pieces on view, and a handful of paintings from the early 60s pick up on Stamos' newfound flammable and emotive mark. For the most part, the style would be transitional for Stamos, who, by the 1970s, began producing the paintings he is now most famous for.
Presiding over the main room are Stamos' paintings from his "Infinity Field, Lefkada Series." Starting in 1970, Stamos made annual visits to the birthplace of his father, the Greek island of Lefkada, where Stamos would live and work in relative peace and isolation. Although Stamos was a convincing painter of more modest dimensions, the "Lefkada" paintings are, by and large, monumental in scale. Like classic Rothko's, they traditionally feature one central panel of color, framed by surrounding swaths of paint. "Infinity Field, Lefkada Series (1979 - 1980)" is a quintessential example.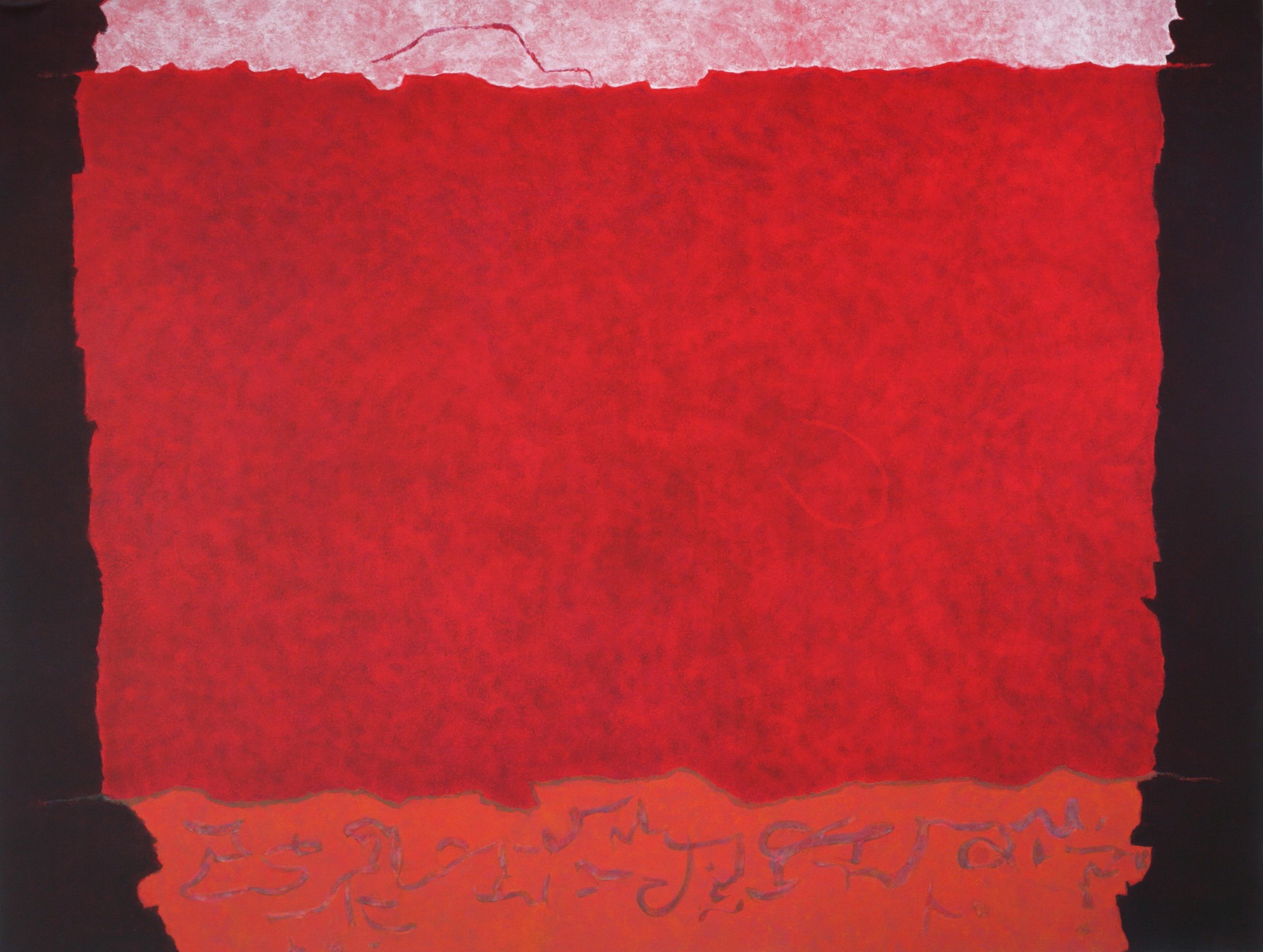 Theodoros Stamos, "Infinity Field, Lefkada Series (1979 - 1980)"
Robert Mattison, who will be speaking alongside Irving Sandler at the gallery on February 11th, has drawn special attention to Stamos' "sensitivity" in these paintings. And it is in the "Lefkada" paintings that Stamos emerges as an eminently sensitive artist, of radiant fields of color and a painterly touch as playful as it is observant. As with the equally outsize canvases of his peers, it's important to see Stamos' in person -- to get a sense of their scale, their wonderful color and their surprising, and winning, benevolence. It could not have helped Stamos that his most significant series of paintings owe so much to Rothko's own floating panels of color. The "Lefkada" paintings were begun in the heat of the trial and suffered from its backlash. But whatever the truth may be about Stamos' involvement in the controversy, it does seem time to look at these paintings anew, forgetting for a moment the dark days of a gifted painter.
It was not until late in life that Stamos returned to sculpture, the medium he studied as a high school student in the 1930s. A selection of late bronzes can be found throughout the show, making their U.S. debut, and a back room highlights smaller works by Stamos, including sketches, drawings and some additional "Lefkada" paintings. By the time you get to these pieces, it isn't difficult to be a fan of "Evidence of Wonder" -- and, for that matter, Theodoros Stamos. The show doesn't strain to prove any one point about Stamos, but what it does reveal, in showing the graceful arc of his career, is how greatly we have overlooked an artist we ought to keep in the picture.

SUBSCRIBE TO & FOLLOW CULTURE SHIFT
Level up. Read THIS and be the most interesting person at your dinner party. Learn more