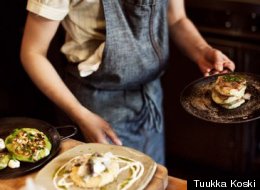 by Bon Appétit, Bon Appétit
Our own Andrew Knowlton -- a.k.a. The Foodist -- has been very busy lately. And no, we're not talking about his jaunt to Norway. We're talking about BA's annual Best New Restaurants issue, in which Knowlton chooses his Hot 10 new spots of 2012. This year, we're switching it up a bit, sharing Knowlton's list of 50 Best New Restaurant nominees. The Hot 10 -- including Knowlton's pick for America's Best New Restaurant -- will be revealed August 14th. Until then, chew on these.
Visit Bon Appétit to see the rest of the 2012 nominees.
More from Bon Appétit:
10 Snacks You Thought Were Healthy But Really Aren't
10 Quick and Easy School-Night Dinners
25 One-Bite Appetizers
Junk Food Makeover: Healthier Chicken Nuggets
1410 Mount Vernon Street Philadelphia, PA 215-600-0017 allaspinaphilly.com Imagine a trattoria, gastropub, and sports bar mashup, and you've got chef Marc Vetri's most democratic (and most rollicking) spot to date. Creative comfort food rules here. LOOK FOR Pig's tails with fennel agrodolce; whole roasted pork shoulder WE LOVE The custom-made draft beer system (alla spina means "from the tap") featuring 20 beers. (Photograph by Jason Varney)

1529 Fillmore Street San Francisco, CA 415-795-1272 statebirdsf.com Husband and wife Stuart Brioza and Nicole Krasinski have returned with this dim sum-style spot where appetizers (they call them "provisions") are wheeled around the room on trolleys. The duo's inventive small plates make it all work. LOOK FOR Fried quail; "World Peace" dessert WE LOVE Brioza made many of the plates and bowls in the restaurant by hand. (Photograph by Tuukka Koski)

1730 Pearl Street Boulder, CO 303-442-3003 pizzerialocale.com What did we do before bona fide pizza napoletana came to America? I ask myself that question whenever I'm eating at spots like the pizzeria from Lachlan Mackinnon-Patterson and Bobby Stuckey (who also run nearby Frasca Food and Wine). LOOK FOR "Mais" pizza: mozzarella di bufala, sweet corn, crème fraîche, and prosciutto cotto WE LOVE A dough-proofing box ensures that the temperature and humidity match those in Naples. The 1,000-degree, hand-built brick oven is pretty cool, too. (Photograph by Kendall Ruth)

1600 Lenox Avenue Miami, FL 305-538-5220 runchickenrun.com I have a weakness for fine Southern cooking, which is to say that I have a weakness for this casual Miami Beach hot spot, where the menu of both "small shares" and "big shares" is a love letter to the dishes of Dixie. LOOK FOR Mama's chicken biscuits; char-grilled Guinea hen; cheesy grits WE LOVE Friday night's Midnight Chef's Table features a family-style meal served by chef Jeff McInnis and a local guest chef. (Photograph by Tracey-Ann Jarrett)

155 Sycamore Street Decatur, GA 404-377-7994 cakesandalerestaurant.com This one look familiar? In 2009, Billy Allin's bistro made our list for smart, farm-to-table cooking. A move to a bigger space, a more ambitious menu, and an added bakery mean it's list-worthy once more. LOOK FOR Wood oven-roasted squash and onion with scrambled eggs and trumpet mushrooms; Mississippi mud cake; lemon bar WE LOVE At the adjacent bakery's lunch service, chef David Sweeney's "good-for-menu" makes healthy food taste great. (Photograph by Jonathan Lovekin)

2853 North Kedzie Avenue Chicago, IL 773-904-8558 yusho-chicago.com After working as executive chef at Charlie Trotter's for more than a decade, Matthias Merges zigged and opened this kick-ass izakaya with Japanese small plates and a keen sense of fun. LOOK FOR Cod chawanmushi; Thai basil soft serve ice cream WE LOVE The check is delivered in a Japanese sardine tin, and a hanging projector plays anime and Japanese monster films all night. (Photograph courtesy Yusho )

624 East Market Street Louisville, KY 502-384-9090 harvestlouisville.com One of America's underrated burgeoning food (and, of course, drink) cities lands a winner with this casual Southern cooking spot that highlights Kentucky fields and farms. Chef Coby Lee Ming sources at least 80% of her menu within 100 miles of the city. Portraits of local farmers decorate the walls. LOOK FOR Burger with hog-jowl bacon jam on a pretzel bun; roasted-vegetable pot pie WE LOVE Harvest's cocktails and bourbons are a key part of the experience. (Photograph courtesy Harvest)

50 North 2nd Avenue Minneapolis, MN 612-206-3920 thebachelorfarmer.com For traditional Scandinavian cooking with a twist, skip the local Ikea café and head to this stylish warehouse space for light-as-a-feather meatballs and open-face sandwiches. LOOK FOR Dill-cured white bass toast; poached eggs with whey-glazed potatoes and braised kale WE LOVE Pip Hanson, the mastermind behind the deceptively simple cocktails at Marvel Bar, the sister spot just below the restaurant. (Photograph by John Reed Forsman)

408 South Main Street Los Angeles, CA 213-687-8808 bacomercat.com It all started with a "bäco," chef Josef Centeno's irresistible taco/pizza/gyro mashup, but this lively downtown spot quickly became known for much more, from veg-centric small plates to big hunks of grilled meats. LOOK FOR Blistered okra, Caesar brussels sprouts; 14 oz. shiitake crusted pork chop WE LOVE Centeno isn't just a chef, he's a D.I.Y. restaurateur who wears many hats: marketer, window washer, and designer. (Photograph by Dylan and Jeni photography)

1807 South 1st Street Austin, TX 512-215-9778 lenoirrestaurant.com Cross your fingers that the buttermilk rabbit is still on the menu at this funky, French-inspired spot. Pay close attention to the desserts--they're some of the best in town. LOOK FOR Buttermilk-braised rabbit; fish curry; olive oil cake WE LOVE The surprisingly sophisticated three-course prix fixe, a steal at $35. (Photograph by Judy Horton)

60 Dorrance St. Providence, RI 401-521-6000 thedorrance.com The 1901 former Federal Reserve building may say "fancy French continental cooking", but the food (and cocktails for that matter) at this oh-so-glamorous spot is playful, inventive and globe-trotting, courtesy of James Beard "Rising Star" nominee Benjamin Sukle. LOOK FOR Smoked bluefish with preserved blood orange mayonnaise WE LOVE The vault room and the sculpture by Daniel Chester French, best known for the Lincoln Memorial. (Photograph by David Dadekian)
Follow Bon Appetit on Twitter: www.twitter.com/bonappetit