As the former editor in chief of Glamour, Cosmopolitan and Marie Claire magazines, I've published my share of feature stories on sexual harassment in the workplace. It's a very serious topic and the victims that my former magazines interviewed were always visibly traumatized by their experiences.
That's why I was so struck by Ms. Gibson's perpetual smile and even giggling during her sit-down with Vieira. After all, even if she happened to be a remarkably self-contained young woman, the seriousness of her allegations and their harmful affects on many peoples' lives, merited a more serious comport. She WAS accusing Rob of exposing himself to her, groping her, and showing her porn — disgusting stuff. And he is the dad of the two boys that Ms. Gibson, 24, cared for and supposedly cared about for a good portion of seven years. Wouldn't she at least be feeling awful about the pain and embarrassment she was causing those two young souls?
Former Lowe family nanny Jessica Gibson on the "Today" Show, April 15, 2008
"Jessica has a radiant, happy, genuinely excited smile. She has natural crinkles around her eyes and dimples in her cheeks while she smiles during her Today Show interview," Dr. Lillian Glass, a body language expert who has a Ph.D. in Communications Disorders, tells me. "She doesn't look like she's telling the truth. She's being asked about serious issues and there's nothing serious about her response."
I have to agree with Dr. Glass' observations. When Meredith asks Jessica "What did Rob Lowe do to you?" She doesn't speak up about the terrible harassment that she claims she's been subjected to. This is her chance to cry out against her supposed abuser and garner much-deserved sympathy. Instead she smiles and laughs, shakes her head and shrugs. When Meredith questions her about emails that Jessica wrote to the Lowes after leaving their employ, telling them that she loves and respects their family, she doesn't deny writing them. She smiles widely — not once but twice — and doesn't respond. When Meredith asks how she is holding up, she doesn't share any of her distress over the abuse that she claims she has suffered. Instead she smiles brightly and says, "I have a great team around me." When her famous attorney Gloria Allred describers her as "courageous," she practically beams. Curiously, when Vieira asks her if she has tried to blackmail the Lowes, she first smiles, then looks away. "Looking away is a sign of lying," claims Dr. Glass.
Call me crazy but this does not at least seem like the behavior of a woman who has supposedly been victimized for years.
Hold on though, says Courtney Anderson, an attorney who specializes in sexual harassment cases. "Yes she's giggling and doesn't seem traumatized, but sometimes young people do giggle inappropriately. Look at Paris Hilton. Let's not judge her too harshly."
Nevertheless Gibson missed "her moment to say how she feels terrible," points out Dr. Sheila Forman, a psychologist and a lawyer who also watched Jessica's "Today" interview. Forman felt that "Jessica didn't look either injured or sincere. Her smiling was incongruent with the nature of her allegations. Instead she looked like she was holding back giddiness and excitement."
Just as puzzling as Jessica's "Today" Show body language is that of her attorney Gloria Allred, who spends the interview almost reaching across half of Jessica's body to hold her hand.
"She looked like she was trying to prevent her from saying or doing anything that would ruin their case," says Forman.
"It looked like Gloria was lying to control her client, like she realizes 'Jessica is acting inappropriately,'" agrees Dr. Glass.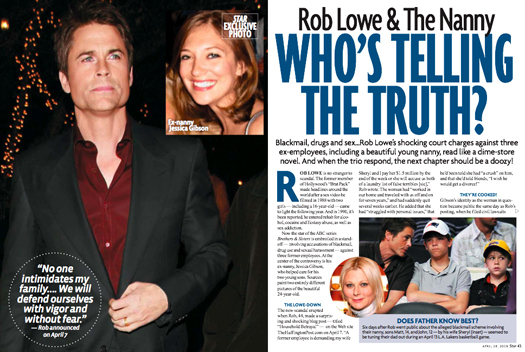 As inconsistent with her allegations as her behavior was on the "Today" Show is Jessica's behavior with the Lowes. The fact that Jessica twice left working for the Lowes — and then voluntarily returned a few months later — undermines her ability to win on the legal claim of sexual harassment, according to Jeffrey Bernbach, a New York state attorney who specializes in sexual harassment cases. "The fact that she came back mitigates against the notion that the situation was so traumatic. Once you came back after leaving, it's with your eyes wide open," says the author of Job Discrimination: How to Fight, How to Win. Nevertheless, he points out that the California courts are incredibly liberal and friendly to sexual harassment plaintiffs.
LA-based media consultant Michael Sands also wonders why Lowe didn't go to the police if his nanny was in fact demanding a $1.5 million payoff to drop her charges, as Lowe alleged in his Huffington Post blog of April 7, where he first broke the story to the world.
"I think he broke the story himself to cover up his misdeeds. People want to believe the first person who goes public, especially when they're a celebrity," believe Sands.
So is Jessica a young, naïve victim of a rich and powerful celebrity or is she an opportunistic liar?
Star magazine tracked down her boyfriend, Jason Lesh's father, Michael, who said, she's a "sweet girl, an honest person who wouldn't hurt anyone."
But another longtime friend of Jessica told the magazine that "she can be manipulative." And furthermore that "she's bragged non-stop about being Rob Lowe's nanny and partying in his Santa Barbara mansion. She also goes on and on about how gorgeous Rob is. I think she harbors a delusional idea that he'll be her boyfriend one day."
As far as I'm concerned, every word that Jessica has said about being sexually harassed by Rob Lowe could be true. But if that's the case, she'd be advised to become as good an actor as he is, so that her body language in her next interview or in front of a jury doesn't project Big Liar instead of Big Victim.
SUBSCRIBE TO & FOLLOW ENTERTAINMENT
HuffPost Entertainment is your one-stop shop for celebrity news, hilarious late-night bits, industry and awards coverage and more — sent right to your inbox six days a week. Learn more