Nyeka Alston-Orisakwe, 18, of Boston, dressed as a nurse at her family's Halloween party, but without a job, she has not been able to stanch the financial bleeding at home.
Her single, unemployed mother, Dominique Alston, 36, postponed paying the cell phone bill to pay for the Halloween party instead. Alston receives only $1,700 in unemployment benefits and child support per month to take care of four children--far below the federal poverty level.
Alston's unemployment benefits are scheduled to expire in January, though she plans to apply for a 17-week extension: her last chance before bumping against the 99-week maximum.
Alston-Orisakwe's experience typifies the job searches of millions of teenagers. It's been the worst year for teenagers to find employment since the government started keeping track in 1948, according to the Center for Labor Market Studies at Northeastern University.
In the down economy skilled adults are applying for the same entry-level positions that students typically fill. As a result, it's next to impossible for many low-income teenagers to find work. Federal stimulus money for teen jobs expired at the end of June and the prospect of new federal funding for teen jobs is unlikely.
That has left a group of idle low-income teens, often with unemployed parents, unable to develop professional skills and step in to support their families.
"If it comes between my children being happy or the choice being late on the bill, I'll make my children happy," said Alston, who has been unemployed ever since her temporary administrative job at Children's Hospital Boston ended in June. "I wish I could just snap my fingers, and she gets a job."
Nyeka Alston-Orisakwe has applied to more than 15 retailers around Boston, ranging from Dunkin' Donuts to Old Navy and movie theaters, without a single interview for a long-term job.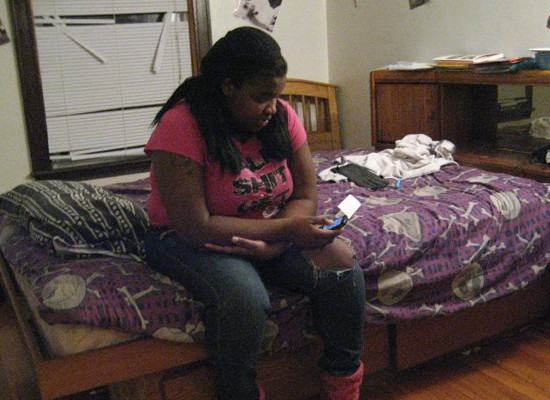 (Pictured: Nyeka Alston-Orisakwe, 18, of Boston, in her room.)
The only store that called her back: an Aeropostale looking for temporary work during Black Friday weekend. A line of about ten people stood behind her as she was interviewed at the cash register. Aeropostale did not call her again.
There were 12.5 million U.S. teens without a job on an average month this year, up from 10.4 million in 2005 and 8.7 million in 2000, according to Northeastern's Center for Labor Market Studies.
The average percentage of teenagers with jobs nationwide has been nearly cut in half since 1999 to 26 percent. There were 28 applications for every hiring in the retail sector--jobs that teens typically go after -- between January and November of 2010, according to the Kronos Retail Labor Index.
"Nationally, it's devastating," said Neil Sullivan, executive director of the Boston Private Industry Council. "A whole generation is going through their teenage years without any paid work experience."
Low-income minorities are at a particular disadvantage when searching for jobs because they live in neighborhoods with fewer jobs and have fewer connections and less access to transportation, according to Northeastern's Andrew Sum. 
Nationwide, he said, only 13 percent of low-income African-American teenagers and 17 percent of low-income Hispanic teenagers are employed. By contrast, 35 to 37 percent of upper-middle-class white teenagers are employed.
"Kids who really need help the most and could raise their family incomes the most are getting the work the least," he said.
Year-round jobs are more beneficial than summer jobs, Sum added, because the opportunities are more varied, and there is enough time for teenagers to interact meaningfully with mentors in the workplace.
But Boston's city government has devoted the vast majority of those resources to summer jobs. The city government's Boston Youth Fund funded 3,200 youth jobs this past summer, while the Boston Youth Fund is funding only 500 part-time teen jobs during the school year.
"To come up with money to pay young people all year-round--that is hugely expensive," said Conny Doty, director of the Mayor's Office of Jobs and Community Services, who described summer and year-round jobs as equally valuable. "It's just not realistic."
During an interview at her home in Dorchester, Boston's largest neighborhood, Alston-Orisakwe said she became more responsible and self-confident when she worked at Boston's Franklin Park Zoo. She earned $8 per hour there for the past three summers through the city's Boston Youth Fund and through the zoo's Teen Ambassadors program during the previous school year.
She used to cry when other teenagers made fun of her, and temporarily dropped out of high school during her freshman year because other students mocked her about her clothes and short hair. Then, after learning to answer zoo visitors' questions about animals, she started to speak with poise and self-confidence.
"Back then, you say one bad thing to me, I'd cry," she said. "Before, I never liked talking to people... The zoo helped me talk to people. Now I'm not afraid to answer you if you had a question. If you had a question now, I'd be proud to answer."
Then her job ended in August.
"I need a job," she said. "It's my senior year, and I need to save money for school and a car and to help my mom out."
But she's had no luck so far. When she asked a local Halloween costume store whether she might get a call back after she had applied, a cashier said it depends on her availability. Then she knew she was not going to get a call.
"They have to realize people are in school, so not everyone is available from 9 in the morning to 9 at night," she said, sitting on a chair in her family's living room, her arms crossed against her pink jacket. "They don't want to even at least call you to try for an interview. They don't even want to do that, which is stupid."
Now, Alston-Orisakwe spends much of her time at home, watching television, hanging out with friends, sleeping, or lying on her bed listening to music, gazing at posters of Marilyn Monroe in her room. Inspired by the TV show "Project Runway," she dreams of someday moving to California and becoming a fashion stylist. If she is accepted and can pay for tuition, she hopes to study fashion and retail management next year at the New England Institute of Art.
But glamor is out of reach for now, as she shops only occasionally now. Outside, she can hear neighbors arguing, cursing loudly, and sometimes having fist fights.
Alston-Orisakwe said she is not going to bide her time waiting for employers to call her back.
"I'm going to start calling up places and start harassing them," she said. "That's what you got to do now. I'm just going to keep applying until I get a job."
Her mother, Dominique Alston, said that employers are opting for older workers with more experience, but if teenagers never get hired then they will remain at a disadvantage. "If somebody doesn't give them that chance, they never get it," she said.
SUBSCRIBE TO & FOLLOW THE MORNING EMAIL
The Morning Email helps you start your workday with everything you need to know: breaking news, entertainment and a dash of fun. Learn more