When Katiti Kironde walks into a room, all eyes immediately shift to her. She exudes confidence, elegance, knowledge, and among all else, style. Much like style icons of today, Katiti is an icon in her own right with so many accomplishments under her waist-cinching belt, just one of which being the first Black cover girl to be featured on a major fashion magazine (Glamour Magazine) in 1968. However, if you were to ask her what her biggest accomplishment is she would say it is realizing her life long dream of creating an exquisite line of women's white shirts and blouses. We were lucky enough to get a chance to catch up with the super driven and captivating Katiti about her accomplishments and her goals for taking the fashion world head on.

Boutique Week: How did your love of fashion begin?
Katiti Kironde: When I was 7-years-old my mother passed away leaving me with her sewing machine. I started to alter my own clothes all the time with it and I think my love of fashion began there.

BW: Who shaped your fashion sense growing up?
KK: I just loved clothes growing up, which I most likely inherited from my mother. I learned to sew because my mother sewed; however, because she died when I was young, she couldn't actually shape my fashion sense over the years.

BW: You were the first ever, Black cover girl on a major fashion magazine when you won Glamour's "Top 10 Best Dressed College Girls" in 1968. How has being on the cover shaped your life?
KK: You know, I sort of put that behind me for the longest time. I had my kids and worked my job, and then I realized what an impact being on the cover of Glamour had later in life. I've gotten back in touch with Glamour more and more, and they have been very welcoming back into their family.

BW: Has winning the Glamour contest opened up any opportunities for you?
KK: I would say that it has in the way that I can take my styles to Glamour and show my designs to them now. It's been very helpful in terms of getting press and being taken seriously as a designer.

BW: You have your own clothing line now, how did you get started in the business?
KK: Well, I was heading for law school after graduating from Harvard University. I wanted Yale Law School but then decided that I was going to pursue my dream instead. I took design school courses at night and I decided not to whimp out. But I thought you know, I just need to go for it.

BW: Have you ever thought about designing other fashion staples?
KK: I did think about designing shoes for a while, but you've got to stick to what you know. The interesting thing is that when I was a student at Harvard undergrad, my real dream was to make women's white shirts- it's a staple, but no one has made it into a fashion trend. I didn't do anything with it then because I was trying to make a living. Only later did I make a decision to go out on my own and start my own collection and I'm feeling very hopeful.

BW: You're a very stylish woman, how would you describe your personal style?
KK: I love Jil Sander and I love Prada; I love girly girl. I love simple, elegant, with an edge.

BW: Does your style translate to your fashion designs?
KK: I'm not a trendy person. White shirts are not trendy; they're simple and elegant. I don't buy clothes that are trendy, but I'm not off trend either.

BW: What wardrobe staples do you believe every woman needs in her closet?
KK: Every woman should have an incredible white shirt, a couple of great necklaces, and a Cartier watch. Also, always make sure you have both a black pencil skirt, a black pleated skirt, and as many incredible shoes as you can afford.

BW: Do you think getting people back to boutique shopping is vital to our economy?
KK: Absolutely. I think Boutique Week is an ingenious idea because boutique shopping is personal. If you can get people back into boutiques it will help small business people like myself. You will also find more interesting things in a boutique and you won't risk looking like everyone else. You can find something that's really special in a boutique.

BW: We use a lot of social media for Boutique Week, do you think that social media is necessary in the fashion industry today?
KK: I do. I think a lot of young people are so tuned into social media, so it's the best way to reach them.

BW: What is your advice, if any, to young women trying to break into the fashion industry?
KK: Be persistent, believe in yourself, and do not give up. Realize your dream because only you can realize it, no one else can.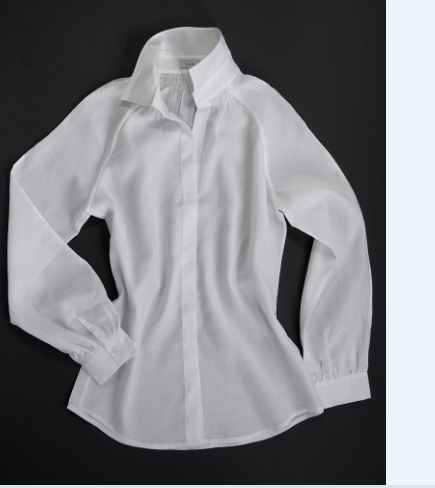 Katiti Lissa Blouse
FOLLOW HUFFPOST