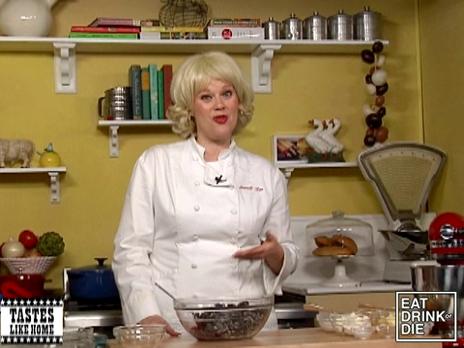 The Ivy Substation in Culver City, home of the Actors' Gang, is an ideal theatre for a cooking and comedy concert conducted by chef Jewel Rae Jeffers (writer-performer Donna Jo Thorndale). For the former power station is mostly brick and a catwalk provides an excellent vantage point for Officer Pudney (April Fitzsimmons) to menacingly patrol and look down on Jeffers and the prisoners, a.k.a., the audience.
The irrepressible Jewel Rae cooks a different "jailbreak cake" at each show, all the while providing bon mots about injustice, including the $3 billion spent on the California penal system or that 65 percent of the state's prisoners were popped for drug violations but only 11 percent get any treatment while behind bars. But All Cake, No File is far from mere pop agitprop, as Jeffers hilariously flashes back to the powdered sugar she uses to make a "Mexico City Earthquake Cake" and the powder she used to use and sell before her own incarceration.
Stage right, outside the confines of the performance prison Jeffers finds herself in, we are treated to the musical group With a Bible and a Gun. A Johnny Cash tribute band, they are dressed all in black and between Jeffers cooking and comedic ruminations, they do musical justice to the Man in Black's songs, from lesser known numbers to classics "Walk the Line" and the oh-so-apropos "Folsom Prison Blues." Lead singer and rhythm guitarist Corby Gallegos cashes in with his reverential performance.
Thorndale has the perfect melding of compassion and feistiness and Fitzsimmons makes totalitarian butchness fun. It's a show that gives and gives, because the "prisoners" are let out of their cells at the end and invited to the back patio of the Ivy Substation to sample the cake and talk with the performers. There is a raffle as well and when one considers that All Cake, No File is part of the Actors' Gang Prison Project, in which this and other shows/workshops are done for California prisoners, one would have to be a lifer to not have one's heart go out to this smartly conceived gem of a show. It runs through July 31 and tax-deductible gifts to the Prison Project can be made through www.TheActorsGang.com.

This Blogger's Books and Other Items from...
FOLLOW HUFFPOST