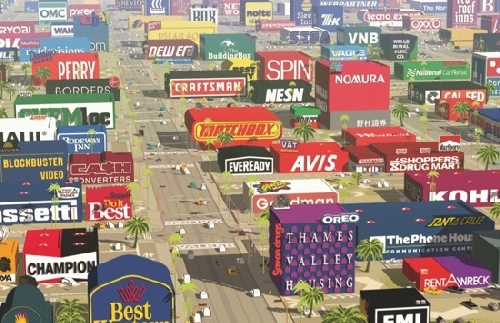 Logorama
The Academy Award-nominated short films, in live action and animation, are currently in certain theatres nationwide and like last year's crop, there is much to like about the animated shorts and much to scratch one's head about among the live action selections.
Among the latter, depth of storytelling is in short supply. Kavi (USA/India/Gregg Helvey) is a jerkily edited work about a young Indian boy who wants nothing more than to play cricket and go to school, but works as a slave in a brickyard alongside his father. In addition to the ragged look of the work, director Helvey has hired a boy who is not blessed with onscreen charisma. Miracle Fish (Australia/Luke Doolan) is another depressing little number about a young boy, this time with better production values. The lad in question lives in poverty with his mother and a simple gift supposedly saves him when a rampaging gunman goes hunting at his school. The Door (Ireland/Juanita Wilson) is a very slow-moving, ponderous examination of the misery of a Russian man and woman whose young daughter is dying from cancer caused by the Chernobyl nuclear power plant leakage. It was apparently a very tough year in short films for kids.
There is something of a success with The New Tenants (Denmark/US/Joachim Back) in which two men bicker in their new apartment until a series of murders and accidental deaths, one after the other, straining credulity, make them a bit more thankful for being alive. There should have been more dark humor in this one but Vincent D'Onofrio makes a surprise appearance and does his usual excellent work. Finally, there is redemption, with Instead of Abracadabra (Sweden/Patrik Eklund). Here, a 25-year-old slacker has a penchant for performing magic tricks that go wrong and he insists on putting on a show for his father's 60th birthday party. Well-shot, tightly edited with sly humor, it makes up for the lugubrious and unconvincing storytelling among its peers.
There should be unreserved praise, however, for this year's animated selections. The most outrageous, disturbing, experimental and emotional of them all is Logorama (France/Francois Alaux, Herve de Crecy, Ludovic Houplain). The three directors from the H5 collective have created a Los Angeles landscape made entirely out of logos and mascots for corporations. A perverse, murderous Ronald McDonald is chased by Michellin tire men cops and by the time the jaw-dropping piece is done, an apocalyptic earthquake and oil tsunami take hold of our imaginations. The Lady and the Reaper (Spain/Javier Recio Gracia) is a quirky CGI take on the battle between doctors and the Grim Reaper to take hold of the life of an old lady who is tired of existing. Granada, Spain's Kandor Moon, with Antonio Banderas as a producer, has a visually packed little gem on its hands.
A Matter of Loaf and Death (UK/Nick Park) is the latest adventure from four-time Oscar winner Nick Park and his beloved characters Wallace and his dog Gromit. Here, they have set up the Top Bun bakery, only to have Wallace fall in love with a former bakery spokesmodel who plans to do him in. As always, visual gags and complications abound, in this delightful half hour. French Roast (France/Fabrice Joubert) is another eight-minute joy, set in a Parisian cafe. An executive discovers he has been robbed and cannot pay his bill. Using slight camera movements and a mirrored wall behind the characters, we learn who the culprit is. Finally, previously reviewed at the Palm Springs Festival of Short Films, we have Granny O'Grimm's Sleeping Beauty (Ireland/Nicky Phelan). A seemingly sweet old lady tells her grandchild a bedtime story that turns humorously scary and reflects her own resentments. With some lovely visuals and brilliant voice-over work and writing by Kathleen O'Rourke, Granny, along with the other animated shorts, are well worth revisting and the entire collection will be on iTunes and video-on-demand in early March.

SUBSCRIBE TO & FOLLOW ENTERTAINMENT
HuffPost Entertainment is your one-stop shop for celebrity news, hilarious late-night bits, industry and awards coverage and more — sent right to your inbox six days a week. Learn more