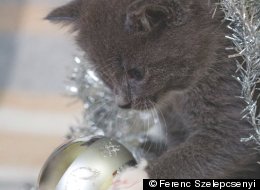 The lights are up, the halls are decked, and all the different types of c*** are out to play. 'Tis the season to be merry and joyous--everything despised by the typical c***. Unwanted petting, loads of strangers, and all that noise. Whatever happened to nothing stirring, not even a mouse?
But what the Grinchy c*** and other Scrooges need to realize is there's plenty for them to enjoy. Think of all the fun that comes with the seasonal trimming--plenty of balls to play with. Why be naughty c***, when you can be nice? Time to retract the claws on Mr. Clause and enjoy the December festivities.
Just in time for the holidays and certain to put a smile on the face of even the nastiest c*** on your list, The C-Word's put together a photo collection of everyone's two favorite c-words: Christmas and cats.
Brendan O'Neill is the author of the new book The C-Word.
The only lap being sat on will be yours.

Time to see just how much actually made it into that Christmas savings . . .

Playing in the snow and shopping in the rain does a number on even the cutest c***.

Forget the lines and nasty weather; it's online shopping or coal this season.

Better watch out—Santa's got his eye on you.

It's Christmas time for this kitty!

We all love the office party eggnog as much as the next guy…but leave getting sauced to your saucer.

It's all fun and games until someone gifts last year's model of this year's must-have.

Now you really know the most famous reindeer of all.

Sweet dreams!

After all that shopping and wrapping . . . you know what they're going to love the most.

Merry Christmas and a Happy New Year!