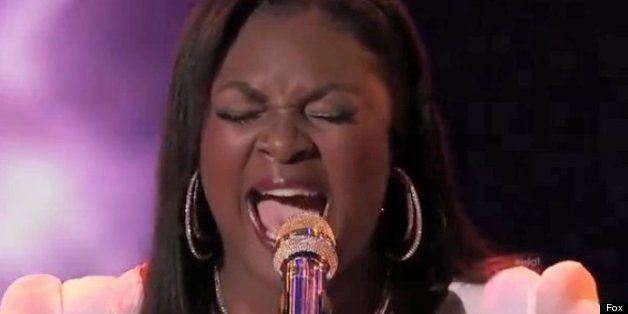 For the first time in the show's history, "American Idol's" Top 5 is all-female and this week, the powerhouse ladies were able to showcase their wide range of abilities. Each girl performed twice, first singing a song from the year they were born and second paying homage to a great diva. The night was packed with numbers from Mariah Carey, Beyonce, and Celine Dion, making it one of the most empowering and inspirational shows yet. Each girl proved her place in the Top 5, but which ones truly stole the night? And which ones might be jeopardy?
Candice started off the night with the Paula Abdul classic "Straight Up." After her star-making performance last week, nothing could bring Candice down and she commanded the stage with ease. "You don't choose them. You feel them," Keith said of her effortless runs, and Mariah declared her musical choices to be genius. For her diva song, Candice chose "When You Believe" by the ultimate power duo Whitney Houston and Mariah Carey. Candice brought the night to life, receiving a round of standing ovations and further establishing herself as the contestant to beat. Mariah was moved by the performance, telling her that she had done Whitney Houston justice.
Janelle chose her childhood favorite "When I Call Your Name" by Vince Gill. Nicki felt that she was right at home on the stage with her guitar, telling her, "It's kind of like you're bringing us into your world." Mariah and Randy agreed that the performance brought Janelle back where she belonged and though Keith loved the vocals, he didn't feel the emotion of the song. Next, Janelle sang the Dolly Parton classic "Dumb Blonde." The judges agreed that it was a fun number, but didn't think it was a great choice for her. Nicki told her that she thought Janelle might be in jeopardy of going home tomorrow, but thinks that her lovability as a person and a performer will ensure her success post-"Idol," regardless of what happens.
Kree performed the Black Crowes song "She Talks to Angels" and once again, wowed the judges with her vocal ability. "What I love about you is the naturalness in your spirit and your voice," Randy told her. Mariah and Keith both agreed that vocally, she was perfection, but thought she could have lost herself in the song more. Nicki aggressively voiced her disagreement with the pair (even managing to get in a tiff with Mariah) and declared, "That was the best performance of the night" in a British accent. For her second performance, Kree strayed from her country roots, singing Celine Dion's "Have You Ever Been In Love." Her ease on the stage had all of the judges speaking of her extreme versatility as a performer. "You're not country. You're worldly. You're iconic. You're everything, Kreedom," Nicki passionately told her.
Angie touched the judges when she dedicated "I'll Stand By You" by the Pretenders to Boston, her hometown. At home with the piano, she connected with the song and the audience. "You've got such an amazing voice that, it makes me want to cry every time," Keith told her.
For her second song, Angie took a risk with Beyonce's "Halo," but her powerful rendition did the diva proud and had all of the judges on their feet. "You did that song justice like a queen could. You did your thang!" Nicki told her.
Amber made the bold decision to sing Mariah Carey's international hit "Without You." Nicki was unimpressed by the performance, thinking it didn't quite live up to Mariah's rendition. The other judges, however, were blown away by her bravery and growth and Mariah was honored by her decision to sing it and loved a lot of her choices. Amber ended the night with the impossibly difficult "What Are You Doing With the Rest of Your Life" by Barbra Streisand. The judges were blown away by her performance, with all of them pleading with America to vote for Amber. "I really, really hope America gets to see inside the beautiful human being who stands before me," Nicki told her.
"American Idol" airs Wednesdays and Thursdays at 8 p.m. ET on Fox.

PHOTO GALLERY
BEFORE YOU GO
Celebrity Feuds
PHOTO GALLERY
Celebrity Feuds