Michelle Obama's stylistic choices face as much scrutiny today as Sarah Jessica Parker's did in the actress's "Sex and the City" heyday. Many bloggers panned her red and black Narcisco Rodriquez election night shift as a "dress misstep," and her Inaugural gown, a one-shoulder white chiffon dress designed by 26-year-old Jason Wu, was criticized by many as seeming too "wedding gown-ish."
Yet if the criticism phases the First Lady, it doesn't show. Whether parading to the White House in an Isabel Toledo wool guipure ensemble or perched on Jay Leno's "Tonight Show" couch in a yellow J. Crew cardigan and bold print blouse, she continues to make colorful, fashion-forward choices and she wears them with confidence. The confidence to work whatever outfit she wears from whatever price point is a hat tip to the style culture in her hometown, Chicago. Women around the country can take a page from Chicago's--and Michelle Obama's--book on fashion.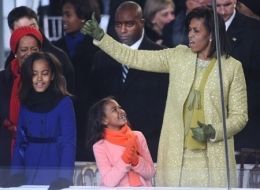 "Michelle represents the sensibility of Chicago women," says Julie Watson, owner of Chicago-based wardrobe consulting company juliewatsonstyle. Watson sees a misperception in the world of fashion that Chicago women may not know as much about style as their counterparts in cities like New York and Paris. "In fact," she says, "I have industry friends who visit Chicago for the first time and are shocked at how chic the women are. It always makes me laugh--why should it be a shock? It's a silly misconception that because Chicago is a Midwestern city, that women lack style."
It takes self-esteem to find a way to look fashionably put together while waiting for the bus in six inches of snow or standing on a train platform in -10 degree weather. While fashionistas in cities like New York and Paris wouldn't be caught dead in a winter hat, many Chicago women throw on brightly colored ear muffs with their pea coat and don't think twice about it. "In -20 degree weather, sensible women would rather wear an ugly hat than freeze," points out Watson, who spent several years as senior director of merchandising for Banana Republic, where she was in charge of decision-making for a $500 million division of the company's women's apparel business.
Wander around the Loop on a particularly cold day, however, and you will see a number of Chicago women in finding a way to make fashion work. Having lived in San Francisco, Boston, and Philadelphia prior to Chicago, Watson understands the necessity of a functional winter wardrobe. "There is always a stylish way to do a warm hat," she explains. Sacrificing warmth in favor of fashion often makes one look more like a fashion victim than an icon, and Watson has witnessed more than her fair share of women waiting in line outside clubs in the winter dressed in short skirts, strappy heels, and impractical jackets. "It's heart-breaking," she says. "It makes you look like you lack intellect. Don't do it. There's always a chic way to dress for weather."
Mrs. Obama is effortlessly chic when it comes to seasonable winter wear, and she has Watson's favorite winter trend down pat: the statement coat. At their father's inauguration, Obama daughters Sasha and Malia donned gorgeous, J. Crew coats and scarves in cheerful, bright colors on a chilly D.C. day. Michelle herself wore an intricate coat that matched her Isabel Toledo shift, and complimented the yellow-gold hues with an unexpected punch of lime green in her J. Crew leather gloves and green Jimmy Choo pumps. "Statement coats are fashionable and practical," Watson says, whose own wardrobe is full of bold, printed, and patterned coats. Her own favorite winter coat, made by Elijah and featuring fitted sleeves along the forearm to keep out the chill, was purchased at hot Chicago boutique p.45 in Bucktown, and her answer to the ugly hat is a cozy Eugenia Kim with ear flaps, which she has dubbed "warm winter dorky chic." Pulling off a winter look isn't about money; it's about confidence.
Like Mrs. Obama, who alternates between paying retail for J. Crew pieces that anyone can buy and designer frocks from Thakoon, Watson can be found scouting key pieces in Target as often as she visits Chanel. "How much you spend on your wardrobe should be relative to your lifestyle: consider dollar per wear," she advises. For instance, if you can afford a $1,000 bag, but aren't sure it's a wise investment, consider how often you would carry the bag. If it's your new everyday bag, carrying it 365 days a year amounts to $2.74 per day. Is it worth it to you? Then splurge. If not? Skip it.
Kat Rauber, owner of the Kansas City, Missouri, tall women's boutique KAT Clothing, knows a thing or two about fashion in the Midwest, and thinks Michelle Obama's comfort with her height (she's almost 5'11") has a lot to do with her style. "Perfect posture and proper tailoring are easy ways to convey style and confidence without saying a word," she says. Proper posture can not only make your outfit look better; it can make you look better. "When you stand up straight, you project an air of confidence and you're instantly slimmer," says Rauber. "I meet a lot of tall women who slouch and my advice is always the same: You can't change your height so embrace it. Head up, shoulders back."
If, on a favorite item of clothing, a sleeve is too long or a pant leg too short, don't just leave it in your closet to collect dust. "Especially on tall women, people notice if something doesn't fit," Rauber points out. "Tailored garments appear pulled together and stylish, reinforcing that air of confidence. Find a great tailor - they're like a secret weapon who can take your outfit from good to great."
Quick Tips to Year-Round Style
- Confidence, not cost, determines how well you wear an outfit. Whether you found your standout piece at TJ Maxx or Nordstrom, it stands the same chance of being hit or miss if you don't wear it with confidence.
- Find ways to make winter work for you: Julie Watson advises statement coats and sensible, warm hats.
- The right fit makes all the difference. Kat Rauber recommends standing up straight and getting items tailored to fit to look your best.
SUBSCRIBE TO & FOLLOW THE MORNING EMAIL
The Morning Email helps you start your workday with everything you need to know: breaking news, entertainment and a dash of fun. Learn more