... And there are days when it would be good to illustrate the varied stuff I have the pleasure of dealing with, enjoying, or whatever ...
I had a good morning in the office today with the usual interactions with my colleagues as we enter a new year. And lunch was a particular pleasure as it was an opportunity to see Henry Fogel, former President and unquestionable boss of the Chicago Symphony Orchestra, a fine colleague with a passion for opera. He is the new Dean of the Chicago College of the Performing Arts, on the advisory board of which I sit. And we at COT run an excellent post post graduate diploma program for young opera singers in collaboration with the CCPA.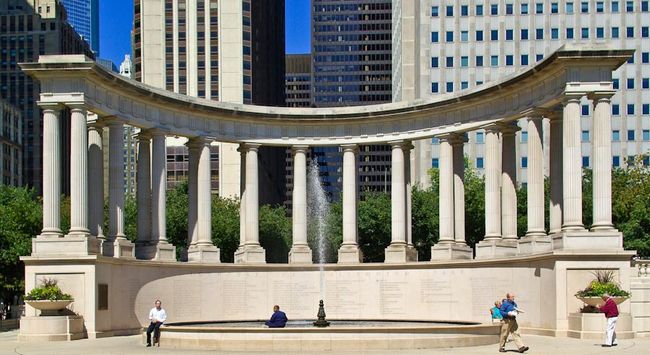 We had a good lunch together at the Park Grill in Millennium Park. Henry has been an immensely supportive colleague throughout my ten years here in Chicago. And I look forward to a close relationship with him in the coming years, such as remain for me! And it was good to walk through the park on this splendid cool sunny day. This civic creation never ceases to amaze. Mayor Daley has changed Chicago there is no doubt. What you see in the picture above were rail tracks when I arrived here in 1999.
And after an afternoon in the office I joined the Cigar Society of Chicago in a very jolly get together on the top of a building next to our offices on Lake Street. This provided a location where the smoking of cigars in no way disturbed those that do not do that; and it was also a chance for us to get at some delightful people who are or will become supporters of COT. This is a group "orchestrated" by our wonderful new board president - a clubbable character if ever there was one. We are fortunate to have a social animal in charge!
And the view you see below, taken from that very rooftop last evening, gives you the chance to see three Chicago architectural generations. In the foreground left you have the speakeasy home of Al Capone, and on the right the home of Donald Trump. And between them you can see Mies' posthumous IBM building. We had a number of cigar smoking architects with us. They consider themselves fortunate to have this connection in Chicago to the history of architecture.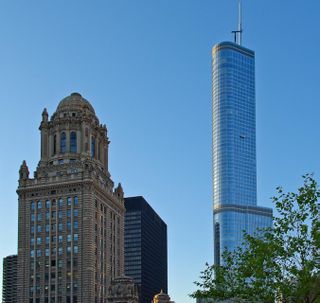 FOLLOW HUFFPOST