This chilly fall is premature, I think. While technically we are in the autumn, we should remember that on election day last Nov. 4 we were basking in the balmy warmth of 75 degrees. Maybe that was a reflection of the warmth we were feeling in the political arena. And now we have the menacing chill of what promises to be a horrendous winter, both in the meteorological and political worlds.
There are some boats still in the water at Belmont Harbor where I got off my express bus from the office at 5:45 p.m. last evening. And there are still some hardy souls in their dinghys having a last gasp before the deepest chills arrive. But for the rest of us we are hunkering down.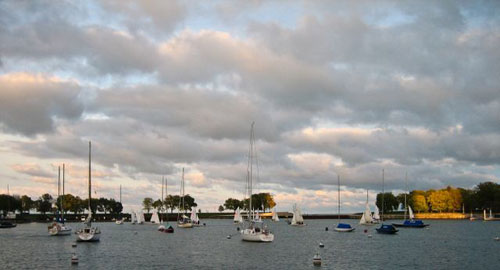 Meanwhile opera is getting on with it in Chicago. Some of my board members were at the Lyric for Tosca last evening en masse. No doubt they were spreading the good news of Chicago Opera Theater. That audience is an enthusiastic and impressionable bunch -- we need to get more of them in the doors of the Harris Theater.
And Jane Glover is in town for the Music of the Baroque performances of Handel's Acis and Galatea this weekend. Not to be missed -- hey, they have the wonderful Elisabeth Futral as Galatea. Who can ask for more? I will be there -- wouldn't miss it for anything. And nor should you.

SUBSCRIBE AND FOLLOW
Get top stories and blog posts emailed to me each day. Newsletters may offer personalized content or advertisements.
Learn more