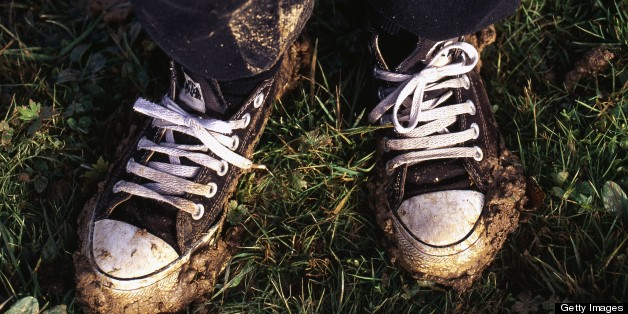 In Stand by Me a group of boys come of age after an adventure to find a dead body, in Super 8 they come of age after they accidentally film a train wreck, in Mud -- the new film by Jeff Nichols (Take Shelter, Shotgun Stories) -- two boys find an island -- and come of age. Using a southern bayou as a backdrop, Mud oozes metaphors of manhood, and how the construct of what it means to be a man has changed.
Ellis (Tye Sheridan, one of Brad Pitt's sons in The Tree of Life) and Neckbone (Jacob Lofland, in a screen debut), discover an abandoned boat that's stuck in a tree on a deserted island. They'd like to make it their own, but of course they discover that the island isn't deserted and someone already has plans for it. That someone goes by the name of Mud (Matthew McConaughey). Mud has the slow confident voice that one might mistake for wisdom; he has charm, a story of lost love and he has a gun and a mission: get the boat in the water to rescue the love of his life, Juniper (Reese Witherspoon), a woman he recently killed the abusive husband of.
Mud is equal parts drifter and outlaw, and thus appealing to the boys who are beginning to enter the coda of manhood. They observe the shortcomings of their father figures (Ellis' father, played by Ray McKinnon, can't provide for the family anymore but blames his wife for their impending move off of the river; and Neckbone lives with his uncle, played by Michael Shannon, who lives off of what he catches from the river and what tail he catches from the local pubs). In a way, all the male characters in Mud are an island -- the boys are aware that the girls from their peer group are more interested in the more developed older boys, both of their families live off of the river which is, itself, isolated from the shopping malls of the main land -- no longer a part of the city or its commerce -- and Ellis' neighbor (Sam Shepard) is an ex-CIA agent and in hiding. Connected to all of these boys and men is Mud, the ultimate isolated figure: he's an outlaw -- on an island. He's also the only one who seems to have any hope, and -- in the form of Ellis and Neckbone -- any help.
What Nichols has fashioned is a patient, old school coming of age tale. The boys learn how to be men, and the men, thus relearn how to be men; women will not commit to them, so they have to commit to each other. Throughout most of Mud, it's the men who have paired off, spurned by women, society, needing each other and to adapt -- the outlaw can't be a townie, but he can't do it alone anymore either. And women? They need a lot more than to just be told that you love them, and they might not need to be rescued either.
There was another, flashier, deconstruction of manhood film that came out earlier this year: The Place Beyond the Pines. That film had James Dean imagery, equal parts outlaw, and law and order and sins and blood that were passed down from fathers to their sons. That one, ultimately, felt hollow and too reliant on coincidences to me. Mud instead dissects the folklore hero of the knight in shining armor: it introduces him as a bum, a lost soul, and -- most importantly -- as someone whose love might not be returned, and ultimately, might be too obsessive to be of any good to either of them. Mud gets a little overstuffed with a few too many separate family and relationship dramas, but the performances of the young boys and McConaughey weave a nice little spell of magical realism. It's the folk within the lore that keeps Mud afloat -- and elevated above a metaphor.