Terrorists Who Don't Face Justice: A Disappointing Trend
Outrage over the decision to
release on "compassionate grounds,"
Abdelbaset Ali Mohmed al Megrahi, the convicted bomber of Pan Am flight
103 who killed 270, including 189 Americans in 1998 has hit a nerve about how
the worst extremists seemingly outflank justice. As the ailing convicted
perpetrator of the second-worst terrorist attack in history against U.S.
civilians is sunning himself amid cheers, flowers and hugs in Tripoli, an
examination of the outcomes of other terrorism cases over the last century, big
and small, yields its own pattern of disappointments.
Even before Megrahi's release
last week the case presented extreme difficulties for authorities and families
alike. The trial, held by agreement in the Netherlands, not Scotland, commenced
well over a decade after the attack, and a co-defendant was acquitted. By the
time of his release Megrahi would have served about 12 days imprisonment for
each life he took.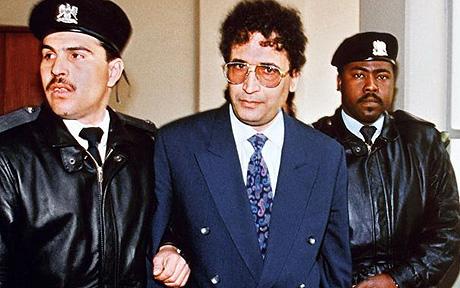 Of the other top five
terrorist attacks against U.S. citizens besides Pan Am 103, only two resulted
in the arrest and conviction of a perpetrator. The April 19, 1995 bombing of
the Oklahoma City Murrah federal building that killed 168 resulted in the
execution of bomber Timothy McVeigh by lethal injection in 2001. For the other
conviction, one has to go back almost a century to the 1910 bombing of the Los
Angeles Times building which killed 21. For the rest of the most deadly attacks
perpetrators escaped the bar of justice either by eluding capture--some
permanently, or choosing the method and timing of their own demise.
Terrorist Incidents Directed Towards Americans by U.S. Deaths
1. 9/11 Attacks, Incendiary Bombing by Aircraft,
NY, DC, PA 2975 killed,
9/11/ 2001 Al Qaeda
2. U.S. Marine Barracks,
Truck Bombing , Beirut, Leb., 241killed (US) 10/23/1983 Hizbollah
precursor
3. Pan Am Fl. 103, Aircraft Bombing, Lockerbie,
Scotland, 270 killed (189 US), 12/21/ 1988 Libyan Agent
4. Murrah Fed. Bldg.,
Truck Bombing, Oklahoma City, OK, 168 killed 4/19/1995 Anti-gov't
extremists
5.
Bath MI School Bombings, Bombing, 44 killed, 5/18/1927 Disgruntled taxpayer
6. Wall Street Bombing,
Horse cart Bomb, NY, 35 killed, 9/16/1920 Socialists/Anarchists
Suspected
7. Los Angeles Times
Bldg., Bombing, Los Angeles, CA, 21killed, 10/01/ 1910, Union militants
The 19 perpetrators of 9/11,
the worst terrorist attack against Americans which killed over 2970 people,
yielded no trial, but tons of conspiracy theorists. All the direct murderers died in the crashes. The October
1983 truck bomb attack, allegedly by a precursor of Hizbollah, that killed 241
sleeping servicemen on a contentious, but internationally designated
peacekeeping mission, never resulted in a criminal trial. Accused mastermind
Imad Mughniyah was allegedly involved in a string of brazen kidnappings and
fatal bombings against American civilians, as well as government and military
officials. He was eventually indicted by American authorities on another
charge. The indictment stemmed from
his masterminding of the hijacking of TWA flight 847 in 1985 where a U.S.
sailor was murdered and dumped from the rear of the aircraft in Beirut. He was
also indicted in Argentina for bombings against Israeli and Jewish targets in
incidents that killed the most Jewish civilians since World War II. Mugniyah
eluded capture by the U.S. in separate incidents where the French and Saudis
thwarted the attempts. He also skirted death along with his spiritual advisor,
when a car bomber allegedly tied to the U.S, killed 62 Lebanese civilians
instead. His luck finally ran out
decades later when a bomb from an unknown assailant exploded in his car in
Syria in February 2008.
The September 1920 bombing of
Wall Street was the worst terrorist attack in American history at the time. The
horse drawn bomb killed over 35 people, but the attack by suspected anarchists
was never solved. The Bath School bombings in May 1927, by an anti-tax school
board member, who blamed taxation for his financial distress, claimed 44 other
Michiganders, the majority of whom were grade school children. The bomber
Andrew Kehoe died in one of the blasts.
A smaller, more recent blast at LaGuardia airport in 1975 remains
unsolved.
This year has seen its own
set of heartbreaks. The Palestinian terrorist who in 1985 ruthlessly killed
Leon Klinghoffer, an elderly American wheelchair bound tourist was released
from an Italian prison this April for "good behavior" -seven years short of his
thirty-year sentence. Klinghoffer was aboard the hijacked ocean liner, the
Achille Lauro, when he was shot in the head and dumped into the sea. The actual
mastermind of the attack Abu Abbas was convicted in absentia in Italy, but
evaded authorities until his April 2003 capture by U.S. Special Forces. He died
less then a year later of natural causes.
In a related, but still
unsolved domestic terror attack, Alex Odeh, West Coast director of the
American-Arab Anti-Discrimination Committee, was murdered by a bomb blast in
Orange County, California. Jewish extremists, including one deceased and one
serving a life sentence, along with others perhaps in Israel, were suspected
but never charged. It is believed Odeh was targeted by terrorists for
advocating support of the Palestinian cause during the course of the Achille
Lauro hijacking.
Cases from the racial turmoil
of decades ago continue to reverberate today. Two adjudicated cop killers from
the Black Liberation Army have apparently outflanked the legal system. The BLA
is believed responsible for the death of at least 15 police officers in the
late 1960s and early 1970s. Herman Bell, already serving a life sentence in a
New York prison for murdering two police officers in Harlem in May 1971, was
given probation this summer in California for the shotgun killing of a San
Francisco police sergeant in August of that year. FBI Most wanted Joanne
Chesimard, 61 remains at large in Cuba after armed cohorts sprang her from
prison in 1979. She was convicted of the execution style murder of New Jersey
State Trooper Werner Foester. Both are regarded as folk heroes by some on the far left.
Earlier this month,
racist Billy Wayne Posey, a prime suspect in a Klan murder conspiracy died of
natural causes at 73. Posey was allegedly involved in the infamous murders of
three young civil rights workers, two Jewish and one African-American, near
Philadelphia, Mississippi in 1964. A grand jury, with a relative of Posey's on
it failed to indict him by one vote. The only person to face state murder
charges, Edgar Ray Killen was found guilty of manslaughter in 2005. Mr. Posey
outlived all of the victims' mothers including Fannie Lee Chaney and Carolyn
Goodman who passed at 84 and 91, respectively in 2007. The death comes less
than three weeks after a group of civil rights experts conferred with Attorney
General Eric Holder about civil rights era "cold cases" including this one.
The sometimes-conflicting
goals of the American justice system are deterrence (discouraging crime),
retribution (proportionate punishment), incapacitation (removing the dangerous
offender from society), and rehabilitation (reforming attitudes). These
cornerstones of justice are undermined when homicidal extremists from long ago
cases kill innocents and evade appropriate punishment. It sends the wrong
message to victims' families today and would be terrorists tomorrow.