THE BLOG
As Clock Ticks: Do You Hold The Key To Cold Case Racial Murders?
The balmy
nights can be errily dark and quiet in Varnado, only a couple of miles from
where a twisting Mississippi river snakes through thickets of green trees to
mark the rural eastern border of Louisiana. But buried behind the gentility and
bucolic landscape of this small village of 300 lies a secret brutal past.
Almost a half century after a horrific racial killing, the FBI and an
assortment of civil rights activists across the nation are redoubling their
efforts to solve a mystery and bring some fugitive murderers to justice-and
maybe you or someone you know holds the key.
When the
Klan declared war in Louisiana, decent upstanding innocent folk were often the
first casualty and justice the last. To those whose solemn oath was to white
supremacy, those who swore competing oaths to the Constitution were their
mortal enemy—especially if they wore uniforms or badges and they were
Black. Such was the case on a
quiet Spring Wednesday night in June 1965. As Australian troops arrived in
Vietnam, AM transistor radios blared the Supremes "Back in My Arms Again" and
two astronauts prepped for their Gemini 4 orbital space flight, two rookie
Washington Parish sheriffs deputies, Oneal Moore and David Creed Rogers, were
on their way to a meal break during an uneventful evening patrol.
After the
February assassination of Malcolm X in New York by Nation of Islam gunmen and
the March attack on protestors by police outside of Selma, AL things were
incrementally starting to look up again for America's "Negroes" and their
allies. Even early in the season San Francisco Giant "Say Hey Kid" Willie Mays
was well on his way to becoming the National League's Most Valuable Player. The
Senate just passed the Voting Rights Act the week before and earlier that
Spring Nobel Prize winner the Rev. Dr. Martin Luther King delivered a rousing
sermon entitled "How Long, Not Long: Our God is Marching On" on the steps of
the Alabama State Capitol in Montgomery.
There were
also hundreds of smaller local victories as well. Deputies Moore and Rogers had just finished marking their
own first anniversary as sworn lawmen only one day earlier. Despite, or perhaps
because of, Klan violence, threats, and racial tension, they became two of the
first African-American sheriffs deputies to serve on the Washington Parish
force. This was some coup as the parish was thought to have the highest
concentration of Klansmen anywhere. Gun-toting Klansman terrorized Black
communities, and the presence of Black deputies was a result of demands from a
terrified community.
A Racial Assassination
The two
deputies headed home for a meal down a darkened Main Street around 10PM in Varnado on the
night of June 2 with Deputy Moore at the wheel. As they crossed the railroad
tracks the officers were suddenly ambushed when a black pickup truck with a
Confederate battle flag on the front raced along side of their squad car. A
barrage of unprovoked gunfire exploded from the bed of the pickup violently
shattering the night's silence. The rifle shots struck both officers, sending the
police car veering out of control.
The car crashed into one of the old big distinguished trees that dot the
landscape.
Inside the
wrecked car lay Deputy Rogers, blinded in one eye and the lifeless body of
Deputy Moore-killed by a direct shot to the head. On Friday, June 4 the New
York Times ran a headline over a small story on page 17: "2 Negro Deputies Shot
in Bogalusa; Driver of Sheriff's Patrol Car Killed—Suspect Held."
Colfax Massacre
This wasn't
the first time that an apparent Louisiana Klan attack took on Black symbols of
authority with impunity. Almost a century prior, in 1873 in perhaps the worst
instance of racial slaughter after the Civil War, over 100 African-American
militia and freedmen guarding a parish courthouse in Colfax were killed, many
after surrendering to their white aggressors. An ad-hoc Army of white supremacists,
armed with a cannon set upon them following a disputed gubernatorial election.
Only three defendants out of ninety-seven indicted went to trail, and those
remaining indictments were overturned by a hostile Supreme Court in United
States v. Cruikshank, 92 U.S. 542 (1875) That decision eviscerated the application of one of the
primary new federal laws enacted to protect newly freed slaves from organized
Klan violence.
Justice Denied
Almost one
hundred years later a reinvigorated Klan couldn't have killed a better guy. In
Free At Last: A History of the Civil Rights Movement and Those Who Died in The
Struggle, Sara-Bullard described the married father of four young girls: "Moore
was a 34-year old Army veteran who had distinguished himself as a leader in his
church, his local fraternal lodge and the P.T.A." Despite the swirl of
investigation and boiling tension outside the cemetery, Moore's parents, wife
Marvella, and his daughters-who unlike their mother, were all dressed in white-
solemnly watched as a full dressed military guard laid their beloved son,
husband and father to rest in a flag draped coffin.
Despite the
Governor's intervention, shots fired at an investigator, a $25,0000 reward, and
the detention of a suspect just over the border in Mississippi, no one has ever
been tried for the murder of Deputy Moore-a killing that left a family and a
community without one of its most reliable local leaders.
Rogers
retired from the Sheriff's Department in 1988 with the rank of Captain and
passed away peacefully at the age of 85 in the winter of 2007 - the very week the FBI reopened the case
for a third time. The prime suspect died in 2003, but his accomplices may still
be alive.
Race Against Time
Over the
past decade civil rights activists have been desperately fighting a
reinvigorated race against the clock for justice as some victims, witnesses,
perpetrators and family members perish reated to this and other noteworthy
attacks from the civil rights era.
Sparked by
Kansas City's civil rights treasure (and Center Advisory Board member) Alvin
Sykes and young New York documentary filmmaker Keith Beauchamp, the Justice
Department and FBI are working with activists across the country to find clues
to many of the murders from the Civil Rights era that went unsolved. Alvin
formed the Emmett Till Justice Campaign with the Emmett's mother Mamie Till
Mobley in January 2003 to shed a renewed spotlight on these "cold cases."
Chicagoan Emmett Till, 14, was brutally lynched in 1955 for whistling at a
white woman. Two days after her meeting with Sykes and former Justice Department
employee Donald Burgher, Ms. Mobley perished from a sudden heart attack. That
didn't stop Alvin, in his efforts to make good on his promise to her to pass a
law in Emmett's name to devote resources to these cases. A tenacious Sykes,
finally saw the The Emmett Till Unsolved Civil Rights Crime Act signed into law
last October by President George Bush.
In July
Alvin, Former U.S. Attorney and Klan prosecutor Doug Jones, Keith Beauchamp,
Till's cousin Rev. Wheeler Parker (who witnessed the youth's kidnapping as a
teenager), myself and others conferred with Attorney General Eric Holder in his
office along with Justice and FBI officials to discuss hate crimes and the
implementation of the Till Act.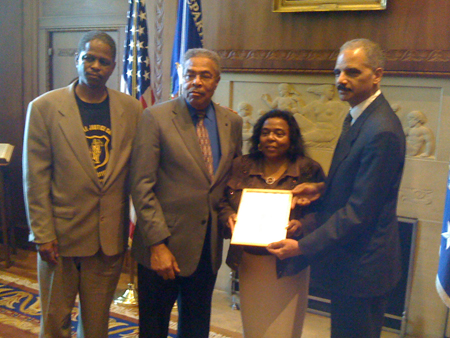 Alvin Sykes, Rev and Mrs. Wheeler, and Attorney General Holder
We all scrambled to DC. for the meeting. The
meeting had been delayed for awhile as Alvin raised money for months to get
himself and victims' relatives to Washington, DC by selling T-shirts. Jones
squeezed in a quick flight from Alabama. Already back East, I hastily
commandeered my 80 year old mother's car in New York, dropped her and my young
kids at my brother's in Philadelphia, and drove to DC, sleeping on an old
buddy's couch during my short economical stay.
One case we
discussed was that of Klansman Billy Ray Posey, who escaped state indictment in
connection with the "Mississippi Burning" Klan lynchings of three civil rights
workers involved in a voting rights project in the South during the "Freedom
Summer" of 1964.
Me at the table
The deciding vote against Posey's Mississippi indictment
apparently came from one of his relatives. Less than three weeks after our
meeting, before the Feds could charge him, Posey, 73 evaded justice one last
time, when he died of natural causes. He was buried in the same town where the
slain civil rights pioneers Andrew Goodman, 20; Michael Schwerner, 24; and James Chaney, 21; were martyred 45
years earlier. Posey outlived all the parents of the murdered civil rights
heroes.
As the
clock continuously ticks, justice suffers. But maybe you hold the key. Over the
last week the FBI announced a renewed effort to find families of closed case
victims and witnesses in unsolved ones, like Moore's. As you reconnect with
loved ones this Thanksgiving, please see if you have friends or family who may
be able to assist the FBI with any information about these cases or lost
relatives.
Most Wanted (From CBS News)
The Bureau is asking the public for help finding family members of cold case victims, including:
• Arthur James Hill, who was shot and killed in Villa Rica, Georgia during an altercation with a group of white men in August 1965;
• Clarence Horatious Pickett, who was beaten to death by a police officer in a Columbus, Ga., jail in December 1957;
• Ann Thomas, who was sexually assaulted and shot four times in the head in San Antonio, Texas in April 1969;
• William Lewis Moore, a former U.S. Marine who was shot and killed in April 1963 near Attalla, Ala. - the postal worker was marching to deliver a letter to the Mississippi governor urging integration of the University of Mississippi;
• Izell Henry of Greensburg, La., who on July 28, 1954 was brought to Lallie Kemp Hospital where he was pronounced dead; two individuals claimed to have found him in a ditch.
• Jimmy Powell, 15, who on July 16, 1964 was shot and killed by a police officer in New York City for allegedly charging at the officer with a knife; and
• Ernest Jells, who was shot to death by Clarksville, Miss., police in October 1963 after he allegedly pointed a rifle at officers attempting to arrest him for stealing a banana.
The FBI is also offering a reward for information leading to the indictment, arrest and conviction of anyone responsible for:
• The June 1965 murder of Deputy Sheriff O'Neal Moore and attempted murder of Deputy Sheriff David "Creed" Rogers in Varnado, La.; Moore and Rogers were the first black deputies in Washington Parish.
• The December 1964 murder of Frank Morris, a shoe store owner in Ferriday, Louisiana.
Please help
us, make Dr. King's vision as articulated on those Alabama Capitol steps in
March 1965, finally ring true:
"How long will justice be crucified, (Speak) and truth bear it?" (Yes, sir) I come to say to you this afternoon, however difficult the moment, (Yes, sir) however frustrating the hour, it will not be long, (No sir) because "truth crushed to earth will rise again." (Yes, sir) How long? Not long, (Yes, sir) because "no lie can live forever." (Yes, sir) How long? Not long, (All right. How long) because "you shall reap what you sow." (Yes, sir)"
"How long? Not long, because the arc of the moral universe is long, but it bends toward justice."
FBI Contacts: Field Offices-http://www.fbi.gov/contact/fo/fo.htm