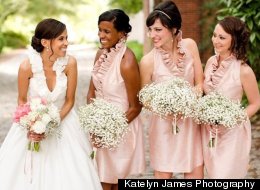 You're a planning bride: You're constantly looking at top wedding blogs, pinning has become your second job, and your wedding coordinator is on speed dial (or, if you don't have one, then you feel like you're ready to become one). But you can never fully anticipate the wedding day until (gulp) it's finally here.
That's why we turned to the fabulous couples we've featured on Style Unveiled for their best advice. They've walked down the aisle, they've said "I Do" and have partied like crazy at their receptions. Then, when all of the craziness calmed down and they returned from their honeymoons, they whispered their "best advice" to us...and we're passing it down to you!
Top 25 Wedding-Planning Tips from Real Couples
"Matt and I planned our wedding for sixteen months, and it really helped to keep stress levels down. We got tons of stuff done early (check this countdown calendar to stay on track) and had time to save for the things we really wanted. You only get to plan your wedding once, so make sure it is a fun time, not a stressful one!" —Claire and Matt Photo Credit: Katelyn James Photography

"On your wedding day, soak up all the love, joy and bliss! Enjoy!" —Rachelle and Pete Check out more photos from their rustic wedding at Woodinville, WA. Photo Credit: Mastin Studio

"Having a first look was one of the best decisions we made during our wedding planning. Our photographer and videographer collaborated and found a secluded area, away from all the madness that was going on that morning; we got a moment to see each other for the first time. It allowed us to take a deep breath, let the moment sink in, feel all the emotion we were about to feel all day. No matter what you decide, the important thing is choosing what's right for you as a couple." —Leah and Kevin Check out more photos from their sweet wedding in Orange County, CA. Photo Credit: True Bliss Photography

"This event is an expression of yourselves, but it's not all you'll ever be. It's just the beginning! In fact, some of the best moments were ones we didn't plan for at all—like a fabulous photograph of my dress train all tangled up with leaves and dirt. Sure, it was messy and not what you're used to seeing in bridal magazines, but it was also honest and a truly joyful moment that could easily have gone south if we'd been uptight about things. Embrace the unexpected, and each others' opinions, and don't let an unattainable ideal sour the big picture: You're in this together, now and for the future." —Teresa and Ben Check out more photos from their rustic wedding at Hopland, CA. Photo Credit: Jennifer Eileen Photography

"Before my wedding, I remember my coworker telling me that her wedding day was the BEST day of her life, and she was so excited that I would soon be able to experience mine. When I was in the midst of planning my wedding, the long, daily to-do lists and the stress made me feel as if that day would never come. However, it eventually did! When it came, I tried my best to savor every moment of the wedding day—from the moment I got out of bed to the moment I walked out of my wedding venue as a married woman— and I'd advise brides and grooms out there to do the same." —Jamie and Daniel Check out more photos from their outdoor wedding in Orange County, CA. Photo Credit: Beaux Arts Photographie

"Reading from The Lovely Love Story was the best decision we made for our wedding! Our guests couldn't stop talking about this adorable and memorable detail, and we still get a bunch of guests sharing random dinosaur posts on our Facebook walls. We also ended up getting amazing wedding films, since it gave the cinematographers something really emotional to connect all of the pieces together. Cinematographers are storytellers, so having a unifying element to drive your love story will truly leave lasting impression in your wedding films." —Lisa and Jonathan Check out more photos from their elegant wedding in Los Angeles, California. Photo Credit: One Love Photography

"Remember why you are getting married, and try to truly make it be an event about (and for) the both of you. Have faith in your vendors and photographer, and trust that they will do their job well! And once it's happening, just go with it. One of my favorite memories is calling my dad after he walked me to the dock to meet Jim because he had my vows in his jacket pocket! Everyone laughed, and so did I." Even though our event was teeny-tiny, it still flew by. Remember to take a few minutes alone with your husband or wife. I'm so happy that our photographer Stacey suggested that we walk ahead of her while she snapped pics, which ended up being a really sweet time for us as brand-new newlyweds!"—Katrina and Jim Check out more photos from their vintage wedding in Cape Cod, MA. Photo Credit: Stacey Hedman Photography

"We wanted the whole day to be a celebration of the rest of our lives. We wanted people to walk away saying, 'That was so much fun.' And we were able to accomplish that. Choose the few things that are really important to you, like the photographer and DJ were to us, and then go from there. Be flexible on the other details and remember to have fun." —Jeanae and Scott Check out more photos from their nautical wedding in Orange County, CA. Photo Credit: One Love Photography

"You cannot make everyone happy, and trying to accommodate others will just make the whole process more daunting. This is your day; make it about you. It really is the only day that you will get that chance."—Heather and Kyle Check out more photos from their backyard wedding in Seattle, WA. Photo Credit: Alante Photography

"No matter how well-intentioned, friends and family will undoubtedly lend advice, opinions, and even objections to your decisions. It's easy for you two to become divided. But in the end, this is a celebration of your love and future together, and so every choice should be yours alone. Keep your focus on what matters most, forget what you think you should or shouldn't do, and go with your heart. If you keep you two at the center of every decision, it will be the most memorable day of your life." —Kendahl and Nick Check out more photos from their urban-chic wedding in Chicago, IL. Photo Credit: Two Birds Photography

"My biggest piece of advice for brides and grooms planning their wedding is to never forget that it is a celebration of the union between two people." —Stephanie and Kahn Check out more from their traditional church wedding in Los Angeles, CA. Photo Credit: Tauran Woo

"Tyler and I both went into our wedding knowing it would be incredible because at the end of the day, we were to be married, and that was the main purpose. Our advice is to understand that a wedding isn't about perfection. It is about the love you share and the vows you say. Everything else is a bonus. Also, remember it isn't all about you. Yes, it is your wedding and the celebration is in your honor, but a wedding is also an opportunity to thank all of the important people in your life who love and support you. It is to celebrate love, and it is meant to be fun! Enjoy it!" —Desiree and Tyler Check out more photos from their modern wedding in San Diego, CA. Photo Credit: La Vida Creations

"You can be easily overwhelmed in planning a wedding without a full-time wedding coordinator. But once you select the date and venue, the rest will fall into place. Think about the three most important things to you, and work on those next—whether it's the dress, food, music, florals, etc. Make a list and slowly cross things off as you go. The biggest thing is that when your wedding day finally arrives, it literally flies by in the blink of an eye. All of the planning, stress, money, and time put in over the entire year comes and goes in a flash the day of your wedding, so try to enjoy the whole process. At times, you'll be stressed and overwhelmed, but just enjoy the entire engagement and planning period, because when it's all over, you'll miss it and want to do it all over again!" —Malia and Brandon Check out more photos from their intimate wedding in Orange County, CA. Photo Credit: Christine Bentley Photography

"It's so easy during wedding planning to not take time to check in with each other and just get straight to wedding to-dos. During our one year of wedding planning, it felt like every time we saw each other, we had wedding decisions to make and appointments to go to. At the end of the day, the wedding is just one day in the lifetime of a marriage. It's important to have a good foundation going into it. Lastly, make sure to take little moments throughout the wedding day to savor everything—the emotion, the sights, the smells, the sounds. The wedding day goes by so quickly and before you know it, all of that planning is over." —Diane and Paul Check out more photos from their destination wedding in Portland, OR. Photo Credit: Yasmin Khajavi Photography

"All the stress you had before the big day...just let it go. It is what it is, and stressing will only damper your big day. If it's out of your control, let it be out of your control and just roll with it. Cherish every moment because it goes by so fast. And kiss your husband as many times as you can that day. It's all about the two of you, don't lose sight of that." —Megan and Steve Check out more photos from their romantic wedding in Los Angeles, CA. Photo Credit: Danielle Capito Photography

"I know that it can be hard to see past the day itself, and you're just doing whatever you can to craft a beautiful event, but there is often so much waste that goes into a wedding. It's just one day in your life together, but the environmental toll can continue long after the day is done. Go simple, modern, vintage, or minimalist—any of these routes will help you reduce your impact on the environment and will likely save you money. So many people told us how blown away they were by our wedding, and yet, we spent less than $15k on the entire wedding and managed to keep things very green. Also, I highly encourage couples to 'pay it forward' and give away anything they created or bought for their wedding. I plan to give away almost every single thing we made and thrifted for our wedding so that they can have a second (and hopefully, third, fourth, and fifth!) chance to make someone else's dream day come true." —Amber and Nate Check out more from their eco-friendly wedding in Channahon, IL. Photo Credit: Two Birds Photography

"Take the time to eat on the day of your wedding. Tristan and I didn't slow down or eat anything all day, and by the time the wedding was over, we were so worn out and hungry!"—Nicole and Tristan Check out more from this retro-chic wedding in Tavares, FL. Photo Credit: Errol Colon Photography

"What I mean by this is there will undoubtedly be times of stress, fighting (a lot of fighting), angst, and anxiousness before and during the wedding. What kept us sane was knowing that at the end of the day, it's just not that big of a deal. After the wedding, you will be husband and wife for the rest of your life—the wedding is just a big ol' party." —Lu and Joon Check out more photos from their classic wedding in Seattle, WA. Photo Credit: Alante Photography

"The biggest piece of advice I have for brides and grooms that are planning a wedding is to hire a day-of coordinator so that you can enjoy your wedding day. Your coordinator allows you to take in all of the details and actually spend time with your guests and family. "—Alyssa and Aaron Check out more photos from their timeless wedding in Seattle, WA. Photo Credit: Mastin Studio

"Our biggest piece of advice would be to plan ahead, don't procrastinate, don't sweat the little things, only do things that you can afford, try not to do anything wedding-related two weeks before the wedding, enjoy your big day, and don't forget to steal a couple private moments just as husband and wife throughout your wedding day. Things will be stressful as you plan, and things will go wrong on your wedding day, but don't forget the big picture." —Pearle and James Check out more photos from their sophisticated wedding in Los Angeles, CA. Photo Credit: John Park Photography

"Food tasting, venue tours, cake tasting, and the like do not have to be all business." —Wendy and Johnathan Check out more photos from their vineyard wedding in Napa Valley, CA. Photo Credit: Lori Paladino Photography

"No one knows your vision better than yourself so trust your own style and taste. This is your special day with your husband so make sure to enjoy it and soak up every moment. This will be one of the BEST days of your life, I promise." —Sarah and Kris Check out more photos from their garden wedding in Los Angeles, CA. Photo Credit: Love and Lemonade Photography

"I thought I was planning a simple event, but in retrospect, there is still a lot I could have done without. Despite all of my preparations in advance, because I did so much myself, there was so much I had to think about that I didn't get to enjoy the time leading up to the wedding as much as I would have liked. If I could go back, I would have traded a thing or two for some added peace of mind. Second, if you delegate, be specific and do it beforehand. Among several things I forgot: I didn't delegate a clean-up team for the next morning, so we and four other saintly guests ended up scrambling around, cleaning up everything ourselves. It wasn't anyone's fault but my own, because everyone just thought I had a crew designated to do it (I hadn't communicated my need for help). Finally, and most importantly, there are no rules! Want to have a BYOM (bring your own meat) picnic on blankets in the park? Do it. Don't care for cake? Do without it. As someone who has worked in the wedding industry, I've seen it all too often become just that--an industry! Don't buy into it if you don't want it. Pick what is most important to you and prioritize based on that, not on convention or expectations. Don't get so wrapped up in everything else that it takes away from being there in that moment." --Sophie and Bobby Check out more photos from their eclectic wedding in Santa Barbara, CA. Photo Credit: Jake and Necia of the Collective Photographers

"The sooner you can get done with small things, the better, because the closer the wedding gets, the bigger the small tedious things tend to get. It will be the fastest year of your life. And as far as the wedding goes, make sure to stop during all of the hustle and bustle to enjoy yourselves." —Sarah and Andy Check out more photos from their laid-back wedding in Jefferson City, MO. Photo Credit: Catherine Rhodes Photography

"Take a step back and remember what is important—you are marrying the love of your life! The dresses, cake, flowers, food, and drinks will have no bearing on the success of your marriage, so don't sweat it and always focus on keeping a realistic perspective."—Kelly and Matthew Check out more photos from their glamorous wedding in Nashville, TN. Photo Credit: Bamber Photography
More from Bridal Guide:
By: Heather Sharpe, a Bridal Guide contributor and the senior editor for Style Unveiled, a wedding website and blog that focuses on gorgeous weddings and wedding-related topics that showcase wedding professionals and the hard work they do.
Follow Bridal Guide on Twitter: www.twitter.com/bridalguidemag